About the Team
Commitment to a full year of participation is mandatory. Tiger Girls perform at all home football games and men's and women's basketball games as well as select gymnastics meets, volleyball matches and baseball games. Tiger Girls also travel to postseason tournaments as assigned by athletic administration. Tiger Girls participate in additional athletic department events, campus and community service activities during the year. Participation in UDA College Nationals will be determined on a yearly basis. There is not a weight or height restriction.
2021-22 LSU Tiger Girls Auditions
Audition Details: Click Here
General Information
LSU Spirit is looking for committed team members who exemplify athleticism through their skill level, fitness, health, and work ethic. Our team is continuously in the public eye and is expected to represent LSU by maintaining an athletic/professional image.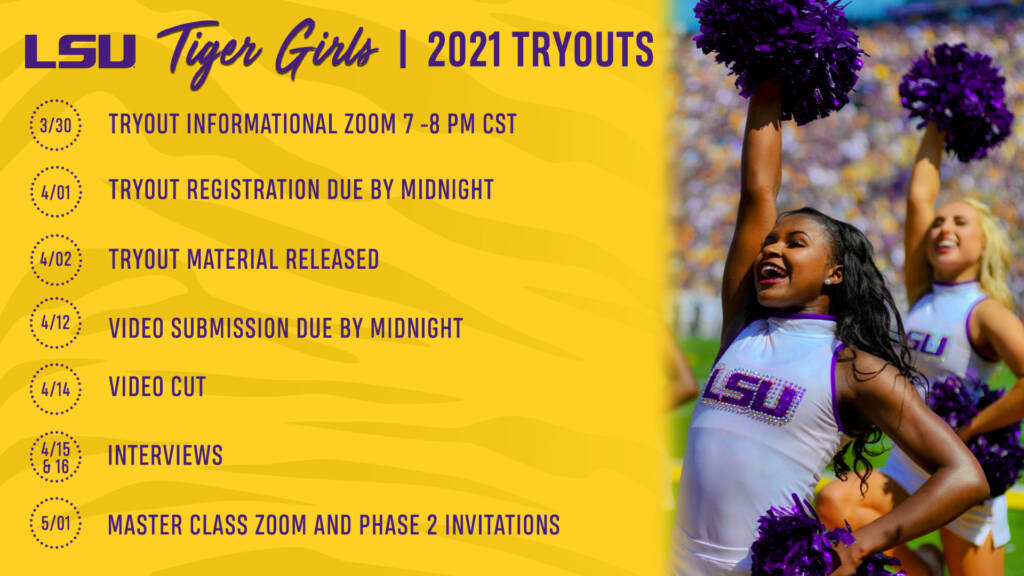 About the Tiger Girls
The Tiger Girls are currently Coached by Kandace Hale and Directed by Pauline Zernott.  The Tiger Girls perform at Home Football games, Men's and Women's Basketball games, and select Gymnastics meets. In addition, member of the team participate in away basketball post season tournaments.  
Being a member of the team is a full year commitment. 2nd-year members receive a stipend of $1,000 per year, 3rd-year members receive $1,500 per year and 4th-year members receive $2,000 per year.  Be sure to follow the Tiger Girls on Instagram.
2020-21 LSU Tiger Girls Poster
(Not available for pickup; digital only available for download below)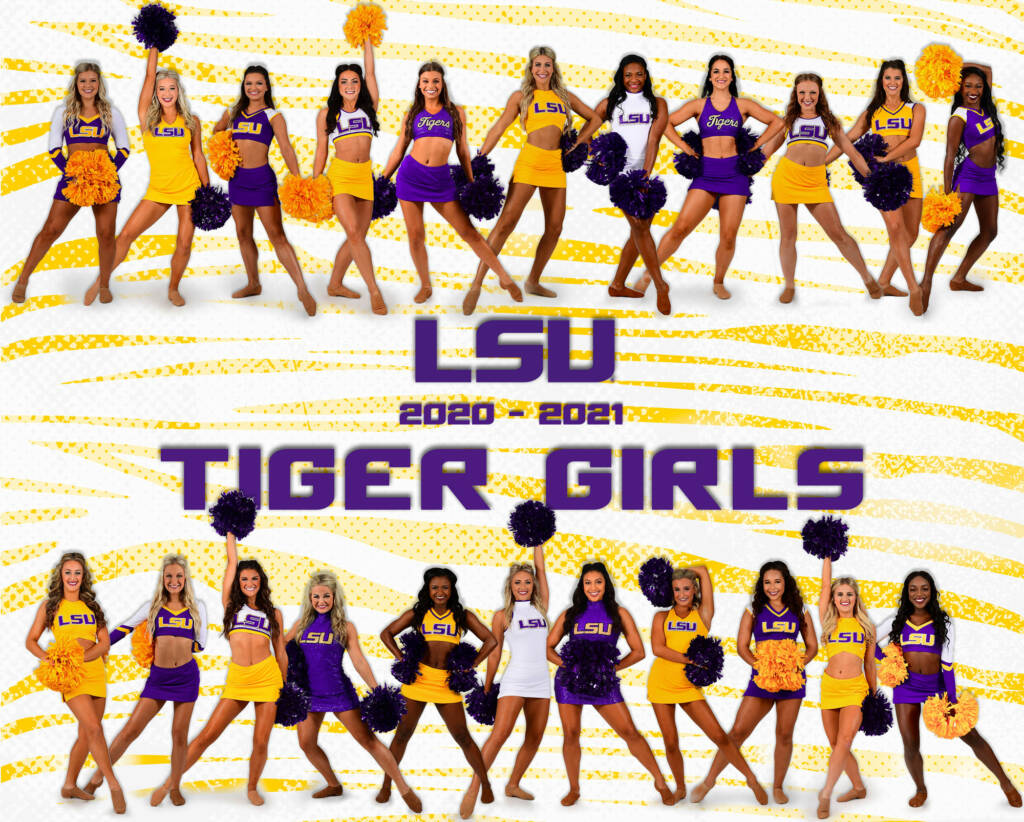 2020-21 LSU Tiger Girls Dance Team
Madison Brooks
Ariel Brumfeild
Sarah Bryan
Reagan Calvert
Samanatha Colombi
Londyn Daniel
McKenna Dickson
Thomia Garner
Mikayla Goff
Darah Haidet
Olivia Hamilton
Caliea Koehler
Aubree Lavergne
Karlye Little
Courtney Maldonado
Jessica Mirabal
Brielle Poche
Alexis Thibodeaux
Rebecca Tierney
Chloe Tourelle
Morgan Vandervoot
Mekiah Wells
Past Tiger Girls Squads
General Information
The Tiger Girls are under the Direction of Pauline Zernott. For more information about the Tiger Girl program or to schedule and appearance by the Tiger Girls, please contact us at pzernott@lsu.edu. 
For more information on LSU Tiger Girl Auditions click here.