LSU Tiger Girls Dance Team
2014-15 LSU Tiger Girls Dance Team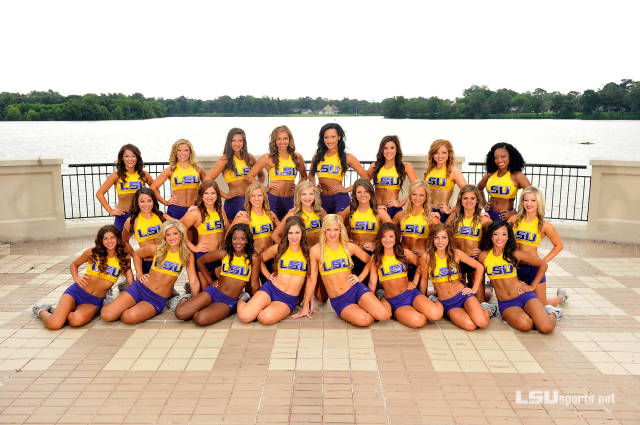 Top row from left: Samantha Nevin, Lauren Dionne, Meghan Wieboldt, Delaney Olister, Katelynn Walker, Heidey Hanks, Micah Odom, Ta'Shirah Reaves
Middle row from left: Jenna Hebert, Kristen Lebato, Macy Alexander, Alex Chaisson, Cristen Quick, Emily Sullivan, Shelby Rase, Regen Lavergne
Bottom row from left: Machaela Brabham, Bryce Tramonte, Laneacia Ford, Emily Kelty, Jenae Dykes, Kellee Shaheen, Morgan Clay, Cersten Bradley
2015-16 Tiger Girls Pre-Audition Clinics
To prepare for 2015-16 Tiger Girls Dance Team tryouts, LSU offers non-mandatory audition clinics in February and March. By attending one or more of these clinics, you will learn exactly what to expect when trying out for Tiger Girls. It's also open to any high school student interested in trying out for a college dance team. Also open to current LSU students and transfer students.
Dates:
Feb. 22, 2015
March 8, 2015
March 29, 2015
Time: 9 a.m. – 12:30 p.m.
Location: Maravich Center – Women's Basketball Practice Gym
2015-16 Tiger Girls Auditions/Tryouts
April 18-19, 2015
Applications and Forms must be submitted by April 15, 2015.
More Info on Tiger Girls Auditions
General Information
The Tiger Girls are under the Direction of Pauline Zernott. For more information about the Tiger Girl program or to schedule and appearance by the Tiger Girls, please contact us at spiritsquads@lsu.edu.
For more information on LSU Tiger Girl Auditions click here.