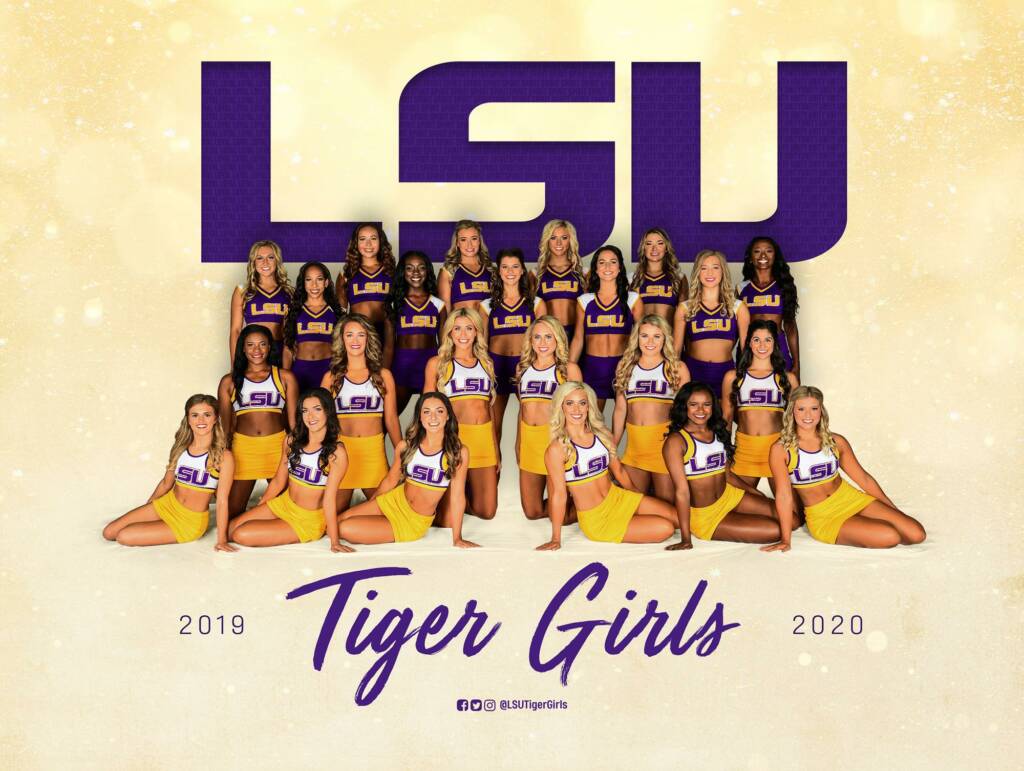 2019-20 LSU Tiger Girls Dance Team
2019-20 Team Photo
Bottom Row:
Olivia Hamilton, Ariel Brumfield, Madison Brooks, Aliese Lemoine, Deanna Bourgeois, Alexis Thibodeaux,
2nd Row:
Bailey Dore, Rebecca Tierney, Londyn Daniel, Allison Cook, Samantha Koppenhagen, Morgan Sellers, Mekiah Wells
3rd Row:
Courtney Maldonado, Aubree Lavergne, Thomia Garner, Morgan Vandervoort, Chloe Tourelle, Codie Hicks
Top Row:
Annabelle Daily, Caliea Koehler, Samantha Colombi, Grace Guzan, Sanai Frierson
About the Tiger Girls
The Tiger Girls are currently Coached by Kandace Hale and Directed by Pauline Zernott.  The Tiger Girls dance at Home Football games, Men's and Women's Basketball games, select Gymnastics meets and Baseball games.  In addition, member of the team participate in away basketball post season tournaments.  
Being a member of the team is a full year commitment. 2nd-year members receive a stipend of $1,000 per year, 3rd-year members receive $1,500 per year and 4th-year members receive $2,000 per year.  Be sure to follow the Tiger Girls on Instagram.
2020-21 LSU Tiger Girls Auditions
Dates: May 4-10, 2020 (new dates)
Brochure: View/Print (.pdf)
Apply Here: Click here
Audition Details: Click Here
Past Tiger Girls Squads
General Information
The Tiger Girls are under the Direction of Pauline Zernott. For more information about the Tiger Girl program or to schedule and appearance by the Tiger Girls, please contact us at pzernott@lsu.edu. 
For more information on LSU Tiger Girl Auditions click here.