The Best Team Ever. LSU Wins Its Fourth National Title, 42-25
NEW ORLEANS — Led by Heisman Trophy-winning quarterback Joe Burrow's six-touchdown performance, Ed Orgeron's top-ranked Fighting Tigers of LSU earned the title 2019 National Champions and arguably The Best Team Ever.
LSU (15-0) proved its dominant season by ending Clemson's 29-game winning streak in a 42-25 victory over the defending champs.
The Tigers – playing 60 minutes southeast of the Baton Rouge campus – won the fourth national championship in program history: 1958, 2003, 2007 and 2019. Orgeron became the third-straight LSU head coach to win a title.
Burrow, Offensive Player of the Game, was 31-of-49 passing for 463 yards with five touchdown passes, while adding another 58 rushing yards and including a TD run. He accounted for all but 107 of LSU's 628 yards of total offense, as the Tigers broke NCAA records for points and yards in a season. Burrow set NCAA single-season marks for passing touchdowns (60) and total touchdowns (65).
Worsham: For LSU, It's a Perfect Ending, and a Perfect Beginning, Too
After facing its biggest deficit of the season – 17-7 early in the second quarter – LSU scored 21 unanswered points to lead 28-17 at halftime. Though Clemson narrowed the margin to three, LSU scored the final 14 points of the contest including a 24-yard dagger from Burrow to Terrace Marshall Jr. with 12:08 to play that gave the Tigers the final margin.
LSU linebacker Patrick Queen was named Defensive Player of the Game after leading the Tigers with eight tackles including 2.5 behind the line of scrimmage. Fellow linebacker Jacob Phillips added eight tackles to finish the season with a team-leading 113 in 2019, while safety JaCoby Stevens had seven and cornerback Kristian Fulton had six tackles and a PBU.
Wide receiver Ja'Marr Chase broke Josh Reed's single-season receiving yards record in the second half. He caught nine passes for 221 yards and two touchdowns, while Justin Jefferson added 106 yards on nine catches. Tight end Thaddeus Moss also scored twice and caught five passes for 36 yards. Marshall finished with three catches for 46 yards.
Running back Clyde Edwards-Helaire ran 16 times for 110 yards.
Clemson quarterback Trevor Lawrence started the game 10-of-15 passing for 161 yards to help his Tigers build a 17-7 lead less than 20 minutes into the contest. However, the LSU defense stepped up the pressure on the 6-foot-6 sophomore, holding Lawrence to just 8-of-22 passing and 73 yards in the game's final 40 minutes.
Lawrence finished 18-of-37 for 234 yards, while rushing 10 times for 49 net yards including a 1-yard touchdown that put Clemson ahead 7-0 in the opening quarter. Lawrence also fumbled on a hit by LSU safety Grant Delpit (six tackles) in the fourth quarter.
Travis Etienne led Clemson with 78 rushing yards and a touchdown, while wide receiver Justyn Ross had 76 yards on five catches. 
Clemson was 1-of-11 on third downs, and trailed in time of possession, 34:45-25:15.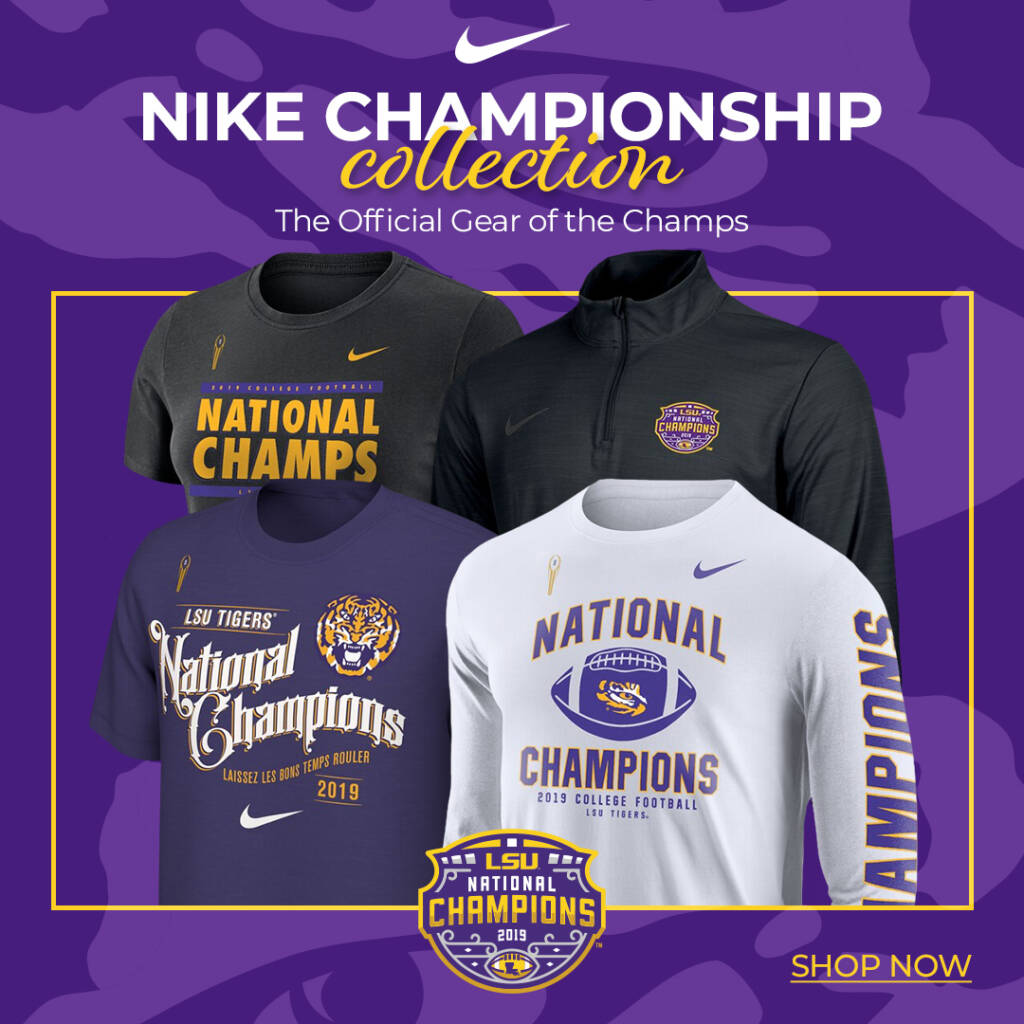 Shop Championship Gear
Celebrate LSU's National Championship with gear from the Official Online Store of LSU Athletics, www.LSUshop.net.
The on-campus LSU SportShop is also open until at least midnight Monday and from 8 a.m. until 8 p.m. for the rest of the week. The LSU SportShop is located next to Mike the Tiger's Habitat near Tiger Stadium.
The Best Team Ever.
It's a striking and bold statement that's rarely accurate and often hyperbole based solely on recency.
Arguments will begin now over this claim.
History will show the 2019 LSU Football team finishing 15-0 – the second team in modern football to do so – with an NCAA record seven victories over Top-10 opponents, while leading the nation in scoring and total offense. LSU capped its perfect season by ending defending national champion Clemson's 29-game winning streak.
Inside the lines, the Tigers were led throughout the season by record-setting, Heisman Trophy-winning quarterback Joe Burrow; Biletnikoff Award-winning wide receiver Ja'Marr Chase; and Thrope Award-winning safety Grant Delpit. They were supported by fellow all-Americans cornerback Derek Stingley Jr., guard Damien Lewis, center Lloyd Cushenberry III and running back Clyde Edwards Helaire.
Outside the lines, national coach of the year Ed Orgeron followed a blueprint he presented in November of 2016 to bring LSU back to the pinnacle of collegiate athletics in his third full season as head coach.
He vowed to recruit the best offensive coordinator in football – then paired "slinger" Steve Ensminger with rising star and 2019 Broyles Award winner Joe Brady. He wanted to run a spread offense with a dual-threat quarterback – "somebody who knows how to run it" – and he convinced Burrow to transfer to LSU for his final two seasons and bring the Tigers the championships he envisioned.
He did it for Louisiana, his home and his people.
Blow-by-Blow Recap
LSU won the coin toss and deferred its decision until the second half. LSU will defend the north end zone in the first quarter.
FIRST QUARTER
When LSU linebacker K'Lavon Chaisson jumped into neutral zone, Lawrence took advantage of the free play on the opening series and connected with Ross for 35 yards to the LSU 46. However, a third-down sack by LSU safety Grant Delpit pushed Clemson outside of field goal range. 
The long play by Clemson had lasting effects, as LSU was pinned at its 7 and wasn't able to manage a first down. A 38-yard pass from Burrow to Moss was called back due to a lineman downfield during Burrow's scramble. 
After starting at the LSU 42, Clemson was forced three-and-out at the LSU 37 and punted to the LSU 4. With its back against its end zone, LSU wasn't able to find room to work and Zach Von Rosenberg punted 56 yards to the Clemson 33.
On the first play of the drive, Lawrence found tight end Braden Galloway wide open for 42 yards to the LSU 25. Clemson was penalized 15 yards for a blindside block on the play, but scored three plays later when Lawrence kept a read option to his right for 1 yard.
Clemson led 7-0 with 6:34 to play in the opening quarter.
After a touchback on the ensuing kickoff, LSU managed a first down with a 15-yard catch by Terrace Marshall Jr., but a sack of Burrow put LSU behind the chains. Von Rosenberg's third punt of the opening quarter went for 36 yards to the Clemson 25.
Clemson benefited from a pass interference call against LSU but wasn't able to overcome third-and-4 when Lawrence's pass was off the mark in Ross' direction. After a 38-yard punt and a 9-yard return by Derek Stingley Jr., LSU took possession at its 30.
With room to work, Burrow quickly got the Tigers on the board with a four-play, 70-yard drive that ended with a 52-yard touchdown catch and run by Chase that tied the game. Burrow had time to scan the field from the right hash, used his eyes to neutralize two safeties, and hit Chase in stride at the 15 for a jog-in touchdown.
The game was tied at 7-7 with 2:20 left in the quarter.
Clemson overcame a 4-yard loss to start the ensuing drive with an 8-yard run by Lawrence and an 18-yard catch by Galloway to the LSU 47. 
SECOND QUARTER
LSU defense stiffened after the quarter break, holding Clemson to a 52-yard field goal by sophomore B.T. Potter. Clemson regained the lead, 10-7, with 13:43 remaining in the half.
Burrow found 20 yards of running room to the LSU 45 and crossed midfield with a 7-yard pass to Moss, however, consecutive incomplete passes brought about another LSU punt. Von Rosenberg's 44-yard effort was downed by Racey McMath at the Clemson 4.
Three big plays by Clemson put the visiting Tigers on the scoreboard once again, as Ross had a 24-yard catch to the Clemson 28, Etienne ran for 29 to the LSU 43, and Higgins ran a reverse 36 yards around the left end for a touchdown. 
with 10:38 left in the half, LSU trailed 17-7, its largest deficit of the 2019 season.
Burrow and needed passes to Chase for 16 and 56 yards to setup LSU's immediate answer. On third-and-goal from the 3, LSU spread the field with five wide receivers and Burrow kept the ball himself for a touchdown run. LSU needed only 81 seconds and five plays to cover 75 yards and narrow the deficit to 17-14 with 9:17 left in the half.
Though Clemson earned a first down on a 12-yard run by Etienne and crossed midfield with a personal foul on Delpit, three Lawrence passes went for only 1 yard and Clemson punted from the LSU 47 to the 13.
Burrow helped the Tigers exit the red zone with a 10-yard run to start the drive and then completed passes to Jefferson (22 yards), Edwards-Helaire (23) and Jefferson (18) to setup his next "dime" to Chase for a 14-yard touchdown. 
With 5:19 left in the half, LSU led for the first time, 21-17.
Clemson earned a first down to its 39 on a completion to Etienne but again couldn't advance against the LSU defense and punted back to LSU with 3:38 to play in the half.
Burrow put a governor on the LSU offense, slowing to keep the ball for the remainder of the half while picking up three third downs with a pass interference penalty, a 9-yard pass to Jefferson and a game-changing 29-yard run to the Clemson 6 with 14 seconds to play. On the next snap, Burrow stood tall in the pocket and took a hit right has he threw a strike to a wide-open Moss for a 6-yard touchdown.
With 10 seconds left in the half, LSU led 28-17 after scoring 21-unanswered points. LSU outgained Clemson in the half, 359-286.
THIRD QUARTER
Receiving the kickoff to start the second half, LSU had a chance to extend its advantage. However, a 7-yard sack of Burrow on third-and-4 ended the Tigers drive without a first down.
Two 15-yard penalties on LSU helped Clemson cut its deficit to 28-25 with 10:49 left in the quarter. Etienne ran for a 3-yard touchdown on the 50-yard,  six-play drive. Lawrence added a two-point conversion with a pass to Amari Rodgers.
The momentum looked to swing in Clemson's favor, as LSU took a sack on first down and went three-and-out. A 49-yard punt by Von Rosenberg went out of bounds at the Clemson 18. However, LSU came up with a quick defensive stop of its own and Clemson punted to the LSU 32.
The combination of Burrow-to-Chase continued to prove unstoppable, as a 43-yard completion on a third-and-11 screen pass put the Tigers in the red zone at the 16. Two plays later, Burrow found Moss on the left side of the field for a 4-yard touchdown that was stretched over the goal line. LSU led 35-25 with 5:13 left in the quarter.
FOURTH QUARTER
On LSU's first drive of the fourth quarter, Burrow got the dagger he was looking for. A 24-yard strike to the right corner of the north end zone was reeled in by Marshall to give LSU a commanding 42-25 lead with 12:08 left in the game.
After forcing a punt on fourth-and-26, LSU took 5:24 off the fourth-quarter clock before punting with 4:46 remaining.