#40 Devin White
Season 2018
High School
North Webster HS
2019 NFL Draft: 1st-Round (No. 5 overall) to Tampa Bay Buccaneers
2018 Team MVP
2018 Permanent Team Captain
2018 Butkus Award Winner
2018 First Team All-American (Walter Camp, AP, Sporting News, AFCA)
2018 Second Team All-American (Football Writer's)
2018 First Team All-SEC (SEC Coaches, AP)
2018 SEC Defensive Player of the Week (vs. Georgia)
2018 SEC Defensive Player of the Week (vs. Texas A&M)
2018 Lott IMPACT Trophy Player of the Week (vs. Georgia)
2017 Team MVP
2017 Permanent Team Captain
2017 All-SEC First Team (SEC Coaches, AP)
2017 Second team All-America (FWAA, USA Today)
2017 SEC Defensive Player of the Week (at Florida)
2017 SEC Defensive Player of the Week (vs. Auburn)
2017 SEC Defensive Player of the Week (vs. Arkansas)
2017 SEC Defensive Player of the Week (vs. Texas A&M)
2017 Chuck Bednarik National Player of the Week (vs. Auburn)
2016 SEC All-Freshman Team (Coaches)
First round draft pick (No. 5 overall) by the Tampa Bay Buccaneers in the 2019 NFL Draft … Highest drafted linebacker in LSU history and first Tiger linebacker selected in the first round since 1989 when Eric Hill was picked No. 10 overall … One of the best players to ever play at LSU … A gifted athlete that converted to linebacker after originally signing with the Tigers as a running back … Tremendous leader who was twice named permanent team captain for LSU in 2017 and 2018 … Complete package for an inside linebacker with great range and instincts and a knack for finding the football … Makes difficult plays look routine … LSU's first winner of the Butkus Award as college football's top linebacker in 2018 … Earned consensus All-America status in 2018 after earning first team All-America honors from Walter Camp, Associated Press, Sporting News and American Football Coaches Association … Announced on January 14, 2019 that he was going to forgo his senior season and enter into the 2019 NFL Draft … Played in 38 games during his LSU career, starting 25 times … Capped career with 286 total tackles, 29.0 tackles for loss and 8.5 sacks … Responsible for nine turnovers – four fumble recoveries, four forced fumbles and an interception … … Named SEC Defensive Player of the Week six times during his career (2 in 2018, 4 in 2017) … Named first team All-SEC in 2017 and 2018 … Two-time recipient of the Charles McClendon Award in 2017 and 2018 as the LSU Most Valuable Player … Earned second team All-America honors in 2017 in what his first season as a starter … Led SEC in total tackles as a junior in 2018 with 123 after leading the league in tackles per game with 10.2 in 2017 … A horse lover, kept his newest addition – Daisy Mae – a Tennessee Walker at a stable just two miles from Tiger Stadium … Rode Daisy Mae to class for his final exam in December … On way back to barn, rode Daisy Mae in Tiger Stadium for what he called "the best thing he's ever done" … Woke up each morning before school starts to tend to Daisy Mae at the barn … Usually spend Friday's riding Daisy Mae along the Mississippi River levee before going to practice … Is four classes shy of earning his college degree.
JUNIOR SEASON (2018)
Played in 13 games with 12 starts … Forced to sit out the first half of the Alabama game due to being ejected in the second half for targeting against Mississippi State … Led the SEC in total tackles with 123 … Added 12.0 tackles for loss, 3.0 sacks, eight QB hurries and six pass breakups … Forced three fumbles and recovered a pair of fumbles … Had five games with double-digit tackles, including career-best 17 to go along with 4.0 tackles for loss and a sack for a 12-yard loss against Texas A&M … Also forced a fumble against A&M that linebacker Michael Divinity returned 58 yards for a TD to tie the score at 24-24 early in the fourth quarter … Named SEC Defensive Player of the Week for his performance against the Aggies … Other double-digit tackle games came vs. Southeastern Louisiana (11 tackles, 1.0 TFL); vs. Louisiana Tech (11 tackles, 2.5 TFL, 1 sack); vs. Georgia (13 tackles, 1 fumble recovery) and vs. Mississippi State (10 tackles) … Had eight tackles, all in the second half, against Alabama … Named SEC Defensive Player of the Week for his play in win over No. 2 Georgia.
SOPHOMORE SEASON (2017)
One of the top linebackers in the nation … Earned second team All-America honors and first team All-SEC recognition … Led the SEC in tackles per game with 10.2 and ranked second in the conference in total tackles with 133 … Became the first LSU player to lead the league in tackles per game since the mid 1980's when tackles became an NCAA Stat … Led the team in tackles for loss with 14 for 56 yards … Started in all 13 games at outside linebacker and led the squad in tackles in 10 games … Totaled eight double-digit tackle games to tie Bradie James for the most in a single season in school history … Double-digit tackle games came against Mississippi State (11), Syracuse (13), Troy (11), Florida (13), Auburn (15), Arkansas (14), Tennessee (11) and Texas A&M (13) … Had his first career interception against the Aggies … Totaled 4.5 sacks on the season and had at least one whole sack against Florida, Auburn and in the Citrus Bowl against Notre Dame.
FRESHMAN SEASON (2016)
Played in all 12 games as a true freshman … Earned Freshman All-SEC honors after registering 30 tackles, which included 3.0 tackles for loss … Added a sack for a 19-yard loss, forced a fumble and recovered a fumble … Had breakout game in 29-9 win over Louisville when he posted five tackles and sacked Heisman Trophy quarterback Lamar Jackson for a 19-yard loss in the first quarter … Had four tackles to go with a forced fumble and a fumble recovery in win over Texas A&M on Thanksgiving Night … LSU scored a TD two plays after his fumble recovery in the second quarter against the Aggies, giving the Tigers a 20-7 lead just before halftime … Had career-best six tackles, including a tackle for a loss, in win over Southern Miss … Had four tackles in wins over Missouri and Arkansas … Posted three tackles, including one for a one-yard loss, against Alabama … Standout on special teams as well, finishing with 10 tackles on LSU's coverage unit – the second-highest total among all players on the team.
HIGH SCHOOL
Consensus four-star recruit per Rivals, ESPN, 247Sports, and Scout … Graded as the No. 3 Athlete on ESPN … Ranked as the No. 12 prospect in Louisiana according to Rivals … Invited to The Opening, an all-star summer prospect camp held on the Nike Campus … Wrapped up his senior year with 31 rushing touchdowns and 1,650 yards rushing on 208 carries … Added 12 receptions for 215 yards and two TDs in 2015 … Also made an impact at linebacker during his prep career, finishing with 192 tackles … Rushed for 5,031 yards and 81 TDs during his high school career … Member of the Baton Rouge Advocate Super Dozen for 2016 … Coached by John Ware.
PERSONAL
Parents are Coesha Standokes-White and Carlos Thomas … Born Feb. 17, 1998 … Majoring in sport administration.
DEVIN WHITE'S CAREER HIGHS:
Tackles: 17 vs. Texas A&M, 2018
Tackles for loss: 4.0 vs. Texas A&M, 2018
Sacks: 1.0, 5x (Last: vs. Louisiana Tech, 2018)
Interceptions: 1 vs. Texas A&M, 2017
Forced fumbles: 1, 3x (Last: at Texas A&M, 2018)
Fumbles recovered: 1, 3x (Last: vs. Louisiana Tech, 2018
Pass breakups: 3 vs. Louisiana Tech, 2018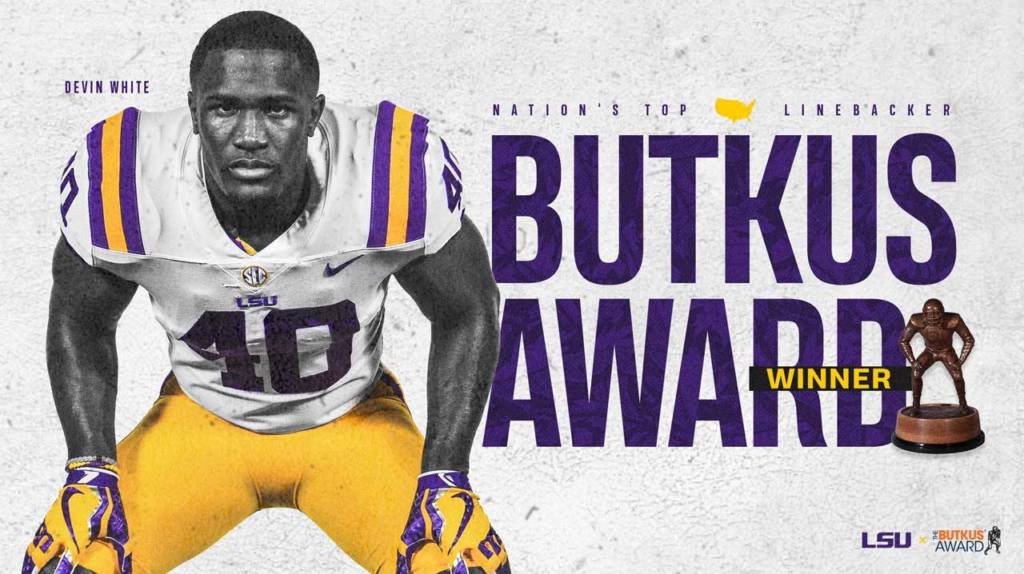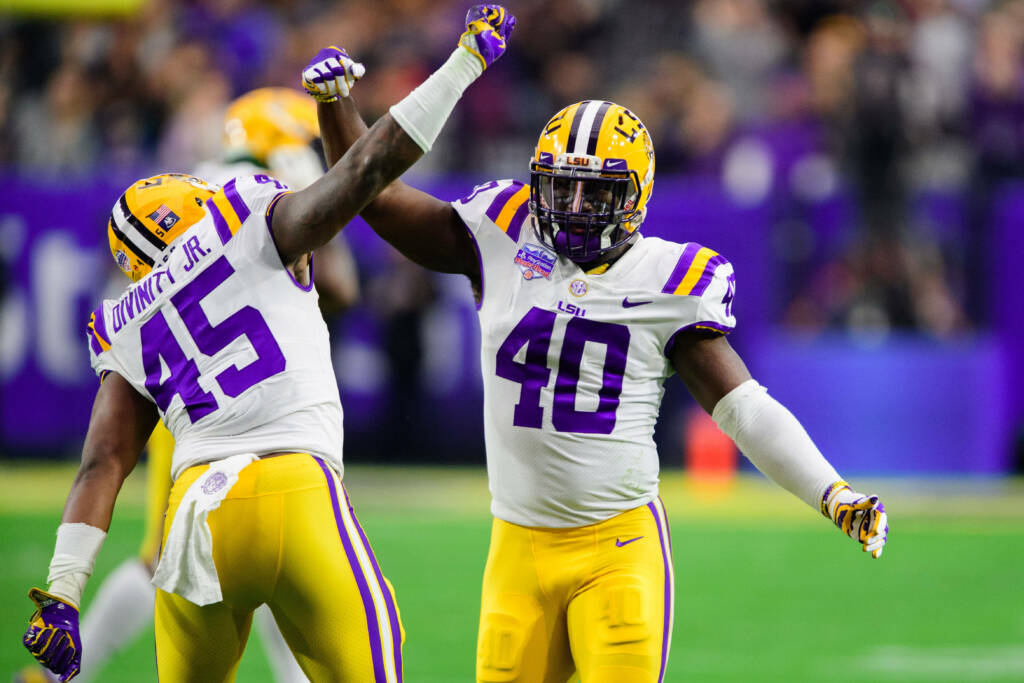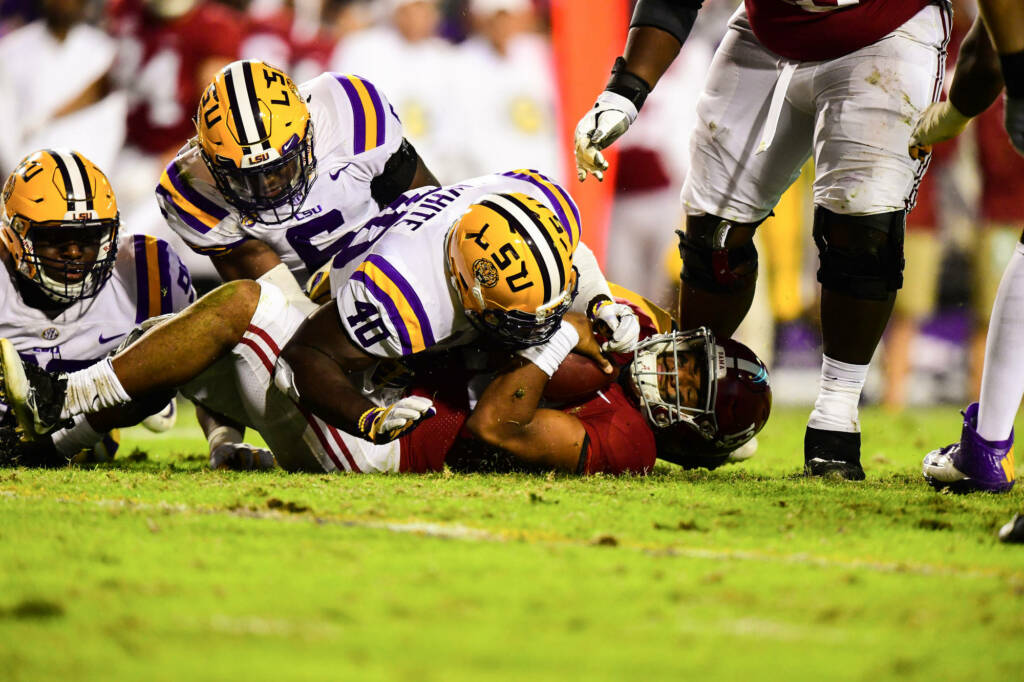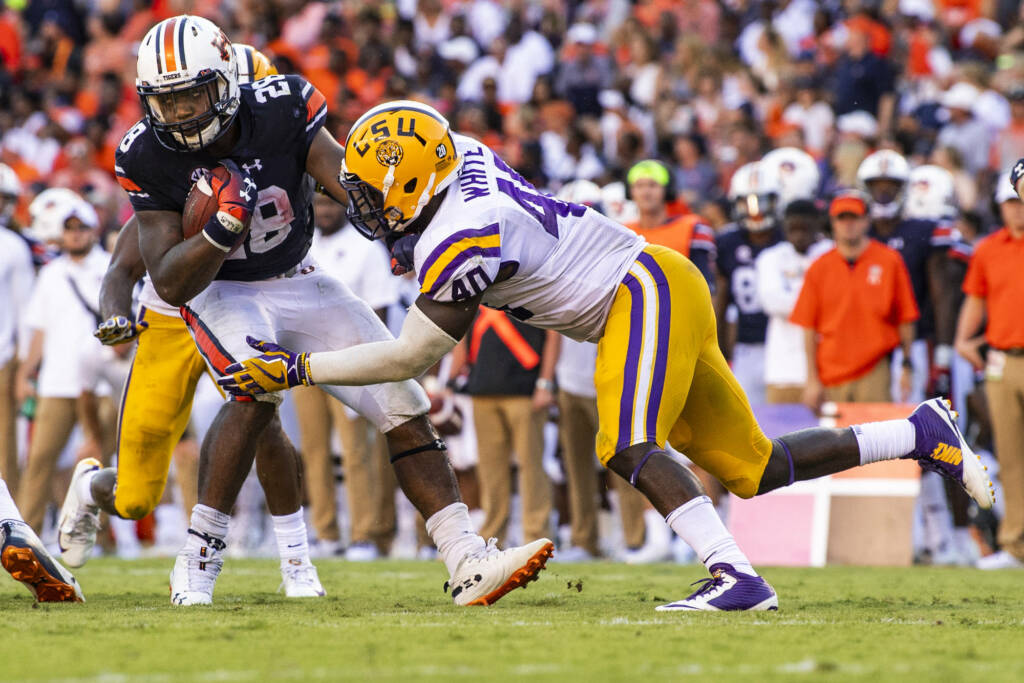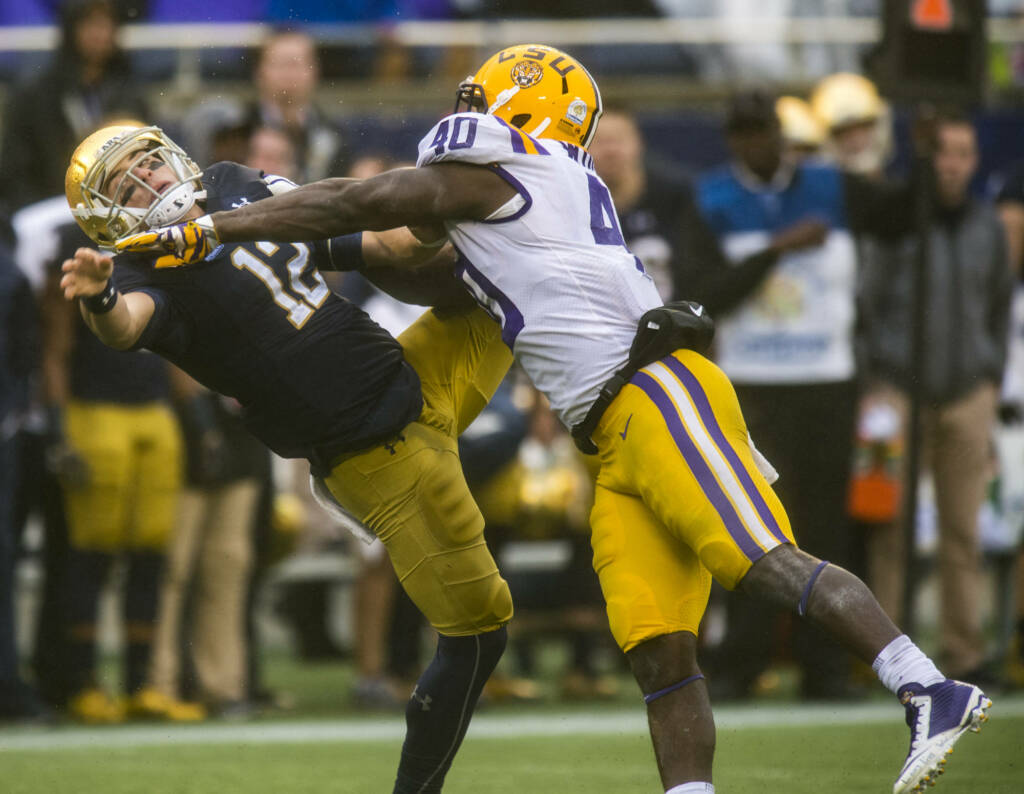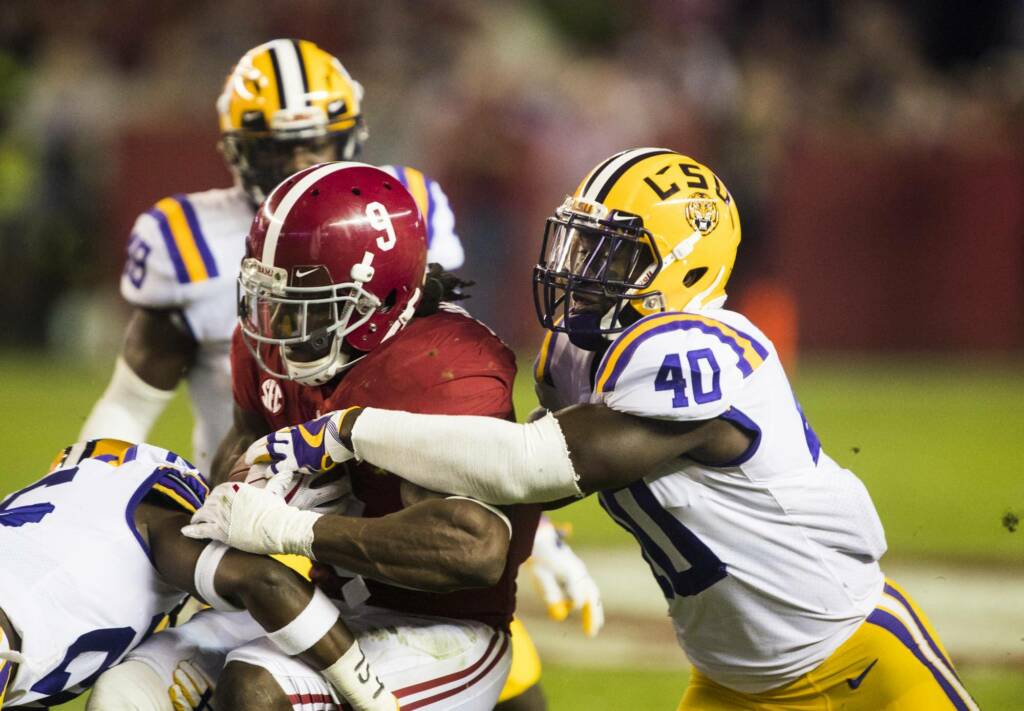 Full Bio