#2 Justin Jefferson
Season 2023
No. 22 Pick in 2020 NFL Draft | Minnesota Vikings | Details
2019 Second Team All-SEC (AP)
CAREER
A playmaking wide receiver, he proved to be one of the most explosive players in LSU history during his three years with the Tigers …  Key part of the Tigers' record-setting offense in 2019 that established school records for points, point per game, total offense, and passing offense … Excelled in making the difficult catch and rarely dropped a pass … Tremendous speed with great hands … Shifty receiver that is difficult to cover … Played in 35 games during his career at LSU, starting 27 times … In three years at LSU, caught 165 passes for 2,415 yards and 24 TDs … Amassed those numbers despite not catching a single pass as a freshman in 2017 … LSU single-season record holder for receptions with 111 set in 2019 … Finished LSU career ranked No. 5 in receptions (165), No. 6 in receiving yards (2,415) and No. 3 in receiving TDs (24) …  The third of the Jefferson brothers to play football at LSU, joining older brothers Jordan and Rickey as Tigers … All three Jefferson brothers started during their career – Jordan played quarterback for LSU from 2008-11 helping LSU to a 13-0 regular season and an appearance in the BCS National Championship Game, while Rickey played in the secondary from 2013-16 .. At nine years of age, Justin qualified for the Punt, Pass and Kick national championship, placing third.
JUNIOR SEASON (2019) 
Played and started all 15 games at wide receiver … Second team All-SEC … Finished season with a school-record 111 receptions for 1,540 yards and 18 TDs … The 1,540 yards ranks No. 3 in school history, while the 18 TDs rank No. 2 behind fellow teammate Ja'Marr Chase's 20 in 2019 … Teamed with Chase for the most productive wide receiver duo in college football as they combined for 195 receptions for 3,320 yards and 38 TDs … Led the SEC in receptions and ranked No. 2 in the league behind Chase in yards (1,540), TDs (18) and yards per game (102.7) … Averaged 13.9 yards a catch … Had 2 games with double-digit catches (10 vs. Florida, 14 vs. Oklahoma) and had 9 or more receptions six times … Had 5 or more receptions in 13 of LSU's 15 games … Helped LSU to 42-25 win over Clemson in national title game with 9 catches for 106 yards … That followed his best game as Tigers, catching 14 passes for 227 yards and four TDs – all career highs – in LSU's 63-28 win over Oklahoma in the CFP National Semifinal … Set CFP Semifinal game records for receptions (14), receiving yards (227), receiving yards in a half (186), and receiving TDs (4) … In LSU's three postseason games in 2019, combined for 30 receptions for 448 yards and five TDs … ng 14.1 yards a catch and 102.4 yards per game … Caught at least five passes in 12 games and had at least one TD in 11 games … Had eight 100-yard games in 2019 and 10 for his career … Teamed with quarterback Joe Burrow, running back Clyde Edwards-Helaire and wide receiver Ja'Marr Chase to become the first team in college football history with a 5,000-yard passer, a 1,000-yard rusher and two 1,000-yard receivers in the same season … Led LSU with seven receptions for 115 yards and TD in SEC Championship Game … Is 10th player in school history with more than 2,000 career receiving yards … Surpassed 1,000 yards in the 2019 season at Ole Miss with a nine-catch, 112-yard and two touchdown performance …. It's the ninth 1,000-yard receiving season in school history … Made seven receptions for 79 yards on eight targets at Alabama … Five of his seven receptions went for first down against the Crimson Tide … Caught seven passes for 60 yards against No. 9 Auburn … LSU's leading receiver at Mississippi State with 89 yards and one touchdown on eight receptions … Made history as he caught Joe Burrow's 29th touchdown pass on the season for the most LSU history on an 18-yard TD in the third quarter at Mississippi State … Totaled 123 yards and one touchdown on 10 receptions against Florida … Scored on a 7-yard pass from Joe Burrow against the Gators … Scored on consecutive drives with touchdowns of four and 39 yards out against Utah State … LSU's leading receiver with 155 yards on nine receptions against Utah State … Tied the game at Vanderbilt with a 4-yd TD pass from Joe Burrow … Topped 100 yards with 125 yards on five receptions against Northwestern State … LSU's leading receiver at Texas with a then-career high 163 yards on nine receptions and three touchdowns … Scored the game-clinching touchdown on third-and-sixteen with a 61-yard touchdown with 2:27 left in the game … A part of the first trio in school history, along with Ja'Marr Chase and Terrace Marshall, to finish with 100 receiving yards in a game … LSU's leading receiver in the season opener against Georgia Southern with 87 yards on five receptions and a touchdown … After not catching a pass as a freshman, now rank No. 3 in LSU history in receiving TDs (24), No. 6 in receptions (156) and No. 8 in receiving yards (2,309) … Younger brother of two former LSU starters – quarterback Jordan Jefferson (2008-11) and defensive back Rickey Jefferson (2013-16) … Jordan started at quarterback in LSU's 2012 BCS National Championship Game in New Orleans.
SOPHOMORE SEASON (2018)
Emerged as LSU's top receiver in 2018, leading the Tigers in receptions (54), yards (875) and TDs (6) … Played in all 13 games with 12 starts … Caught at least one pass in all 13 games … Had at least five catches in seven games, which included six on three occasions (vs. Georgia, Alabama and Arkansas) … Went over the 100-yard mark twice with 108 yards on six receptions vs. Georgia and 117 yards on six catches vs. Arkansas … Hauled in five passes for 99 yards and two TDs in win over Ole Miss … Capped season with four catches for 87 yards and 2 TDs in Fiesta Bowl win over UCF … Other TDs came vs. Arkansas and Texas A&M … Caught 7-yard TD pass from Joe Burrow against Texas A&M that tied the game at 17-17 midway through the third quarter … His 50-yard reception against Georgia setup a Cole Tracy field goal that pushed the Tiger lead to 13-0 in the second quarter.
FRESHMAN SEASON (2017)
Did not record a catch … Had one rush for four yards against Arkansas.
HIGH SCHOOL
An athletic player who excelled on both sides of the ball in high school … Rated as a three-star prospect by 247Sports and Scout … Recorded 44 receptions for 956 yards and nine touchdowns as a senior … Ranked the No. 76 player in Louisiana in the 2017 class by 247Sports and Rivals … Excelled in track and field in high school … Shined as a kick returner for Destrehan High School … Named the New Orleans Male Athlete of the Week for the week of November 17.
PERSONAL
Parents are John and Elaine Jefferson … His two older brothers – Jordan and Rickey – both played and started for the Tigers in football … Jordan was a three-year starter at quarterback, while Rickey started in the secondary as both a junior and senior … Jordan is currently on the coaching staff at Colorado State, while Rickey is on the roster of the New Orleans Saints … His dad, John, played college basketball for two years at Division II Nebraska Western before finishing his career at Northeast Louisiana (now Louisiana-Monroe) … Majoring in sport administration.
Justin Jefferson's Career Highs 
Receptions: 14 vs. Oklahoma, 2019 CFP National Semifinal
Receiving Yards: 227 vs. Oklahoma, 2019 CFP National Semifinal
Receiving TDs: 4 vs. Oklahoma, 2019 CFP National Semifinal
Longest Reception: 71 vs. Georgia, 2019 SEC Championship
Rush attempts: 1, 6x (Last: vs. UCF, 2019 Fiesta Bowl)
Rushing yards: 19 vs. Ole Miss, 2018
Rushing TDs: None
Longest Rush: 19 vs. Ole Miss, 2018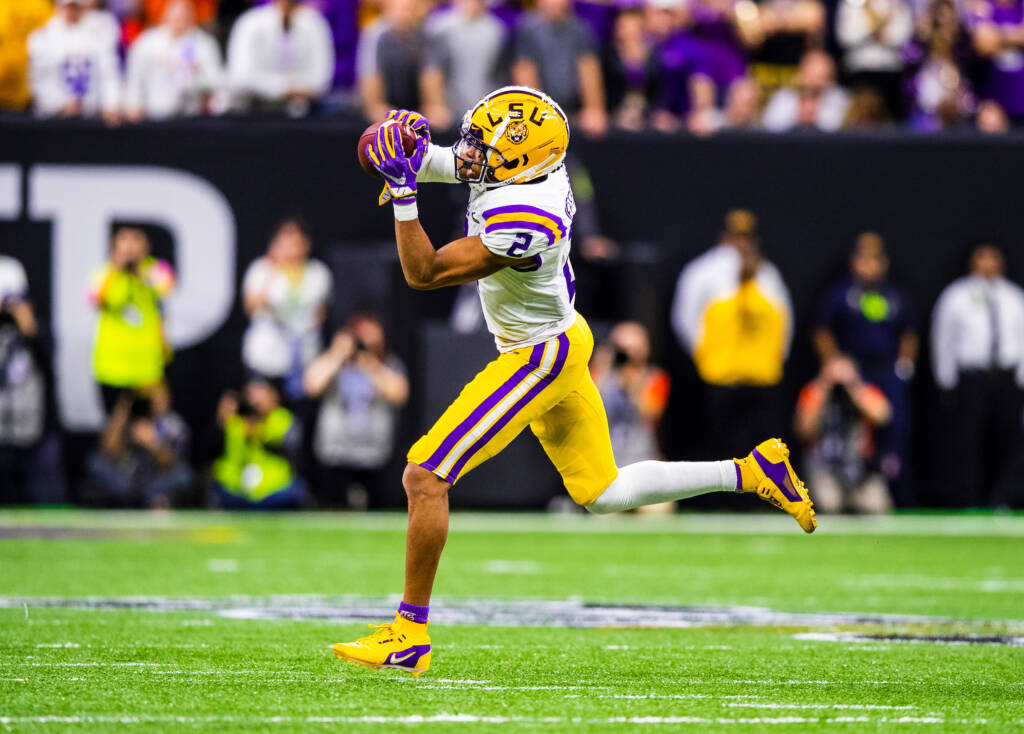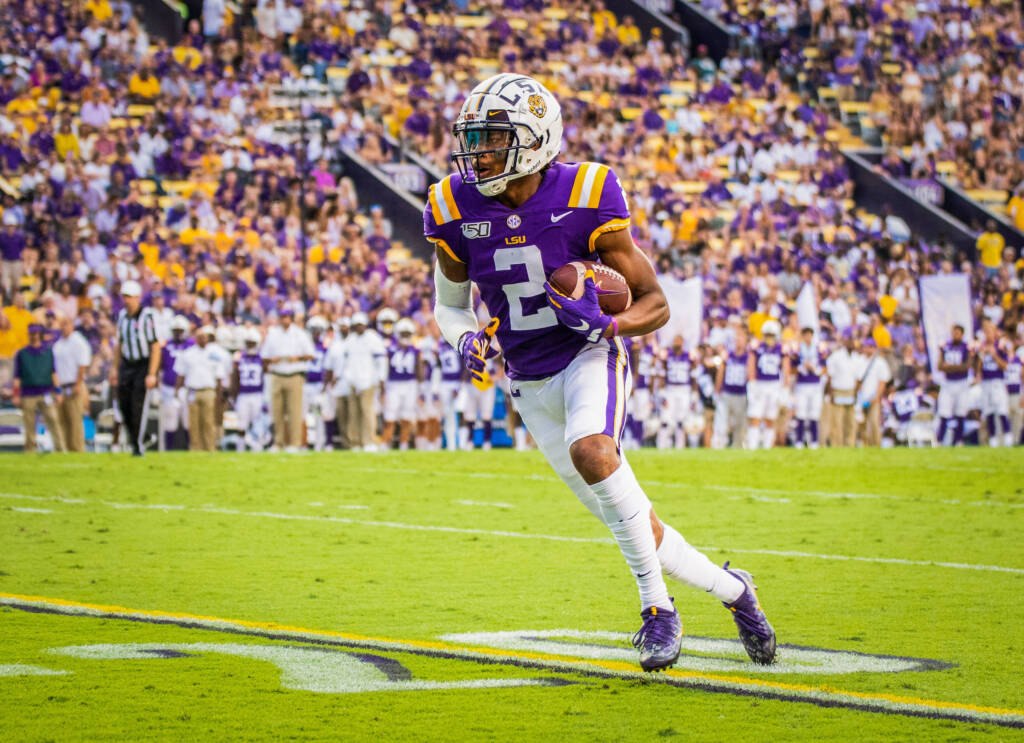 Full Bio