Hometown
Baton Rouge, La.
High School
Dunham School
2020 First Team All-America (AFCA)
2020 First Team All-SEC (AP, Coaches)
2019 Consensus All-American
2019 First-Team All-American (AFCA, AP, Athletic, CBS, ESPN, SI, Sporting News, USA Today)
2019 Second Team All-American (Walter Camp, FWAA
2019 SEC Newcomer of the Year (AP, unanimous)
2019 First Team All-SEC (AP)
2019 Second Team All-SEC (Coaches)
2019 SEC All-Freshman Team
2019 SEC Freshman of the Week (vs. Florida)
One of the faces of college football in 2021 and a strong candidate for national awards on the defensive side of the football … In just two years, has become one of the most decorated players in school history, twice earning first team All-America honors as well as being a two-time first team All-SEC selection at cornerback … A player that is expected to get Heisman Trophy Award consideration despite playing on the defensive side of the ball … In position to join Tommy Casanova (1969-70-71) as the only three-time first team All-Americas in school history … Switches from No. 24 to No. 7 this year, a number worn by some of the best playmakers in LSU history, including recent defensive back All-Americas in Patrick Peterson, Tyrann Mathieu, and Grant Delpit … In two years with the Tigers, has played in 22 games and recorded 65 tackles, defended 21 passes and picked off six passes … In 2019, became the most decorated freshmen in LSU football history, earning consensus All-America honors … Made the transition from high school to the elite level of college football with ease … Started all 15 games as cornerback during LSU's national championship season in 2019 … Earned consensus All-America honors as well as being a first team All-SEC pick … Led the SEC and ranked No. 5 in the nation in interceptions (6) and No. 2 nationally in passes defended (21) … True shutdown corner that is very difficult to complete a pass on … Draws the assignment of covering the opponents top wide receiver … Rarely has a ball thrown in his direction as he typically eliminates his side of the field from the passing game … Has all of the tools necessary to be an elite cornerback – elite speed with great hips, tremendous hands and vision and a true understanding of the game … Is unique and exceptional in every aspect of his game … Called a "rare breed" by Heisman Trophy quarterback Joe Burrow, the No. 1 overall draft pick in the 2020 NFL Draft … Burrow competed against Stingley everyday in practice in 2019 … Became the first true freshman in LSU history to start every game as a rookie … LSU is 18-4 with Stingley in the starting lineup.
SOPHOMORE SEASON (2020)
Appeared in seven games, all starts, at cornerback … Named first team All-America by the American Football Coaches Association for the second straight year … Earned first team All-SEC honors from both the AP and the league's coaches … Recorded 27 tackles, 2.5 tackles for loss and broke up five passes … Missed season-opener due to illness and sat out the final two games of the season with an injury … Tied career-best with six tackles in win over Vanderbilt in week 2 … Had five tackles, a tackle for a 5-yard loss and forced a fumble against Auburn … Had three tackles and broke up a season-best three passes against Texas A&M … Recovered a fumble to go with four tackles against Alabama.
FRESHMAN SEASON (2019)
Arguably the most impactful true freshmen in LSU history and the most decorated rookie in the history of the program … Started all 15 games at cornerback, earning consensus All-America honors in 2019 … Led the SEC and ranked No. 5 nationally in interceptions with six … Led the league and ranked No. 2 in the nation in passes defended with 21 … Registered 38 tackles and a tackle for loss in 15 games … Unanimous SEC Newcomer of the Year by AP … First team All-SEC from the AP … Also serves as LSU's punt returner … A shutdown corner that thrives in man-to-man coverage … Key part of LSU defense that limited opponents to only one passing touchdown over the last four games of the season … In post-season wins over Georgia in SEC Championship Game, Oklahoma in national semifinals and Clemson in national championship, the Tigers allowed only one passing touchdown … Capped rookie season with two tackles and a fumble recovery in win over Clemson in the national championship game … Impact against Clemson was felt more than in just stat sheet as he was part of an LSU secondary that held Clemson quarterback Trevor Lawrence without a passing TD for the only time in 2019 and just the second time of his career … LSU also held Lawrence below 50 percent completion percentage (he was 18-of-37 for 48.6 percent) for the first time in his collegiate career, a span of 30 games … Had a pair of tackles in win over Oklahoma in national semifinals … Tied SEC Championship Game record with two interceptions in win over Georgia … Added five tackles and a pass breakup against Georgia … Targeted five times against Texas A&M and allowed two receptions for three yards … Targeted eight times against Arkansas and allowed just two receptions and credited with three pass breakups … Did not allow a reception on two targets at Ole Miss … Gave up just two receptions on 10 targets against No. 9 Auburn … Was not targeted one time at Mississippi State … Against No. 7 Florida, finished with six tackles and intercepted Florida quarterback Kyle Trask in the fourth quarter in the end zone to halt a Gators drive … Named the SEC Freshman of the Week after his performance against the Gators … Intercepted his second pass against Utah State and totaled two tackles and a pass breakup against Utah State … Had his first career interception and finished with a career high three pass breakups at Vanderbilt … Totaled a pair of pass breakups against Northwestern State and returned three punts for 54 yards, including a long of 26 … Locked down his side of the field against Texas with a pair of pass breakups … Became the first true freshman in the last 34 seasons to start on the LSU defense … Returned four punts for 52 yards, including a long of 32 on his first return in the season opener against Georgia Southern … Enrolled at LSU in January of 2019 and participated in spring drills … Emerged from spring as LSU's starting cornerback … In his first scrimmage in Tiger Stadium during the spring of 2019, intercepted a pass on his first play as a college player in Death Valley.
HIGH SCHOOL
One of the top recruits to ever sign with the Tigers … A consensus five-star prospect that is thought to be the nation's top overall player in the 2019 class … Rated as the No. 1 player in the nation by Rivals … Enrolled at LSU in January of 2019 and participated in spring practice where he turned heads on a daily basis …A finalist for the 2018-19 Gatorade National Football Player of the Year… Named Louisiana's Gatorade Player of the Year for 2018 … Led Dunham to the Louisiana Division-III quarterfinals during his senior campaign, making plays all over the field in all three phases of the game … As a senior, had four interceptions – returning one for a touchdown – to go along with 24 receptions for 678 yards and eight TDs … Rushed for 192 yards and 4 TDs … Helped Dunham High School to back-to-back district titles for the first time in school history as a junior and senior … Intercepted 14 passes over the final 20 games of his high school career … Saw action at safety, cornerback, wide receiver and return specialist … Standout in the classroom as well, earning Academic All-State honors … Earned MVP honors on both offense and district for his district as well as being first team all-district on both sides of the ball … Played in the 2019 Army All-America Bowl.
PERSONAL
His dad, Derek, played cornerback in college at Purdue before transferring to Triton College to play baseball … He was picked in the 1993 Major League Baseball Draft by the Phillies … His grandfather, the late Darryl Stingley, was a first round draft pick of the New England Patriots out of Purdue in 1973 … He spent five years with the Patriots before having his career cut short due to a tragic injury suffered during a preseason game against the Oakland Raiders in 1978.
Derek Stingley Jr.'s Career Highs
Tackles: 6, 2x (Last: at Vanderbilt, 2020; First: vs. Florida, 2019)
Tackles for Loss: 1.0, 3x (Last: at Arkansas, 2020)
Sacks: 0
Interceptions: 2 vs. Georgia, 2019 SEC Championship Game
Fumble Recoveries: 1, 2x (Last: at Auburn, 2020; First: vs. Clemson, 2020 National Championship Game)
Pass Breakups: 3, 4x (Last: at Texas A&M, 2020)
Punt Returns: 4 vs. Georgia Southern, 2019
Punt Return Yards: 92 at Vanderbilt, 2020
Long Punt Return: 48 vs. Vanderbilt, 2020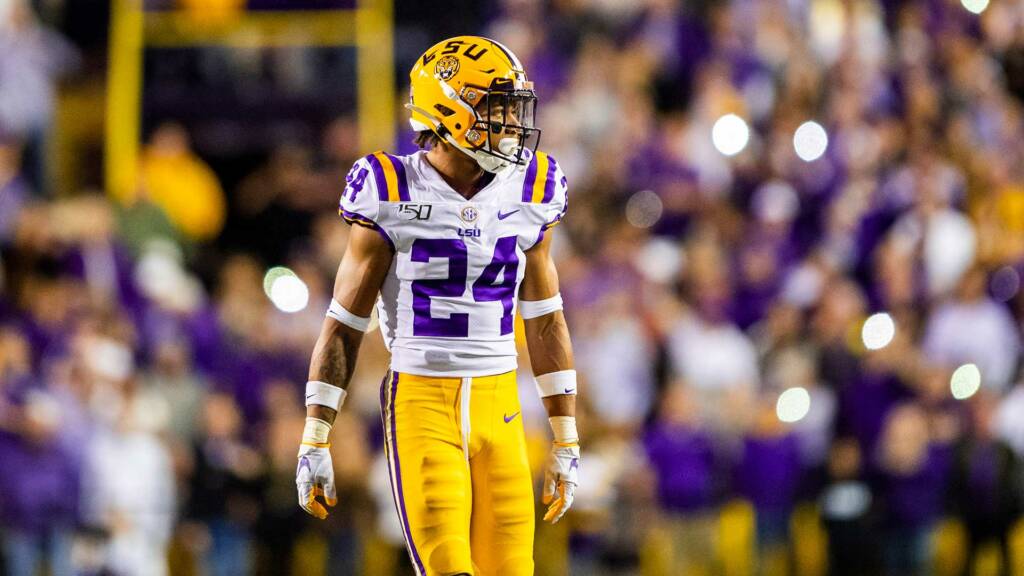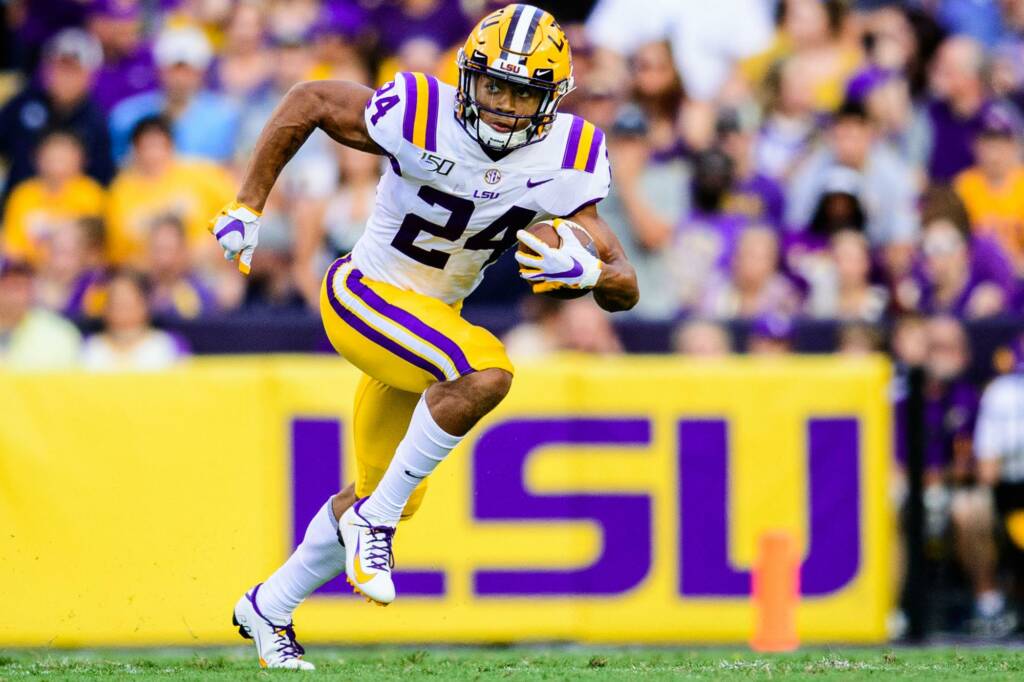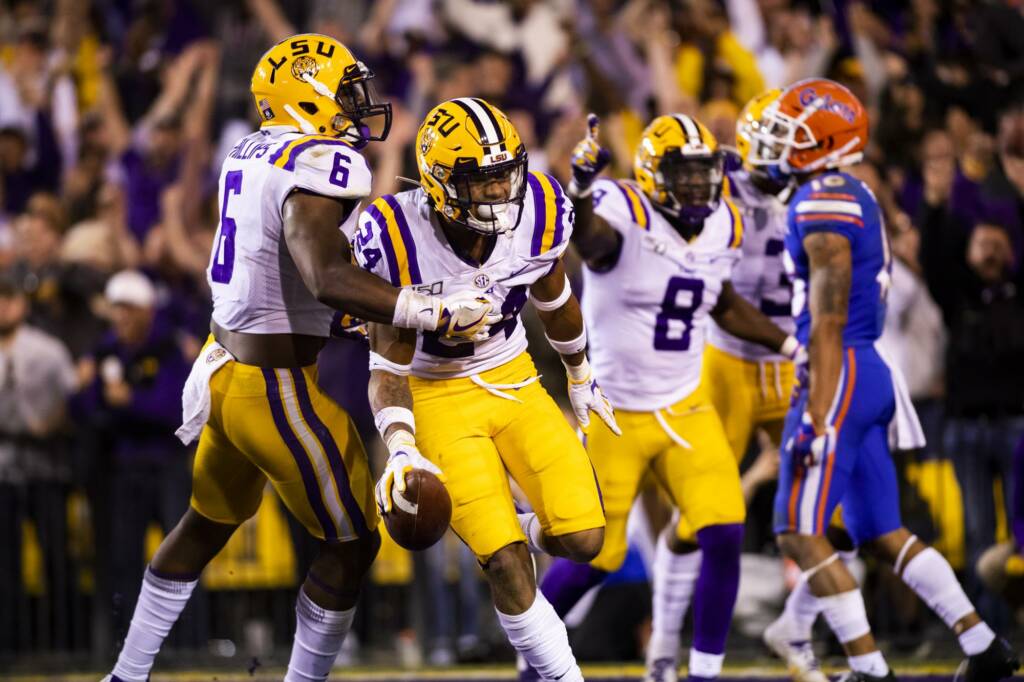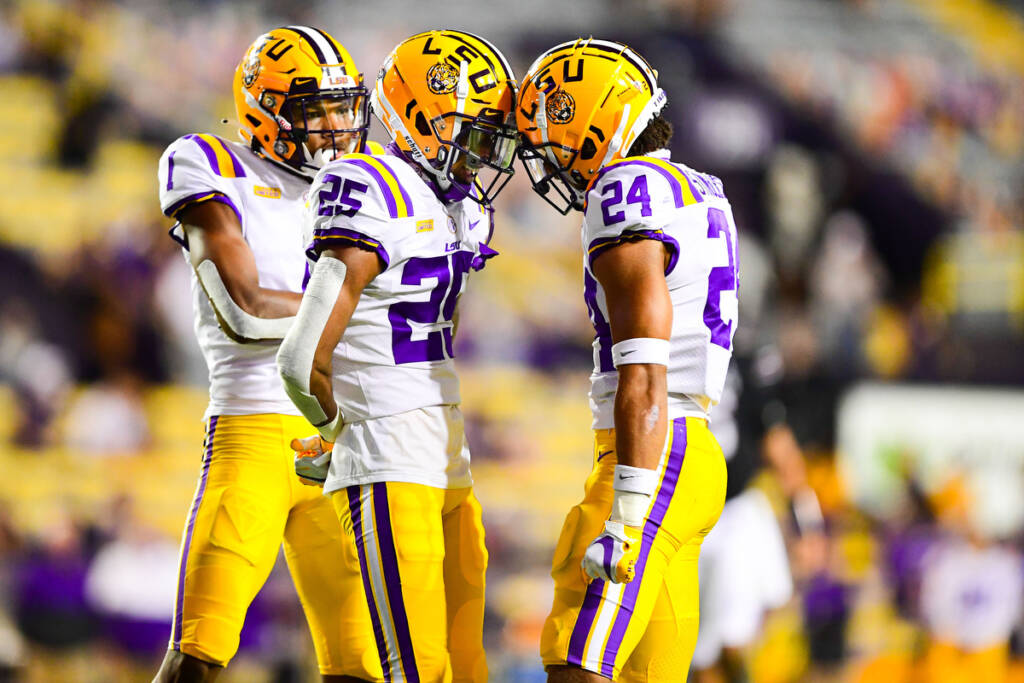 Full Bio