The Legend of Paul Skenes
It's Friday night in Baton Rouge, and Paul Skenes is laughing.
It's not a joke, though, that has LSU's ace chuckling. The source of humor is his own dominance, wearing a smile after punching out his 12th batter.
Nor is he smiling alone. Sitting more comfortable than usual in the first base dugout, the normally stoic Jay Johnson permits a brief grin. It's the smile of a coach who knows he has the best pitcher in the country, as close to a certainty as exists anywhere in college baseball.
But before the best pitcher in the country was sharing a smile with his head coach at the Powerhouse of College Baseball, before he became feared by every opposing hitter and coveted by every MLB scout in America, he was a catcher and cadet – too large for the cockpit, too good at throwing strikes to keep catching them, and too talented to not pursue his dreams.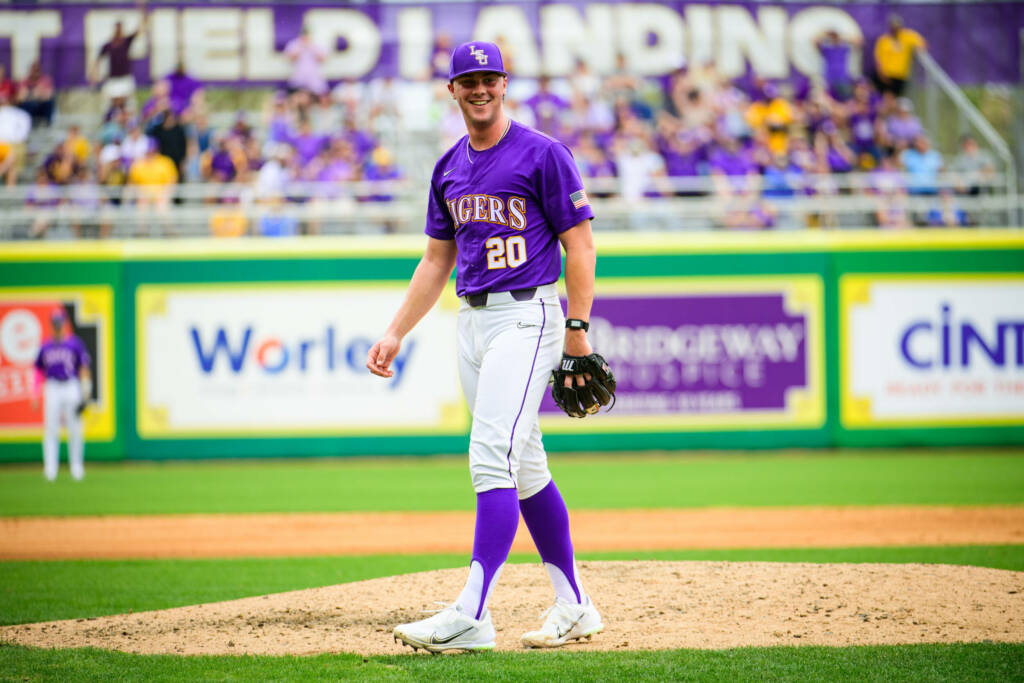 IT ALL GOES BACK TO 2021. Before LSU. Before the portal. Before coming to Baton Rouge was even a thought. It was then when Johnson heard of a star-studded freshman lighting up the Mountain West, earning Freshman of the Year and First Team All-American honors, transforming into a legend whose legacy would remain in Colorado Springs long after his departure.
For Skenes, that legacy began every day at 6:30 a.m. for morning formation at the Air Force Academy, where his daily routine looked a lot different than it does at LSU.
LIFE AS A CADET
Instead of online classes and 10-12 hours per day spent at the field, it was early mornings, busy afternoons, and late nights. Breakfast at 7 a.m., class from 7:30-11 a.m., lunch at noon (with the occasional officer training or P.E. class) and practice from 2-6 p.m. before heading to dinner and finishing homework.
It was around 11 p.m. when Skenes would finally rest his head on the pillow, before waking up and doing it all again. 
But becoming a force on the mound, as the Friday night guy at two different Division I programs, was not by design. In fact, Skenes was recruited as a catcher. Ask Air Force pitching coach Ryan Forrest, and he will tell you he still thinks Skenes is a first-round catcher. 
Skenes, the pitcher, was more of a work in progress. A flamethrower who could command the zone, but whose secondary stuff needed work. Usually after basic training, Forrest says, velocities are down. 90 mph arms in high school would typically max at 85. Not Skenes, who was pumping 90-91 during his first pen after his on-ramping program.  
"I mean, it was different," said Forrest. "As the fall progressed, it just continued to get better and better. When he came back in January, he was 94, 96, continuing to get stronger. And he just continued developing."
That development was harnessed during his sophomore year. But the signs came as early as his senior year of high school, when a group of California scouts approached Forrest at a national recruiting event with teams from all over the country. 
"That Skenes kid you have is really good," said one of the scouts.
Forrest was fully aware, as Skenes would go on to start all 48 games for Air Force in his freshman season, including 28 as the designated hitter, 18 at catcher, and twice at first base. This type of praise was nothing new. But the position was.
"We're going to turn him in as a pitcher," the scout said. That's when it registered: the baseball world was taking notice, and after that event, so, too, were the Air Force coaches, who were fully committed to creating a monster – in the box, behind the plate, and now on the hill.
"It was like, dude, we've got something special here," said Forrest. "We really do." 
They almost didn't. In fact, it took some luck to get Skenes to Colorado Springs. Ask the coaching staff and they will tell you that if it wasn't for COVID, their two-way star might've never taken an at-bat, or thrown a pitch, for the Falcons.
But out of high school, there was only one thing Skenes wanted to do: serve. Baseball was secondary. The plan was to play as long as he could in college and fly one hundred million dollar aircrafts. That's a pretty cool gig.
"It was the best thing I could have done," Skenes said. "For my personal development, leadership development, baseball development, even. It was the best thing that could have happened to me for those two years."
Leadership translates, and so does discipline, two skills Skenes perfected at the Academy, which trickled into the clubhouse. That means having tough conversations he's not afraid to have – with his teammates, with his coaches, and even with fellow cadets in the midst of a tragedy.
The fall of Skenes' sophomore year, the nation had just lost 13 Marines in an airport bombing in Afghanistan. It was common for the National Anthem to play every day at 4:45 p.m. But this was not like every other rendition.
As the flag was lowered, and everybody took their positions, Skenes noticed two cadets who weren't properly standing at attention.
Instead of looking around and doing nothing, Skenes marched up the hill. "He said, 'We just lost 13 Marines in Afghanistan today. You stand right for the national anthem and respect the flag.' He's the best leader I've been around. That's just the type of person that he is," Forrest said.
The ultimate presence among those making the ultimate sacrifice. Don't think for a second that didn't translate to the field. Use March 21, 2021, for example, when Air Force was playing San Diego State and Skenes was starting at catcher. In the third inning, he suffered a high ankle sprain running around third base to score.
Most would miss weeks. Skenes didn't miss a play, continuing to catch until the sixth, when he was removed and brought out to pitch the seventh, eight and ninth inning to close the game.
There's that mythical figure.
Or, a weekend series at Dallas Baptist, where Skenes caught eight innings on Saturday and entered to close in the ninth, retiring the side at a consistent 98 mph. After catching eight innings on Saturday, he caught another eight innings on Sunday, coming in to close again and get the save.
He even did it against Johnson's squad at Arizona, catching eight innings against the Wildcats and throwing 100 mph in the save with his future coach watching. This was the second game of a doubleheader, where, in the first game, Skenes hit a ball 115 mph off the bat. 
DECISION TIME
But as Skenes continued to shine, from both the mound and the batter's box as a two-way phenomenon, head coach Mike Kazlauski realized the inevitable: a decision would soon have to be made.
Once you stay at the Academy for three years, you're locked in. That commitment to service, which could become a logistical difficulty, was something Griffin Jax, former Air Force pitcher and current Minnesota Twin, struggled to handle as he pursued his own professional career.
Leaving the Air Force Academy was a tough prospect for Skenes, but it was an easy one for the coaching staff. They knew he was going to end up in the same category as Jax, and his situation had to be different. Coach Kaz knew it. Forrest knew it. And, in the end, so did Skenes.
"It was easy," said Forrest. "For him, he needed to do it. We're talking about millions of dollars he's leaving on the table if he stays here at the Academy."
"We were thankful to have him for two years here," Forrest added. "Obviously because he's an extreme talent on the mound, behind the dish and at the plate, but he's a leader in the locker room. That's the one thing we miss with him, just his overall presence."
Since Johnson took the job at LSU, the possibility of Skenes entering the portal was always in the back of his brain. In fact, when Kazlauski hinted at the notion, Johnson joked with him, saying "you need to let me know first." 
This was not a player that comes around every recruiting cycle. This was not a player that comes around every three recruiting cycles. This was Paul Skenes.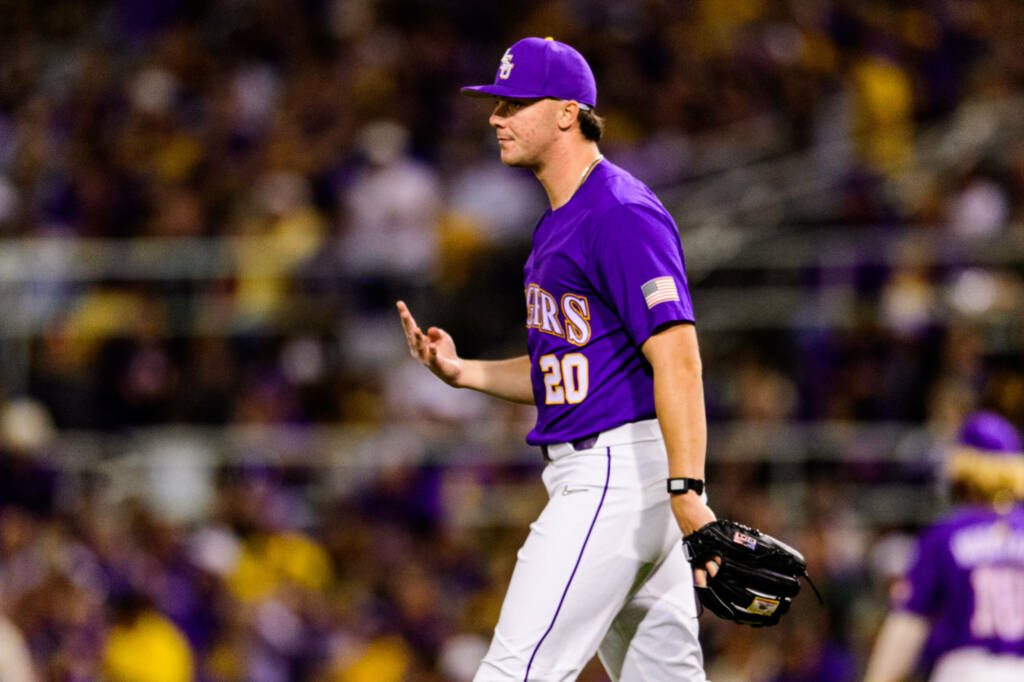 THE WORST TIME of the year, Johnson says, is when the season is over. The time spent with the players, the work put in to get there – nothing hurts more than to come up short. And even in his first season, nobody wanted last year's team to go to Omaha more than LSU's skipper.
But after falling 8-7 in the regional final to Southern Miss, Johnson got back to the team hotel and checked the portal. The worst day of the year got a little bit better.
Skenes had entered.
"The only thing that was going to make me feel better was to call the best pitcher in the country," Johnson said.
Johnson picked up the phone and talked with Skenes for 10 minutes. Skenes told Johnson that he would be in Colorado Springs for two and a half more weeks before going to play for Team USA and visiting schools. That call was on a Monday. Johnson flew to Colorado Springs on Saturday. 
"We had a good meeting," said Johnson. "Then every three days we would talk on the phone. We talked about the Team USA thing and getting to play with Dylan Crews and Tre Morgan."
Skenes knew Crews well, for better or worse. That's because Crews – a projected first-round pick who withdrew from the Draft to come to school in Baton Rouge – hit his first home run at LSU off Skenes at The Box. If it sounds fake, or too good to be true, it's neither. Skenes probably wishes it was. 
From opponents to teammates, Skenes committed to LSU two days after his visit. It was the "professional" feel of The Powerhouse that set it apart from the six other schools he visited.
"I would've never thought in my entire life that would be my teammate two years after that," said Crews. "I love Paul. To see that he's here, experiencing what I'm experiencing down here at LSU, I'm happy for him. I'm just glad he's in the same jersey as me now."
No teammates have ever gone 1-2 in the MLB Draft. That might change in July.
1/1 in 3 years

— Alex Bregman (@ABREG_1) February 21, 2021
GEAUX TIME 
Teaming up with Johnson in Baton Rouge has been the perfect storm. From the resources, to the recovery time, to the addition of pitching coach Wes Johnson. There are no limits to the pitcher Skenes can become.
In fact, with all the questions he's been asked about Wes Johnson, he still feels his importance is understated. Neither of them have an off switch. Just two guys who demand perfection, in preparation and in performance, constantly looking to raise the bar.
It's a match made in heaven. Or, if you are not wearing purple and gold, a match made in hell.
"I believe Wes is the best pitching coach in baseball," said Jay Johnson. "So, to put them together at the same time, and how talented both of them are at what they do, I'm the least surprised person about the result."
Wes Johnson coached Carlos Correa when he was with the Twins. Correa made 35 million dollars the year he was with Minnesota, but Correa, Johnson says, was worth 20 million in the clubhouse alone. He would say the exact same thing about Skenes. 
His head coach agreed, calling Skenes the "highest character player" he's ever coached. 
"The impact you see on Friday night where he shows up and we consistently know we're getting a best pitcher in the country performance is equal or greater in terms of his contribution to the team in leadership," said Jay Johnson. "There's literally no way to quantify it."
His greatness, though, can definitely be quantified. Look below and you'll see Skenes has taken the best conference in college baseball by storm. Through 11 starts, Skenes has established himself as the best pitcher in the best league, and one of the best to ever put on the uniform.
SKENES AT A GLANCE
1.93 ERA (first in the SEC and fourth nationally among starting pitchers) 
.159 batting average against (first in the SEC and third nationally among starting pitchers)
124 Ks (first in the nation)
.202 OBP (first in the nation)
10.4 K/BB ratio (first in Power 5 and SEC)
0.75 WHIP (first in nation) 
-.05 SIERA (first in nation) 
In advance of another Friday start, LSU fans should relish in Skenes' greatness while they can.
They are numbered, with just one start left at home, and two on the road, before the postseason begins.
The journey to becoming the best pitcher in the country has been an unconventional one. From El Toto High School in California, to the Air Force Academy in Colorado Springs, to the Powerhouse of College Baseball in Baton Rouge. 
But, with all due respect, Skenes hopes that journey ends at none of those places. 
He wants his journey to end in one place, and one place only: Omaha. With a trophy in his hands and a smile on his face.