Burrow, Edwards-Helaire Guide No. 1 LSU to End Bama Streaks
TUSCALOOSA, Ala. — Joe Burrow had 393 yards passing with three touchdowns and Clyde Edwards-Helaire scored four times, as No. 1 LSU snapped No. 2 Alabama's 31-game home winning streak, 46-41, on Saturday night in Tuscaloosa.
LSU, which improved to 5-0 in the SEC and 9-0 overall for the fifth time in school history (2011, 1973, 1958, 1908), tied a school record with its fourth top-10 victory of the season.
In a contest that featured split No. 1-ranked teams – LSU in the AP, Alabama in the coaches poll – for the first time since 1968, the Tigers never trailed, built a 33-13 halftime lead and held off the Tide with unrelenting offensive efficiency.
Alabama (8-1, 5-1 SEC) got within six points of the Tigers three times in the fourth quarter but were unable to stop the Tigers offense in the game's final quarter.
Worsham: Here Come the Tigers, Who Always Knew They'd Be Here
LSU's senior quarterback Burrow finished 31-of-39 passing with touchdown passes to Edward-Helaire, Ja'Marr Chase and Terrace Marshall Jr. Edwards-Helaire had 180 yards of total offense, with three rushing touchdowns and 103 yards, along with nine catches for 77 and a score. 
Leading one of the most dynamic receiving corps in college football, Chase finished with six catches for a team-high 140 yards, while Justin Jefferson had seven catches for 79 yards and tight end Thaddeus Moss added six catches for 46 yards. 
The Tigers outgained Alabama 559-541, as the Tide had a touchdown receptions of 64 and 85 yards from quarterback Tua Tagovailoa along with a 77-yard punt return for a touchdown.
Tagovailoa was 21-of-40 passing for 418 yards with four touchdowns and an interception. DeVonta Smith led the Tide with seven catches for 213 yards and two touchdowns. Alabama running back Nahee Harris carried 19 times for 146 yards with a touchdown.
LSU's defense was the star of the first-half show, holding the Tide offense to one big-play touchdown in the opening 30 minutes – a 64-yard touchdown catch by Smith with 6:43 remaining in the half.
The Tigers stopped two Alabama drives with turnovers on downs and Patrick Queen intercepted Tagovailoa late in the second quarter, allowing LSU to increase its halftime advantage to 20 with a receiving touchdown by Edwards-Helaire.
Linebacker K'Lavon Chaisson was dominant all over the field for the Tigers, recording 10 tackles (3.5 for loss). Linebackers Jacob Phillips and Queen, along with safety JaCoby Stevens each added seven tackles. 
LSU returns to action on Saturday, Nov. 16, when the Tigers travel to face Ole Miss in Oxford. Kickoff is set for 6 p.m. CT on ESPN, with the LSU Sports Radio Network pregame show starting at 4 p.m. 
Tickets | Reserve 2020 Season Tickets | Get the Victory T-Shirt
President Donald Trump attended the game, watching from a suite at the 35-yard line on the northeast side of Bryant-Denny Stadium. He is the first sitting president to watch LSU football since William H. Taft on Oct. 30, 1909.
BLOW-BY-BLOW RECAP
LSU won the coin toss and deferring its option to the second half. Alabama elected to receive the opening kickoff and defended the south end zone in the first quarter.
FIRST QUARTER
Tagovailoa, who started the contest for the Tide three weeks after injuring his ankle against Arkansas, completed a 20-yard pass to Henry Ruggs III on the opening play before Harris ran 31 yards along the right side to the LSU 20 on the next. 
However, after a pass break-up by LSU's Rashard Lawrence forced a third-and-goal, Tagovailoa fumbled at the LSU 6 while scrambling toward the end zone. LSU linebacker Ray Thornton recovered at the 8 and the Tigers were in business.
Edwards-Helaire ran twice for a first down to get LSU out of the end zone's shadow before passes of 23 yards to Chase and 18 to Jefferson moved the Tigers into Alabama territory at 33. On the next play, Burrow capped a 92-yard drive by tossing a sideline pass to Chase for a 33-yard touchdown that put LSU up 7-0 with 9:15 remaining in the opening quarter.
With pressure by safety Grant Delpit on the Tide QB and a solid pass breakup by cornerback Kristian Fulton, a third-down hurry by Thornton and cornerback Cordale Flott forced Tagovailoa and the Tide three-and-out. Alabama punter Ty Perine dropped the snap and lost 19 yards on the fourth-down play, giving LSU possession at the Alabama 40. 
LSU gained a first down courtesy of a pair of Tide penalties, but a second-down sack forced the Tigers to settle for a 40-yard field goal by Cade York. 
LSU led 10-0 with 4:54 remaining in the first quarter.
Another third-down pressure – this time by LSU freshman linebacker Marcel Brooks – sat the Alabama offense down after three plays and a punt. But, a 9-yard sack of Burrow led to an LSU punt that was returned 77 yards by Jaylen Waddle for a touchdown.
Alabama trailed 10-7 with 1:14 left in the first quarter.
SECOND QUARTER
LSU overcame the special teams points with an 8-play, 75-yard drive that ended with a 29-yard catch-and-run by a wide open Marshall. York's PAT was blocked by an untouched Xavier McKinney and LSU led 16-7 with 13:03 left in the half.
Continuing its stellar play in the opening stanza, LSU's defense came up with a turnover on downs at the LSU 49 when Alabama H-back Slade Bolden – who took the direct snap – was stopped by linebacker Jacob Phillips on fourth-and-1.
The Tigers were unable to convert the defensive stop into points, however, as a fourth-down pass to Chase was called back by a delay of game penalty. LSU punted to the Alabama 9.
Tagovailoa overcame third-and-10 with a 26-yard completion to Jeudy, and then connected with Smith for a 66-yard touchdown. Alabama's Joseph Bulovas missed the PAT to the right and LSU maintained a 16-13 lead with 6:43 left in the half.
Burrow, who completed his first 11 passes of the game for 208 yards, started the ensuing drive with completions of 35 to Chase, 6 to Moss and 14 to Chase to the Alabama 20. A penalty and sack stalled the drive, but York made a 45-yard field goal to push LSU's advantage to 19-13 with 4:20 remaining in the half.
Alabama went three-and-out without gaining a yard, and Derek Stingley Jr. returned the Tide punt 11 yards to the LSU 39 where Burrow took over with 2:39 to play. 
Looking to eat up the rest of the first-half clock, Burrow led the Tigers to the Alabama 31 with runs of 11 and 19 yards. After a 14-yard pass to Jefferson, Burrow connected with Moss at the Tide 1. The play was put to video review, as Moss was ruled to be forced out of bounds and re-established in the field of play before making the catch.
On third-and-goal from the 1, Edwards-Helaire leaped over the goalline for a touchdown that push the Tigers ahead 26-13 with 26 seconds remaining in the half.
The Tigers weren't done.
Looking for an answer before halftime, Tagovailoa was intercepted by Queen, who returned 16 yards to the Alabama 26. A dead ball personal foul on Alabama gave LSU possession at the 13 with 11 seconds to play. 
The Tigers offense had time one play, which was all Burrow needed. The Tigers signal-caller found Edwards-Helaire on a wheel route from his backfield position, uncovered in the end zone. York's PAT put LSU ahead 33-13 with 6 seconds left.
With its highest-scoring quarter (23 points) in the 84-game series history with the Tide, the Tigers took the 20-point lead into the lockerroom – its largest halftime advantage in series history.
THIRD QUARTER
LSU looked to add to its lead on the opening drive of the second half, but at the Alabama 36, Burrow was stripped of the ball by McKinney on a second-down pass and Alabama's Terrell Lewis caught the ball in mid-air at the 42.
The Tigers defense again stood up to the challenge, as Chaisson and Jacob Phillips stuffed Harris for a 2-yard loss on third down. Alabama punted into the end zone.
LSU again crossed midfield with three passes to Edwards-Helaire, the last of which came up a yard short of a first down at the Alabama 46. The Tigers took a timeout and put the offense on the field in an attempt to draw the Tide offside. Unsuccessful, LSU allowed Zach Von Rosenberg to punt 46 yards to the Alabama 5.
The Tide used Harris for a 31-yard run and 23-yard catch on a screen pass to get to its 44. On first down at the LSU 15, Tagovailoa found Harris for a touchdown on a well-defended wheel route. Alabama trailed 33-20 with 4:51 left in the quarter.
LSU earned a first down with a 16-yard completion to Marshall, but Burrow overthrew Chase on third-and-4 leading to another LSU punt. From the LSU 49, Von Rosenberg had to field the snap off a bounce and managed only 29 yards to the Alabama 22. 
Alabama maintained its offensive momentum, driving to the LSU 14 where Harris came up a yard short of a first down when the quarter ended.
FOURTH QUARTER
Down by 13 and facing fourth down on the opening play of the quarter, Alabama kept its offense on the field and used Harris for a 13-yard gain to the 1. Two plays later, Harris rushed for a 1-yard touchdown and Alabama trailed 33-27 with 14:33 to play.
Looking to answer the score, LSU began its drive at its 25 with a 7-yard pass to Moss and a 12-yard run by Edwards-Helaire. A 13-yard reception by Jefferson on third-and-3 gave the Tigers a new set of downs. Then, on third-and-10, Edwards-Helaire caught Burrow's pass on a hot read, made one cut and dragged a defender for an 11-yard gain to the 25 for a key first down.
On LSU's third third-down of the drive, Burrow kept the ball for 15-yards to the Alabama 5 where Edwards-Helaire spun out of the grasp of a blitzing McKinney and walked into the end zone for a touchdown. LSU was unsuccessful on its two-point conversion pass and led 39-27 with 10:07 to play.
The Tide's response included a third-and-19 receptions for 26 yards by Ruggs to the Alabama 42. On fourth-and-4 from the LSU 22, Tagovailoa moved the chains with a 9-yard pass to DeVonta Smith. On fourth-and-2 from the 5, Alabama capped the 14-play drive with a 5-yard pass to Jeudy in the right-front corner of the end zone. Alabama trailed 39-34 with 5:32 to play.
LSU got exactly what it was looking for on a seven-play, 75-yard drive which took 3:55 off the fourth quarter clock. Burrow started the drive with a 29-yard slant pass to Chase and added a 17-yarder to Jefferson to the Alabama 33. After Burrow rushed 18 yards to the Alabama 7 on third-and-2, Edwards-Helaire barreled in for a touchdown to put LSU ahead 46-34 with 1:37 to play.
Alabama wasn't going down without a fight, as Tagovailoa tossed an 85-yard touchdown to Smith on the next from scrimmage. Alabama cut the lead to 46-41, but LSU recovered the onside kick, gained another first down on a run by Edwards-Helaire and went into the victory formation.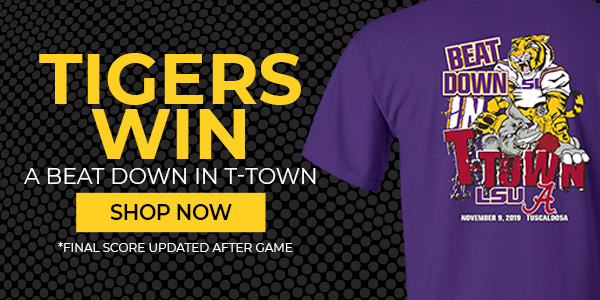 Alabama Football vs. LSU Postgame Quotes
LSU 
Head Coach Ed Orgeron
Opening statement:
"Great win for our team. Obviously I'm very happy with how we played. It's been a long time coming. We felt it all week, that we were the better football team. I said to our team on Monday, 'We're the better football team, but we have to play to prove it.' We played. 
"There are some things that we did very well today. There are some things that we can obviously get better at. Obviously, when we get up ahead, we've got to … but got to give them some credit, they know how to play some football. 
"I'm very proud of my football team. All of the guys put in a lot of hard work. Our coaching staff put in a lot of hard work to where we were at today. Joe Burrow had a fantastic night – had 559 yards, 166 yards rushing. When's the last time that happened against us and Alabama? Clyde (Edwards-Helaire) had 103 yards and that last first down to seal the victory for us. Very, very nice. Our team is happy we were the better team tonight. We'll get rested tomorrow, get well. We've got a lot of guys banged up. It was a physical fight out there."
On saying "We coming." Are they there yet?
"Yeah. We were there tonight for sure. You know, we'll see where this leads us. We took a big step in beating Alabama obviously tonight. I knew we were the better team. I didn't think we were out-physicalled at all. I thought we handled them physically. They made some plays, we made some plays. I think we are right there where we need to be."
On the three-year process:
"You know, when I got on the plane coming here, I felt like we've got it. We've finally got the tools we need, we've finally got the players we need, we've finally got the coaching staff we need to beat these guys. I told that to Steve Ensminger when he was sitting on the side, I told that to Greg McMahan. I feel it was a combination of going to a spread on offense and obviously the great recruiting, those great receivers that we had, and I think just Joe Burrow. To have a championship team, you have to have a championship quarterback. So, I felt like we had it then. Obviously, I knew we had to do it, and we did it."
#9 Joe Burrow, QB
On how he felt about the win:
"This is why I decided to transfer. I wanted to play, and I knew I could play on this stage and you know I got great people around me, great coaching staff, great program all-around. And I cannot say enough good things about my offensive line tonight. [Alabama] had a great defense, a fresh package that we had not seen a lot of this year, and they did so well for me tonight."
On how the team celebrated him:
"That was pretty special, having these guys embrace me the way they have. Some quarterback from Ohio that came in last June before the season, and the way they have embraced me, I can't say, I mean it means a lot to me that this entire program has embraced me and the whole state as well."
#8 Patrick Queen, LB
On LSU's defense:
"Playing LSU, you know everyone talking about they can't score. When we finally settled down, like we did in the first half, we're going to be a team to look out for."
On why this means so much to the team:
"When you come to LSU, you know that family bond, it ties you in with what this program has been through. Basically, being able to snap that streak, that was a big blessing for us."
ALABAMA
Head Coach Nick Saban
Opening statement:
"First off, I think that we have to give LSU a lot of credit. They played really well in the game and made plays when they had to make plays on offense. They are a very good team. 
"Great crowd and atmosphere. Thank our fans for the support that they give us. 
"Bottom line is, especially in the first half, we didn't play very well. We don't want to waste a failure. There's a lot of lessons to be learned from the things that we did and didn't do today. I think that everyone needs to make the commitment to finish the season the right way. We don't fully have control of our own destiny, but if we finish the season the right way, we can see where it takes us. We've been in this situation before. So, I think the big thing is everyone needs to learn from the mistakes they made today and try to get better. 
"Obviously the way we started, turned the ball over on the first drive. We have a great drive and don't finish it. We have 12 guys on the field, and we get an interception and turnover. And then we trusted our quarterback before the half and threw a pick and they scored 14 points in the last 30 seconds of the first half. A lot to overcome, but I have to tell you that I was really proud of our players in the second half. They really fought hard to get back in the game. And actually got themselves back in the game, but we couldn't get a stop on defense when we needed to. Had a couple of opportunities to stop them, and we didn't. 
"Offensively, we certainly scored a lot of points and onside kicks are difficult. The ball has to bounce your way. But we gave ourselves a chance to win in terms of the way we fought back in the game. Very proud of our players for that. 
"So, as an organization, starting with me and everyone else, we need to learn from this and do a better job. Give our players a better chance to be successful. And our players have to take advantage with that by going out there and executing. Making the kind of choices and decisions that's going to help them be the best players that they can be. I think there is a lot of be learned from that from this game."
On the decision to go for it before halftime:
"Since the result that we got, was what we got, I wish we would've ran the ball. I wish we would've taken a knee. We had two timeouts. We were trying to throw a chunk play and maybe hit a big play. We have a lot of capability to do that, and we trusted the quarterback to make a good decision. They played zone and intercepted the ball. Based on what happened, I definitely, if I have a do-over, and I know that was going to happen, we would've kneeled on the ball. Being aggressive, and in the game at the time, I thought we would throw the ball down the field and give ourselves a chance to make a big play, and even if it was a bad play, it would be no worse than a punt. It was obviously a mistake on our part, and I take all the blame for that."
On expectations on Tua Tagovailoa from a health standpoint:
"I think he was 100 percent. I think obviously missing some time and missing some practice, I think that he played well, he made good plays in the game. I thought his mobility was probably not 100 percent, but I thought he had quickness in the pocket and he couldn't run 100 percent, maybe 90 percent. I don't really know. This was a medical decision and his decision. The docs cleared him to play, and they cleared him to practice all week. He practiced all week He didn't have any issues. He said he could play in the game, and he wanted to play in the game and he thought he could go out there and do his job. I think he was a warrior, in terms of what he did. I think probably missing the practice that he missed over the last couple weeks, he may not have been quite as sharp as normal, but I thought he did a good job in the game and I'm proud of the way he competed in the game."
#33 Anfernee Jennings, LB
On the second half improvement:
"I feel like we did a better job than we did in the first half. We still didn't finish the way we wanted to. It's not over. We're going to keep fighting."
On Joe Burrow:
"He's a good quarterback. He does what they do well. Hats off to them."
#22 Najee Harris, RB
On the mindset for the rest of the season:
"This game is over and you can't take it back, so you have to move past it. Tomorrow we will see what we need to work on, what we did good and what we did bad. After that, we have to forget and move on to the next game and try to execute the rest of the season and finish the way that we want to."
On adjustments in the second half:
"The second half was important. Obviously, things didn't work out the way we wanted, but that's how we train. We practice this stuff. It just shows that we won't quit."