With just over a minute to play, Kim Mulkey's emotions were too great to suppress.
She didn't know if it was looking across the floor at her grandchildren, or the bear hug she gave Flau'jae Johnson. 
Or, for the Tickfaw, Louisiana native, it could've been that she had just won a national championship in her second season at LSU. 
Whatever it was, the moment it hit, she lost it.
"That's really not like me," Mulkey said. "That should tell you what I think about it."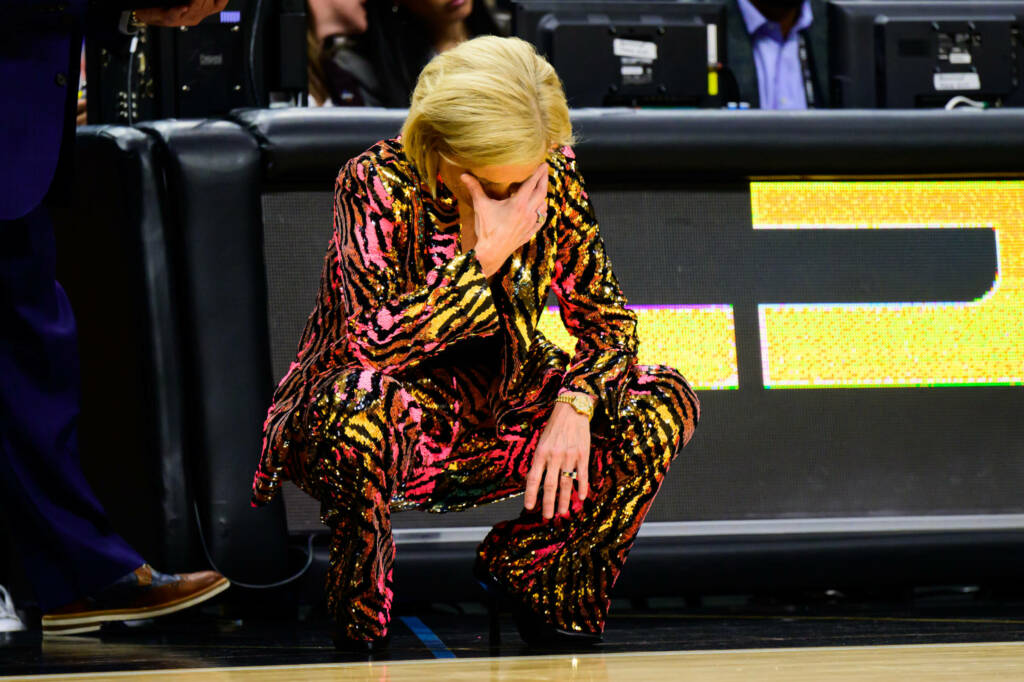 Then she thought back to her introductory press conference, less than two calendar years ago, when athletic director Scott Woodward introduced her as LSU's head coach. It was unprecedented – to leave a perennial power to take over a program that went 9-13 the year before – but Mulkey, in her first day on the job in Baton Rouge, made a promise.
"When I was hired, I made a statement and asked everybody to turn around and look at those Final Four banners," Mulkey said. "Nowhere on there did it say national champions. I'm relieved because I don't have to think about that anymore."
But trophies rust, and jerseys fade. It was really when she looked around, seeing pure joy on the faces of LSU fans across American Airlines Arena, that she remembered the true reason she came home: to be a positive figure in her home state.
Sitting in front of reporters, with the national championship trophy by her side, she shook her head in disbelief. Not because she made good on her word, but because of how quickly it happened.
A promise made, a promise kept. 
"The tears are tears of joy," Mulkey said. "I'm so happy for everyone back home in Louisiana."
All year long this team has been true to who they are. Unapologetically authentic. Extraordinarily confident. A group that talks the talk, and walks the walk.
They embrace it all. The sparkles on their head coach. The personalities of their stars. The swagger of a rapper and a Bayou Barbie's crown. It's only fitting that a season filled of flash ends with the flashiest item of all: a ring. 
"All year I was critiqued for being who I was," said Angel Reese. "I don't fit the narrative. I don't fit in the box that y'all want me to be in. This was for the girls that look like me, speak for what they believe in, and for being unapologetically you."
Some coaches are afraid of personality. Not Mulkey. She played with one herself. But one trait, among many, sets LSU's personalities apart: they're coachable. They tell you how they feel and crave constructive criticism in return. That's a rare mix. A championship mix.
"We have a locker room full of kids that like tough love," Mulkey said. "They will tell you how they feel. They will talk trash on the floor. You have to be a very strong coach to coach this many personalities. And I say that, not to pat myself on the back, but I don't have a problem getting in their face."
ISSA PARADE INSIDE MY CITY pic.twitter.com/C73EyhR5YS

— LSU Women's Basketball (@LSUwbkb) April 2, 2023
Some stories sound too good to be true. For these 2022-23 Tigers, the narrative is something Hollywould couldn't even script. It starts with their mantra: "Piece It Together." Nine new pieces (four freshmen and five transfers) and only one returning contributor in Alexis Morris.
Each piece as vital as the other to completing the puzzle. The supporting cast as important as the starters. No better example than grad-transfer guard Jasmine Carson, who saw that Iowa wasn't guarding the perimeter and took that personally. Netting her first seven (!) shots from the field and finishing with 22 points, Carson made them pay, doubling the amount of points she had in the entire tournament in the first half alone on Sunday. That's one shining moment.
"I would definitely say this is the best game of my life, winning a national championship on the biggest stage possible," said Carson. "I scored tonight and that's what pushed us and gave us momentum."
It was also players like LaDazhia Williams, Last-Tear Poa and Sa'Myah Smith who pushed LSU over the top. In fact, Mulkey didn't mince words in front of a packed crowd on campus Monday, stating: "these young ladies won our national championship for us."
Defying the odds became ordinary, and nobody has defied more odds than Alexis Morris. No story in women's basketball more emblematic of perseverance. Sure, the journey wasn't exactly how she planned it, but the destination was written in the stars. National Champion.
"This is a kid who owned her mistake," Mulkey said. "This is a kid who never blamed a coach. And you wonder why a coach would take a kid like that back? That is a valuable lesson for all of us as parents. And look at where's she's sitting today. What a remarkable story."
That story saved the best for last, in her home state of Texas, bringing everything full circle. Nobody was taking this moment from Lex, scoring or assisting on 27 of LSU's points in the second half. She could smell it. She could taste it. That's when Morris transformed into Lex Luthor. 
But, while most will remember Morris for her clutch shooting offensively, it was her defense that was most impressive, containing two of the top scorers in the country in Virginia Tech's Georgia Amoore and Iowa's Caitlin Clark. 
"She guarded two of the best our game has to offer," Mulkey said.
Year. Two.

Better make room for a National Championship banner. pic.twitter.com/OixFQninuL

— LSU Women's Basketball (@LSUwbkb) April 3, 2023
As the Tigers returned home from Dallas, they were greeted by a PMAC crowd that delivered all season long.
Every piece – from athletics, to administration to the coaches and players – led to the completion of a perfect puzzle.
It's those pieces that allowed Mulkey, in her second season in Baton Rouge, to capture LSU's first-ever basketball championship.
And on Wednesday, the celebration continues, as it will, in fact, be a parade inside our city.