Burrow, Jefferson Lead LSU to CFP Title Game, 63-28
ATLANTA — Heisman Trophy winning quarterback Joe Burrow tied an NCAA record with seven first-half touchdown passes, as top-ranked LSU imposed its will on No. 4 Oklahoma to advance to the College Football Playoff National Championship, 63-28, in the 2019 Chick-fil-A Peach Bowl.
LSU (14-0) earned its first College Football Playoff National Championship berth in the sixth season of the current format. The Tigers will face No. 3-seed Clemson in the title game scheduled for Jan. 13 at 7 p.m. CT in New Orleans. LSU has won three football national championships (1958, 2003, 2007).
LSU's road to the national championship game hasn't come easy, as the Tigers recorded a record sixth victory over an AP Top-10 opponent in 2019. 
Worsham: The Best Team in the Country Keeps Getting Better
Burrow, who won virtually every major college football award earlier this month, finished 29-of-39 passing for 493 yards and an SEC-record tying seven touchdowns – all in the first half. He added another rushing touchdown in the second half, as LSU built a 49-14 halftime advantage and never looked back.
With 71 passing touchdowns in two seasons in Baton Rouge, Burrow also passed Tommy Hodson (1986-89) for LSU's career record.
Four of Burrow's touchdown passes were caught by junior wide receiver Justin Jefferson, who finished with 14 catches for 227 yards. Terrace Marshall Jr. added six receptions for 80 yards and two touchdowns, while Thaddeus Moss catch four passes for 99 yards including a 62-yard touchdown catch-and-run.
With leading rusher Clyde Edwards-Helaire being used sparingly due to an injury, LSU turned to running back Chris Curry, who led LSU with 90 yards on 16 carries.
LSU dominated the contest from the start.
The Tigers outgained Oklahoma (12-2), 692-322, and set countless program postseason, Peach Bowl, New Year's Six and CFP records along the way. 
Defensively, LSU was led by linebacker's Jacob Phillips (eight tackles; now 105 in 2019), Patrick Queen (eight tackles, 1.5 for loss), and defensive MVP K'Lavon Chaisson who had six tackles including two sacks.
LSU held Oklahoma quarterback Jalen Hurts to 15-of-31 passing for 217 yards with an interception. Hurts ran 14 times for 43 yards and two touchdowns. Wide receiver CeeDee Lamb led the Sooners with four catches for 119 yards including a 51-yard reception.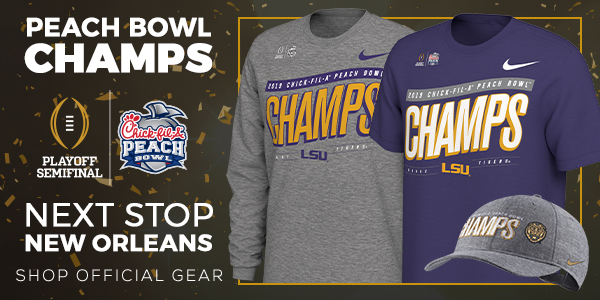 Blow-by-Blow Recap
FIRST QUARTER
LSU won the coin toss and deferred its decision until the second half, opting to put its defense on the field with its back to the east end zone to start the game. 
The decision quickly paid dividends, as linebacker K'Lavon Chaisson took sacked Hurts for a 6-yard loss on the first play from scrimmage. His team-leading 5.5 sacks put the Sooners behind the chains and forced a three-and-out that was followed by a 23-yard punt to the Sooners 42.
Burrow needed only three completions to three different receivers in 52 seconds to put LSU's first points on the scoreboard. On second-and-4, Edwards-Helaire entered for the first time and was used as a decoy on a play-action pass to Jefferson, who caught a slant at the 9-yard line, avoided a tackle and dragged another for five yards into the end zone. The 19-yard reception gave LSU a 7-0 lead with 12:03 left in the opening quarter.
LSU's defense continued to harass Hurts and the Sooners, leading to another three-and-out after a drive for negative yardage. The teams traded punts before Oklahoma came up with its first big play of the afternoon, a 51-yard reception by CeeDee Lamb to the LSU 3. Kennedy Brooks ran for a 3-yard touchdown on the next play and Oklahoma tied the game at 7-7 with 7:34 left in the quarter.
Just as it's done throughout the season, LSU's offense answered the score with one of their own. Starting with passes of 19 and 13 yards to Jefferson, the Tigers overcame third-and-2 with a 14-yard run by Edwards-Helaire on his first touch of the game. The junior running back ran over safety Justin Broiles to the Oklahoma 8-yard line. Two plays later, Burrow rolled to his left and found Marshall crossing at the goal line for a touchdown, his 50th of the season.
The Tigers led 14-7 with 4:24 left in the quarter.
Three incomplete passes by Hurts gave LSU possession at its 14-yard line where Burrow continued to show off his play-making skills. On third-and-2, the senior signal caller extended a broken play, rolled all the way to the right sideline and heaved a pass to Marshall, who came down with a 24-yard reception. A 19-yard run by Curry setup a 35-yard over-the-top touchdown pass from Burrow to Jefferson that pushed LSU's advantage to 21-7 with 1:16 remaining in the quarter.
SECOND QUARTER
Though the Sooners approached midfield, they were forced to punt when Hurts pass to Lamb fell incomplete.
Burrow completed a six-play, 80-yard drive with a 42-yard touchdown pass to Jefferson that gave LSU a 28-7 lead with 12:13 left in the half. The Tigers drive was helped by a targeting penalty on Oklahoma defensive back Brendan Radley-Hiles, who was ejected after a high hit on Edwards-Helaire.
Trying to find an offensive spark, Hurts was intercepted by LSU defensive back Kary Vincent Jr., who darted from his centerfield position to collect his fourth interception of the season.
With a six-play, 55-yard drive, Burrow capped his fifth scoring drive of the game with a 30-yard touchdown pass to Jefferson. With a 22-yard catch-and-run by Chase on third-and 18 and Jefferson's fourth TD reception of the of the half, LSU was able to overcome two 15-yard penalties on the drive and led 35-7 with 9:17 remaining in the half.
Hurts completed a 29-yard pass to Lamb and Oklahoma benefited from two LSU personal fouls to add seven points to its tally. Hurts' 2-yard option run for a touchdown narrowed the gap momentarily to 35-14 with 4:45 on the clock.
Burrow needed only two play and 27 seconds to answer the score. After a 13-yard run by Curry, Moss released behind the Oklahoma defense and was hit in stride by Burrow for a 62-yard touchdown reception – the longest catch by an LSU tight end since at least 1958.
LSU led 42-14 when it got the ball back with 2:54 left in the half. A 39-yard pass to Chase moved the Tigers to the Sooners' 10-yard line, and Burrow completed a third-and-goal pass to a wide-open Marshall for a 2-yard touchdown with 50 seconds to play in the half.
LSU took a 49-14 lead into the lockerroom, as Burrow tied an NCAA Division I record for touchdown passes in a half with seven.
THIRD QUARTER
The Tigers used a 13-play, 74-yard drive to start the second half with more points – scoring a touchdown on its seventh-straight possession. Burrow ran for a 2-yard TD that put LSU ahead 56-14.
With a 13-play, 75-yard drive of its own, Oklahoma added a 12-yard touchdown run from Hurts and trailed 56-21 with 4:19 left in the third quarter.
FOURTH QUARTER
A sack of Burrow on third-and-4 forced LSU to attempt a 46-yard field goal, which hit the left upright and bounced back into the end zone.
Oklahoma looked to add more points, as Hurts completed a fourth-and-2 pass to Drake Stoops, who was stopped just short of the end zone. On the next play, T.J. Pledger scored from the 1. LSU led 56-28 with 9:39 remaining.
Attendance was announced as 78,347, setting Peach Bowl and stadium records.