Colton Moore is nervous.
Though not unexpected, this is highly unusual, says Jennifer Moore, Colton's mother. The fearless boy who has undergone 38 surgeries in nine years battling Spina Bifida is about to meet LSU football coach Ed Orgeron, and he's not quite himself.
"Are you still nervous Colton?" Jennifer asks her son. "He's had major brain surgeries, and he goes in, smiling, excited. He's such a funny kid to be excited about brain surgery. Then, on the way here, he was so quiet. I said, 'What's wrong?' He said, 'I'm nervous.' I said, 'You're never nervous about anything.'"
What's an operation, though, compared to meeting your hero?
Colton is from Odenville, Ala., where mostly everyone – including his family – is an Auburn fan. But Colton met the LSU Baseball team at the 2017 SEC Baseball Tournament, and the Tigers treated him like royalty. They gave him hats and shirts and high-fives.
They gave him a team to root for.
Colton Moore is a Tiger For Life

?? https://t.co/paZz3z0Fiq pic.twitter.com/a2uXpra12u

— LSU Football (@LSUfootball) October 9, 2019
Ever since Colton made his parents stop at a Wal-Mart on the way home from the baseball game to buy an LSU shirt, he's bled purple and gold. He scours the internet for LSU videos, which is where he discovered Coach O. 
One day, the Moores were watching an LSU game, when the cameras zoomed in on Coach O. 
"Who's that, Mom?' Colton asked.
"That," Jennifer said, "is Coach O."
Colton gravitated to Orgeron. Soon, he was hogging the remote control, watching YouTube videos of Orgeron's press conferences and the Golden Band from Tigerland. If the Tigers were on TV or somewhere on the Internet, Colton was watching.
"Me and (Colton's father) Brandon, we've always been Auburn fans our entire life," Jennifer says, "and Colton took it upon himself to become an LSU fan. And we just let him roll with it. Now we have probably more purple and yellow in our house and everywhere else than we do orange and blue."
As much as Colton watched Coach O on TV, he never imagined he'd meet him. But today, the Friday before LSU takes on Utah State in Tiger Stadium, that's exactly what he's going to do. A social media post gone viral helped lead Colton 400 miles south to Baton Rouge.
Just as Jennifer wheels him toward LSU's football operations facility – a building Colton knows well from hours of repeated YouTube consumption – he hears a voice he's heard a thousand times. 
"What do you say, Colton?" It's Orgeron, who's standing on his second floor balcony overlooking LSU's practice field and the parking lot Colton's wheeling through toward the facility's front door.
"Hey!" Colton yells back.
"How's my boy?" Orgeron shouts. "Welcome to LSU! Come on up here."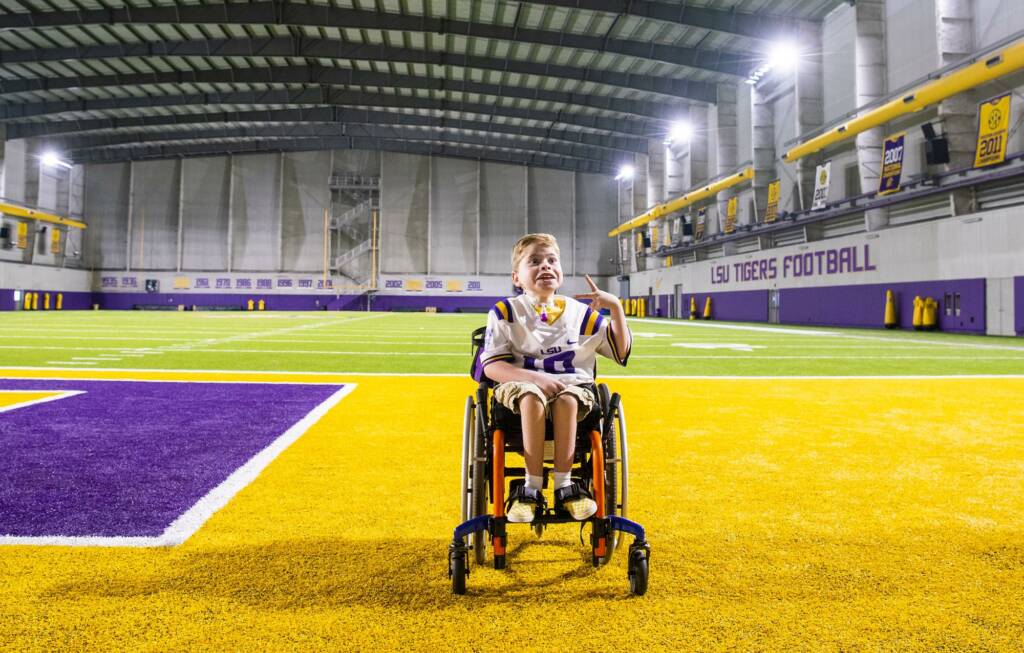 Colton Moore is smiling. 
And throwing up the L.
Moore used to be more of a deuce thrower. Put a camera in his face, and he'll throw up two fingers and a goofy smile. He loves the camera, he loves life, and he loves to smile. 
Today, however, he's learning. He takes quickly to Orgeron's trademark L, and soon he's proudly posing for every picture with it. Sorry, deuces, but you've been replaced for all future photos. 
And there are a lot of photos.
First, with Orgeron, who starts Colton's trip with a tour of football operations. Orgeron shows Colton his office, where a portrait of Orgeron's wife and children hangs prominently on a wall. 
"Now," Orgeron says, pointing to a space on the portrait, "I'm going to put a picture of you right there, because you're now a member of my family."
By day's end, Colton's been the subject of hundreds more photos. He poses with LSU's players and staff, who complete his tour of the facility.
Not that Colton needed directions.
"He actually knew how to lead the way," Jennifer says. "He"s watched so many YouTube videos. He showed us the way on how to get in there."
Colton's long since warmed up. He's handing out Colton's Crew bracelets. He leaves one in Joe Burrow's locker, another in Grant Delpit's, a third in Kary Vincent's. At a stop in the training room, he gives one to Todd Harris, who is rehabbing just a day after surgery for a knee injury.
The two bump fists, and Colton comments on Harris' big muscles.
"You're the strong one," Harris replies. 
More photos come later at Red Stick Social, where Colton and his family make an appearance on 104.5 ESPN's Hangin' With Hester. Colton makes his radio debut with a "Go Tigers!" to close out the segment, and then he's ready to get back to LSU, where Coach O has invited him to the team's Friday heartbeat meeting. 
Back at LSU, it's Orgeron who sports an ear to ear grin. What else can you do but smile when you see your hero?
"Somebody told me I was your hero," Orgeron tells Colton. "You're my hero." 
"You know we're doing this every year, right?" Orgeron adds. "Every year. We go to a bowl, I'll bring you to the bowl. Sound good?
"You're a Tiger for life."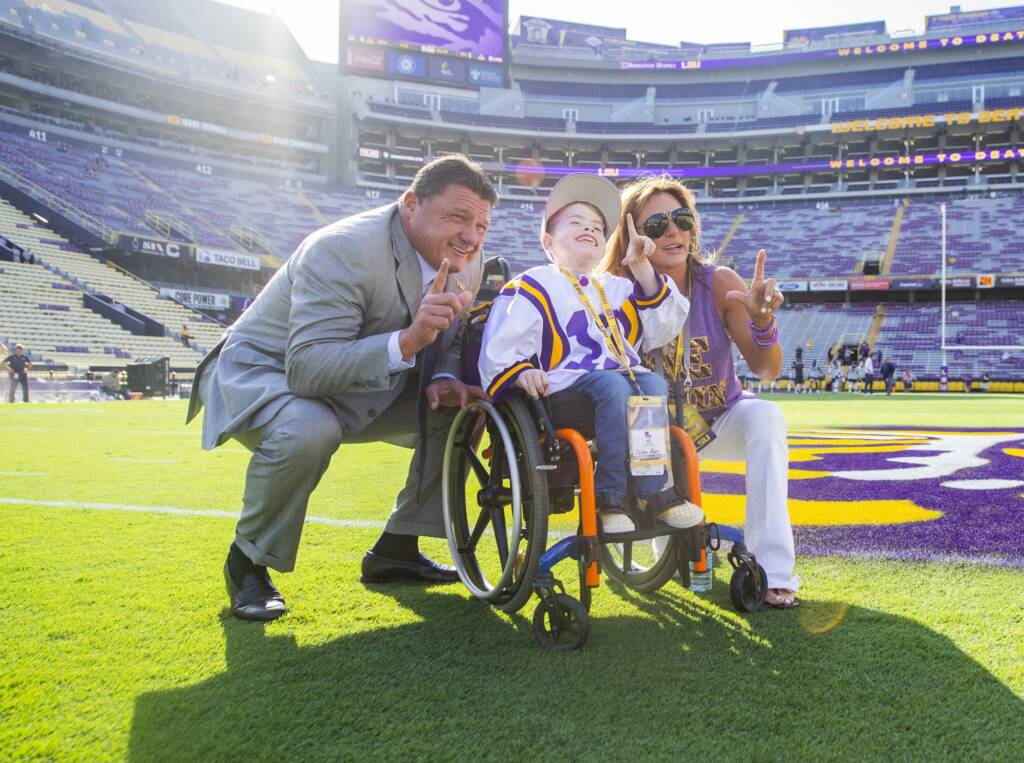 Colton Moore is tired.
It's the fatigue only a weekend full of dreams come true can induce. 
Friday was only the appetizer. On Saturday, Colton saw his first game in Tiger Stadium. Kelly Orgeron and Coach O wheel him out to midfield before the game. 
"Welcome to Death Valley," Coach O tells him, "where opponents' dreams come to die."
Today, it's where Colton's dreams come true. He sees the Tigers roll to a 42-6 victory. He sings the alma mater and proceeds through a postgame victory tunnel. He leads them in prayer after the game. 
He even attends Coach O's post game press conference, the surreality of being inside of his favorite YouTube video etched across his face in a 1080p smile. 
"What a great young man," Orgeron says in response to a reporter's inquiry. "Hey Colton, you want to say hello to everybody?"
"What up?" Colton yells to the applauding media.
He's warmed up, now. What nerves? 
"Colton and his parents were gracious enough to come and visit. He said he wanted to meet myself and the Tigers, and LSU fans paved the way for him to come," Orgeron says. 
"I tell you what: he's warmed all our hearts."
Colton's not done. He ends the press conference with a bang.
"Go Tigers," he shouts.
Colton's made memories this weekend. He's made friends, too, like longsnapper Blake Ferguson, who wheels him around in the postgame celebration. 
"He just has a vibe about him that just is so encouraging," Ferguson says. "To have that kind of attitude after being through all that is really impressive. That was the highlight of my weekend. Seeing him. Not winning the game, not playing in the game. To see the way he just had such a good time was the highlight."
The consequence, however, is that Colton is incredibly sleepy. It's been a great weekend, but he needs rest.  He doesn't want to leave Baton Rouge, but he has to get home in time for his brother's baseball game. 
Don't worry, though. He will be back. The best thing about Colton's first game as a Tiger? 
It won't be his last. 
After all, he's a Tiger for life.