Soccer is Everything to Wasila Diwura-Soale
Wasila Diwura-Soale is never far from home. 
LSU's first African soccer player is an ocean away from where she was born, and she's miles from her first residence in the United States. But no matter where she is, when she steps between the lines with a ball at her feet and a smile on her face, Diwura-Soale is right where she belongs.
Diwura-Soale is a native of Accra, Ghana, a small African community with a love for soccer. She absorbed that love for the game at a young age, but even as she progressed and developed her skills, she realized talent would not be enough to carry her to the levels of the sport she aspired to. 
Her path from Accra to Baton Rouge was paved with resistance. In her home country, some simply did not want to see a woman succeed on a soccer team that previously only had men fill the roster. They called her names and denied her talent simply because of her gender. 
As she matured, Diwura-Soale realized the only person she needed to please was herself. Proving people wrong was not her sole intention, but it was one of the important driving forces of her career. 
"It was all good because I feel like it was some kind of talent given to me by God," Diwura-Soale says. "I love everything about soccer."
Diwura-Soale began her career in Ghana, rising as high as to represent her country in the U20 World Cup in 2016, but came to the United States to play at Navarro College in Corsicana, Texas, for head coach Alicia Wilson. Diwura-Soale admits she was uncomfortable with coming to America to pursue a college career because she aspired to play soccer professionally. Wilson advised her that getting a degree was one of the most critical aspects in pursuing a professional soccer career, so Diwura-Soale took a chance on herself. 
At Navarro, she became a two-time NJCAA All-American and accounted for 88 points (30 goals & 28 assists) in her two seasons. Nine of those 30 goals were game-winners. After two seasons, she transferred to Lamar, but a season-ending injury curtailed the momentum she gained just four games into the 2019 season. At times during her recovery, she thought she wanted to quit playing the game she fell in love with.
Sian Hudson could relate. LSU's first-year head coach had seven surgeries over her playing career. When Diwura-Soale began to consider another transfer and connected with Hudson, she realized her injury wasn't an exit, but a bump in the road. It wasn't time to hang up her cleats. It was time to pave a new path.
HC Sian Hudson on Wasila Diwura-Soale

"She has the ability to create goals for her teammates with her exceptional vision and final ball, but can also score goals breaking forward out of the midfield. She is a special player that will excite fans every time she gets the ball." pic.twitter.com/nWfX1Tdc0d

— LSU Soccer (@LSUSoccer) May 23, 2020
Hudson loves what Diwura-Soale brings to the makeup of her 2020 squad. "I think she brings an unbelievable presence to the team; she's always smiling," Hudson says. "She just has a wonderful personality and attitude to the team." Hudson realized Diwura-Soale came from a background that was vastly different compared to the players she had coached previously. It brings a unique dynamic to the program, giving Diwura-Soale a voice that captures the attention of her teammates.
"I think she's somebody that appreciates the small things in life," Hudson says. "Growing up, she didn't have cleats or soccer balls to play with. Anytime she speaks about her upbringing and her culture in Africa, you get this sense of amazement from the team. They want to listen, and they want to learn about her culture."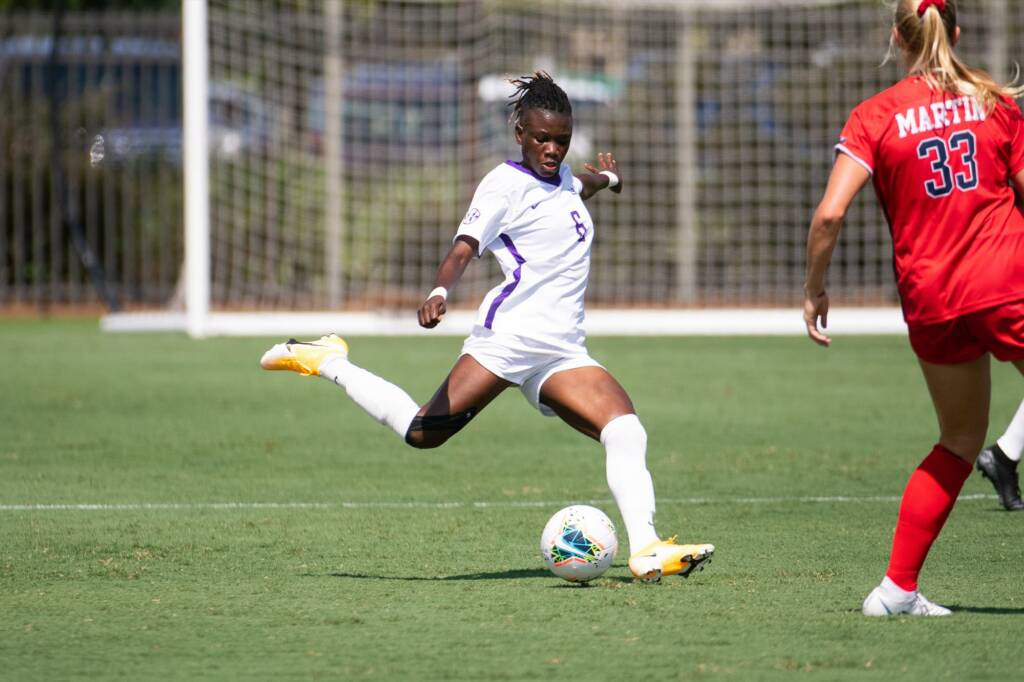 Despite the challenges presented by COVID-19 and a loaded schedule full of SEC teams, Diwura-Soale and the Tigers are finding their footing, picking up points in each of their last two matches. In five games, she's emerged as a midfield mainstay, a true box-to-box midfielder who is just as important to the Tigers in attack as in defense. Her 74% pass completion and 29 tackles lead Tiger all midfielders, and she played 104 minutes in a 1-1 draw at Missouri and 98 minutes in a 3-3 home draw against Alabama. The next step is getting that first win win, but she feels it's just around the corner.  
"We're going to keep our focus and working on whatever they are telling us, and at the end of the day, we will still get the results we want," Diwura-Soale says. "I know everything's going to be alright."
She's also established herself inside the program, creating strong bonds with new teammates and coaches. When discussing her decision to pick up and move 185 miles east to Baton Rouge, Diwura-Soale's face lights up. The best midfielders are those whose decisions on the field create chances for others, but in this case, it's clear Diwura-Soale's decision to come to LSU was the right one for her. 
"I just love everything about LSU," Diwura-Soale says, "and all I will say is LSU is now a home, and I love it."
That's the beauty of the game she loves. It's everywhere she goes. It stays with her. With soccer, Diwura-Soale finds solace. It's a place where the outside noise fades away. The struggles she might go through are never in vain, because once she digs her cleats into the grass, all of her problems and worries disappear.
"I feel like soccer takes away a lot of problems," Diwura-Soale says. "No matter whatever you're passing through, immediately you go onto the field, you kind of forget a lot of stuff that is worrying you. Soccer has really brought a lot of smiling to my face."
The game has changed her and challenged her. It's taken her all over the world. Diwura-Soale can express herself – with the ball at her feet or with her teammates in the locker room. Her life is bigger than just soccer, but her life is also bigger because of soccer. 
"Without soccer," Diwura-Soale says, "all of these things would not have happened, and I would not be here."
A Thank You from Wasila Diwura-Soale
Diwura-Soale took it upon herself to thank and acknowledge the people that mean the most to her. With tears rolling down her face, she said a few thank yous to her strongest supporters.
"I just want to use this time to say thank you to all the people who have helped me get to where I am," Diwura-Soale says. 
To Coach Didi Dramani, who developed her and made her a very tough player.
To her mother for how she has supported her over the years. Her prayers have given her power and blessings.
To Coach Yusif Basigi, her brother Hamdan, Ricardo, Alicia Wilson, and Oscar. To the Garza and Martinez family who have been great supporters of her on and off the field.
Finally, to Elizabeth Cudjoe: "She was my childhood friend and developed me a lot. I thought about quitting the sport of soccer, but she encouraged me to keep going," Diwura-Soale says. "She would spend extra time with me after playing with the senior team. She would teach me certain things that made me a better player. I love you Elizabeth wherever you are. You are still my idol, and I will never forget about you."