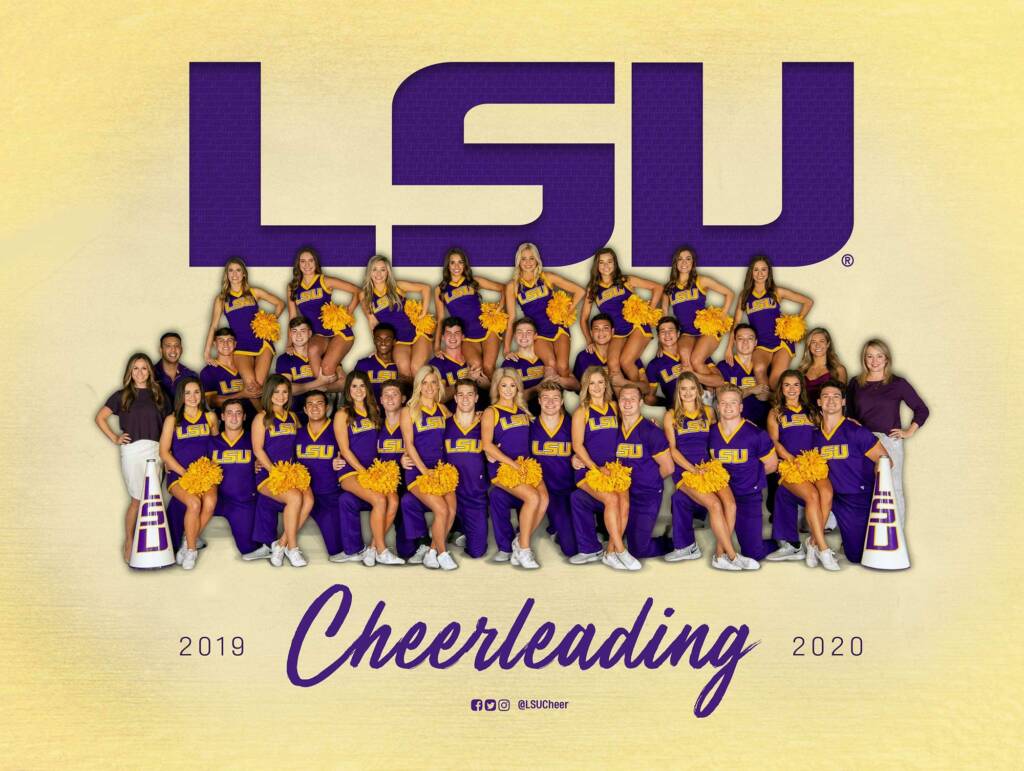 Team Photo:
Top Row (left to right):
Chris Bradford (Coach), Tyler Higley, Alexandra Scardina, Jordan Andre, Caitlyn Gideon, Tyler Simmons, Jordyn Prattini, Mason Musgrove, Abigail Ambeau, Dominic Sawicki, Anna Howze, Anthony Kucel, Marie Dalmau, Hunter Antie, Julia Brown, Brandon Do, AnnaLee Trosclair, Allie Thorpe (Graduate Assistant)
Bottom Row (left to right):
Shelby Spurlock (Coach), Lila Harrington, Travis Braud, Brett Crivellari, Raul Vazquez, Jensen Hilliard, Sam Walters, Kayla Mauro, Timothy Thibodeaux, Alexandra Dragonir, Brendan Bice, Natalie Brocato, Krimsen Knowles, Peyton Edwards, Shane Brotherton, Shannon Coulon, Sam Dufour, Pauline Zernott (Coach).
About the Cheerleaders
The LSU Cheerleaders are Coached by Chris Bradford and Shelby Spurlock under the Direction of Pauline Zernott. The Cheerleaders cheer at home Volleyball matches, home and away Football games, Men's and Women's home Basketball games and Gymnastics meets. In addition, member of the team participate in away basketball post season tournaments.
Being a member of the team is a full year commitment. 2nd-year members receive a stipend of $1,000 per year, 3rd-year members receive $1,500 per year and 4th-year members receive $2,000 per year. Be sure to follow LSU Cheer on Instagram.
2020-21 LSU Cheerleading Tryout Information
Dates: May 13-20, 2020 (new dates)
Apply Here: Click here
Brochure: View/Print (.pdf)
Details: Click Here
We are so proud of Ali Simon as she will be featured on the cover of this summer's edition of American Cheerleader Magazine! pic.twitter.com/9TRQA62dSd

— LSU Cheerleading (@LSUCheer) June 8, 2017
Archive:
For more information regarding the LSU Cheerleading Squad, contact the LSU Spirit Coordinator at pzernott@lsu.edu. 
To easily find this page, visit www.LSUsports.net/cheerleading.