2022-2023 LSU Soccer Camps
Come join us for our 2022-2023 LSU Soccer Camps! The goal of the LSU Soccer camps is to provide a fun, competitive and educational environment where players can enhance their soccer skills, speed & agility and knowledge of the game. Our experienced staff is led by LSU head coach, Sian Hudson, and our camps will be hosted at the home of the LSU Soccer Team. We are very excited to continue camps this year and hope you will come join us!! Geaux Tigers!
Registry for our upcoming 2023 Elite ID Camp on February 26th is now open!
2022-2023 LSU Soccer Camps
Tiger Soccer Academy
Dates: March 6, 20, 27, April 3, 10

Location:LSU Soccer Stadium (Baton Rouge, La.)

Cost:$195

Tiger Soccer Academy is LSU Soccer's weekly program which provides youth players the opportunity to compete and have fun, whilst developing their ball skills. 

The Tiger Soccer Academy program will focus on technical development and functional (game related) exercises, as well as physical preparation for performance. LSU Soccer Staff and players will facilitate speed, agility, and quickness exercises along with individual, small sided, and game-related activities. 

Registration will include a Tiger Soccer Academy T-shirt, Zip Up Jacket, and Soccer Ball.
---

LSU Soccer Elite ID Camps
Dates: February 26, 2023
Location: LSU Soccer Stadium (Baton Rouge, La.)
Cost: $200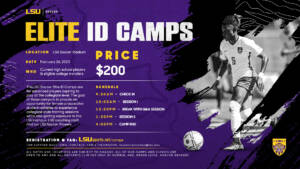 Camp schedule: 
09:30am – Check in
10:00am – Session I
12:00pm – Break with Q&A session
01:30pm – Session II
04:00pm – Camp end
---

LSU Soccer Youth Camps
Dates: June 5-8
Who: Girls & Boys, ages 4-12
Half Day: $225
Full Day: $325
Description:  A 4-day, 9am-3pm, commuter only camp. Half day campers depart at noon, while full-day campers receive lunch on-site.
The goal of LSU Youth Soccer Camps is to provide a fun and competitive training environment for players to develop soccer skills. Campers should be expect to be challenged daily through a variety of exciting and competitive activities that will help develop a solid technical base. Coaching will be led by the LSU Soccer Staff, assisted by LSU Soccer players, and licensed local and nationally based coaches.
---

LSU Soccer 4-Day Advanced Camp
Dates: June 11-14, July 17-20
Who: Girls & Boys, 4th-12th Grade (as of Fall 2023)
Residential: $699
Commuter: $550
Team Cost per Player (min of 8 players)
Residential: $650
Commiter: $500
*contact lsusoccercamps@lsu.edu for 8+ player team registration
Description:

A 4-day program, offering both commuter and residential options. Residential campers will stay on-campus in dormitories and will eat at our on-campus dining facilities. Commuters will receive Lunch/Snacks daily. The LSU Soccer Advanced Camp is aimed towards players aspiring to enhance their technical and tactical soccer skills with direct feedback from experienced college coaches from across the country.
Anticipated On-Field Daily Schedule*
Day 1: 3:00pm – 5:00pm
Day 2 & 3: 9:00am – 5:00pm
Day 4: 9:00am – 12:00pm
*may adjust due to weather, field, and facility availability
All of our camps and clinics are open to any and all entrants (limited only by number, age, grade level and/or gender).
Further Questions?
CONTACT
Samantha Etherington
(225) 578-2539
lsusoccercamps@lsu.edu
REFUND POLICY
If LSU Soccer cannot fulfill its commitment to host a camp due to circumstances outside of our control, campers will receive a full refund. LSU Soccer will not be held liable for any costs incurred outside of camp registration.
IF YOUR CAMPER IS INJURED WHILE AT CAMP
If the proper doctor's note is provided, you will receive a credit towards a future LSU soccer camp, for a pro-rated amount of the camp cost minus (-) the time spent in camp.
VOLUNTARY WITHDRAWAL/CAMP DISMISSAL
For campers that leave camp due to voluntary withdrawal or dismissal from camp, there will be no refunds of any kind. Some examples of voluntary withdrawal consist of, but are not limited to – homesickness, doctor's appointment, birthday parties, school functions, etc.