No. 1 LSU Wins 12th SEC Title in Rout of Bulldogs, 37-10
ATLANTA — Led by Joe Burrow's four touchdown passes, No. 1-ranked LSU won its 12th SEC Championship, 37-10, over No. 4 Georgia on Saturday at Mercedes-Benz Stadium.
In head coach Ed Orgeron's third full season in Baton Rouge, LSU improved to 13-0 and solidified its place in the College Football Playoff Semifinals to be held Dec. 28. The Tigers beat five top-10 teams along the way and brought the league's trophy back to Baton Rouge for the first time since 2011.
The Tigers will learn the semifinal seed and destination on Sunday approximately 11:15 a.m. CT on ESPN.
Burrow, the odds-on favorite to win the Heisman Trophy next Saturday in New York, was named the game's Most Valuable Player after completing 28-of-38 passes for 349 yards and four touchdowns. His footwork and escapability allowed him to lead LSU in rushing for most of the contest (41 yards), and he also caught a deflected pass that he threw for a 16-yard gain.
Simply, he did it all for LSU – and made all of the Tigers around him better along the way.
Worsham: "Anybody, Anywhere" | SEC Champion Tigers Stake Claim for No. 1
LSU built a 17-3 halftime advantage and scored the first 17 points of the second half to put the game out of reach before the end of the third quarter, 34-3.
In a contest played 70 miles from Georgia's Athens campus, only the vocal minority of LSU faithful remained in the stands as confetti rained over the purple and gold Tigers. The Tigers improved to 5-1 in SEC Championship games since the current format started in 1992. 
The Tigers outgained Georgia, 481-286, choosing to take advantage of Burrow's accuracy and running ability to pick apart the stellar Bulldogs' defensive which entered the game allowing 10.4 points per game and only one rushing touchdown. 
Wide receiver Justin Jefferson led LSU with 115 yards on seven catches with a touchdown, becoming the 10th LSU player to amass 2,000 career receiving yards.
Versatile running back Clyde Edwards-Helaire ran for 57 yards and caught seven passes for 61 more. Wide receiver Terrace Marshall Jr. caught touchdown passes of 7 and 4 yards, finishing the evening with five catches for 89 yards. Ja'Marr Chase battled through illness to catch three passes for 41 yards including a 23-yard touchdown from Burrow on the Tigers' first drive. 
Defensively, the Tigers kept Georgia (11-2) off the field by allowing only 3-of-13 on third down, while holding the Bulldogs to its lowest rushing total (61 yards) since 2017.
LSU cornerback Derek Stingley Jr. continued to remind the nation not to throw his way, as the freshman had a pair of interceptions in the second and third quarters. Safety JaCoby Stevens led the Tigers with seven tackles, while Thorpe Award finalist Grant Delpit, and linebackers Patrick Queen and K'Lavon Chaisson each had sacks of Georgia quarterback Jake Fromm.
Fromm managed only 20-of-42 passing for 225 yards with a touchdown when the outcome was decided in the fourth quarter. 
LSU's SEC Football Championships (12) | View all-time LSU's SEC Champs
1935, 1936, 1958, 1961, 1970, 1986, 1988, 2001, 2003, 2007, 2011, 2019
College Football Playoff Selection Show
(Sunday, 11 a.m. – 3 p.m. CT | ESPN)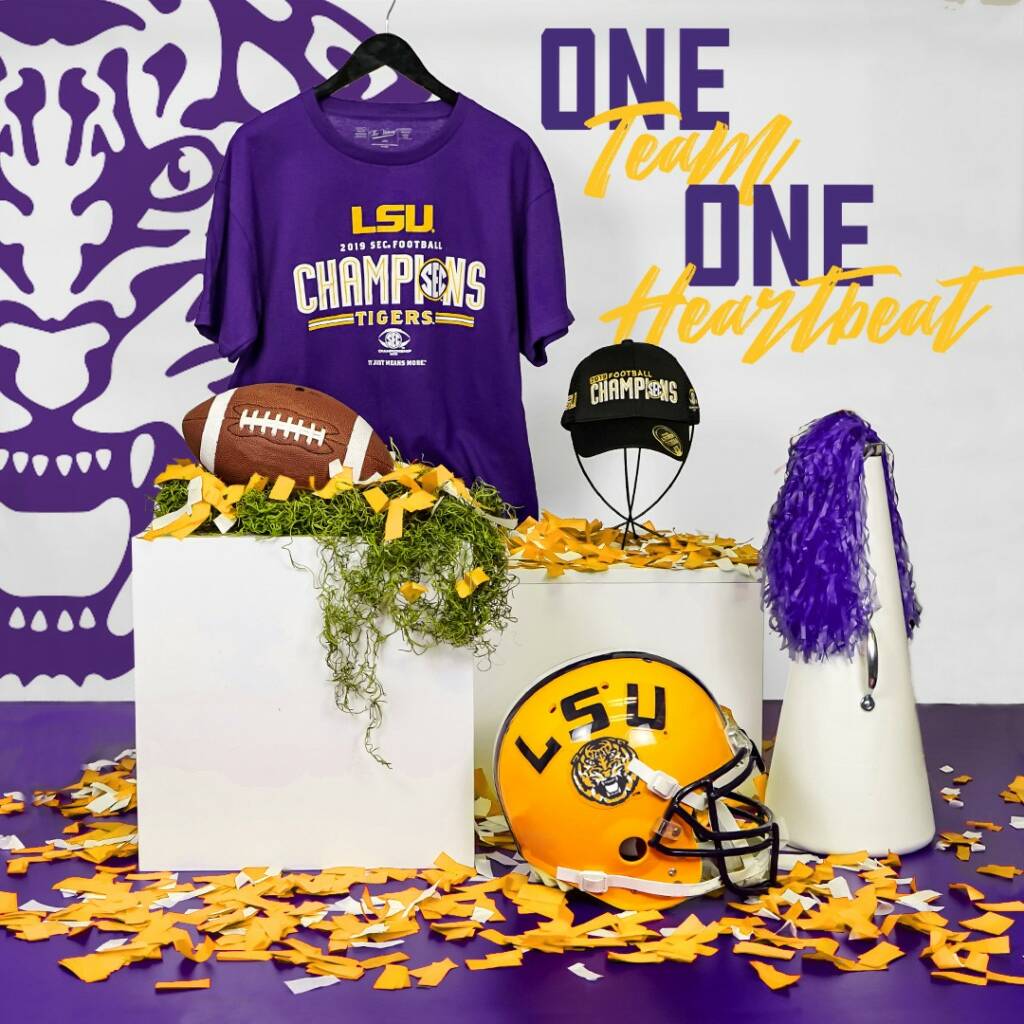 The four teams selected to the College Football Playoff are expected to be announced at 11:15 a.m. Sunday, live on ESPN. Matchups, locations and game times will be announced on the show.
On Dec. 28, the No. 1 seed will face the No. 4 seed, and the No. 2 seed will face the No. 3 seed. The CFP Semifinal games will be Atlanta's Chick-fil-A Peach Bowl at Mercedes-Benz Stadium; and Glendale, Arizona's PlayStation Fiesta Bowl at State Farm Stadium. Game times will be 3 and 7 p.m. CT.
Postseason Ticket Notification
Season ticket holders who requested postseason tickets prior to the Nov. 19 deadline will receive an email on Sunday from the LSU Athletics Ticket Office with a timeline for allocating bowl tickets.
Those who requested tickets will receive email notification no later than Friday, Dec. 13, with the quantity they were allocated (if any).
Online Jersey Auction
At 7 p.m. CT, an auction of multiple 2019 White LSU Football Commemorative Authentic Customized Jerseys will begin at LSUsports.net/auctions. Winners will be allowed to customize the nameplate on the jersey and select from either No. 1 or No. 19.
Place your bid at 7 p.m. CT!
Blow-by-Blow Recap
LSU won the coin toss and deferred its decision until the second half. The Tigers defended the east end zone in the first quarter.
FIRST QUARTER
LSU linebacker Damone Clark came up with an 11-yard sack on third down, but grabbed Fromm's face mask to give Georgia new life on the drive. The Tigers defense got off the field when Fromm's third deep pass of the Bulldogs' first six plays of the game fell incomplete.
After picking a first down with two plays in Edwards-Helaire's direction, Burrow caught a deflected pass and ran 16 yards across midfield for another first down. With plenty of time in the pocket, Burrow found Marshall for 1 24-yard catch-and-run on third-and-10, then connected with Chase for a record-setting 23-yard touchdown. LSU led 7-0 with 9:09 left in the quarter.
With his 45th touchdown pass of the season, Burrow set the SEC single-season record, while Chase's 18th receiving touchdown tied Florida's Reidel Anthony (1996) for the league's single-season mark. 
A pair of incomplete passes by Georgia, and a pre-snap penalty by LSU – along with an overturned fumble by Edwards-Helaire – led to a pair of punts. Starting from its 44, the Bulldogs gained a first down with an 11-yard pass to Dominick Blaylock, but lost the wide receiver for the game with a knee injury. Rodrigo Blankenship then tugged a 52-yard field goal attempt to the left, giving LSU possession with 1:56 left in the quarter.
Burrow picked up a blitz and found hot-read Edwards-Helaire out of the backfield for 11 yards to the LSU 48, then looked deep for Marshall, who made a 41-yard reception that bounced off his chest and was caught on the rebound. On second-and-6 from the 7, Burrow's play-action kept the Bulldogs defenders and bay while Marshall streaked to his left in the end zone for an easy touchdown catch. LSU led 14-0 with 12 seconds remaining in the quarter.
SECOND QUARTER
Georgia put together a 10-play, 53-yard drive to score its first points of the game on a 39-yard field goal by Blankenship. A 17-yard pass from Fromm to wide receiver Demetris Robertson was key to the drive, while LSU defensive end Rashard Lawrence had a 4-yard tackle for loss to stall the Bulldogs' drive. LSU led 14-3 with 11:28 to play in the half.
A rare three-and-out by the Tigers came after a dropped pass by Marshall, who had a step on his defender at the Georgia 28-yard line but couldn't control the long pass.
A 15-yard pass from Fromm to tailback Brian Herrien gave Georgia a first down at its 41, but Fromm was sacked by LSU safety Grant Delpit two plays later and exited for the series. Following an incomplete pass by Bulldogs backup Stetson Bennett, LSU took over at its 20 following a punt into the end zone.
The Tigers went 57 yards in 11 plays – including a 13-yard run by Burrow to the Georgia 31 – but settled for a 41-yard field goal by Cade York when Burrow's third-down keeper came up two yards short.
LSU led 17-3 with 2:22 left in the half.
With Fromm returning to the game, Georgia began to find an offensive rhythm with passes for 19 and 16 yards to the LSU 40. He then chose to throw in the direction of one of the nation's best cornerbacks and was intercepted by Derek Stingley Jr. at the 13-yard line.
Under duress, Burrow again found Edwards-Helaire for 24-yards to open the drive. His weaving run of 16 yards crossed midfield, where the Tigers faced third-and-5 with 51 seconds remaining in the half. A slant to Chase went for 11 yards and a first down, however, three-straight incomplete passes and a 48-yard field miss by York left the Tigers with an empty possession to end the half.
LSU led 17-3 after outgaining Georgia, 255-138, in the half including 204 through air by Burrow.
THIRD QUARTER
The Tigers used 6:40 off the third-quarter clock, looking to shorten the contest with a two-score advantage. Burrow methodically matriculated 77 yards down the field in 16 plays, but Georgia's first sack of the day limited the Tigers to a 28-yard field goal by York.
LSU led 20-3 with 8:20 remaining in the quarter.
Georgia's first shot of the half started with Swift's second carry of the game – a 13-yard gain around the right end – and a 14-yard scramble by Fromm to the LSU 48. The Bulldogs kept the drive alive with a terrific 18-yard catch on fourth-and-8 by George Pickens, who sat out the first half for fighting in the regular-season finale. However, a sack by K'Lavon Chaisson put the Bulldogs behind the chains and Blankenship missed a 37-yard field goal to the right.
In a season of highlights, Joe Burrow had his "Heisman Moment". From his 20, he took the snap in shotgun. Not happy with his first option, Burrow retreated and dodged two Bulldogs near the 5-yard line before rolling to his right and slinging a pass 40 yards along the right-side numbers where Jefferson found space behind defenders and ran 71 yards to the Georgia 9. 
Joe. Burrow.
That's It. pic.twitter.com/uaX42Pd5sC

— LSU Football (@LSUfootball) December 7, 2019
Heisman Moment pic.twitter.com/V2Yw0bjiBT

— CBS Sports (@CBSSports) December 7, 2019
Two plays later, Burrow tossed his 47th touchdown of the season – a 4-yard catch by Marshall – and LSU pushed its advantage to 27-3 with 2:18 left in the quarter.
Stingley came up with an interception of Fromm on the next play, allowing Burrow to complete a three-play, 13-yard drive with an 8-yard touchdown pass to Jefferson which put the game out of reach before the fourth quarter.
With 45 seconds left in the third, LSU led 34-3.
FOURTH QUARTER
Fromm cut into LSU's advantage with a 13-play, 75-yard drive that used 4:04, as Georgia trailed 34-10 with 11:41 remaining.
Running the ball six-straight times in an attempt to run the clock out, LSU advanced to the Georgia 32 where York added a 50-yard field goal. His school-record tying fourth 50-yarder gave LSU a 37-10 lead with 7:41 remaining.