LSU Athletic Training Facilities
Dr. Martin J. Broussard Athletic Training Facility adjacent to Tiger Stadium
In the Spring of 1998, the athletic training program moved into the Dr. Martin J. Broussard Athletic Training Facility located on the Northeast corner of Tiger Stadium. The two story, 22,000 square foot facility contains 20 treatment tables with the newest forms of modalities available, 14 taping stations, a 1,600 square foot rehabilitation area which contains the latest rehabilitation equipment including the Cybex Norm, Woodway treadmills and Body Master select rise equipment.
There are 20 computers/work stations which will be loaded with an injury tracking program designed by the LSU training staff utilizing the Paradox Database System as well as a therapeutic exercise computer program that generates exercise and rehab protocols.
Pool Rehabilitation Area
The 2,400 square foot state-of-the-art pool rehabilitation area houses four 8 x 11 Jacuzzi style walk-in whirlpools, a 15 x 30 lap pool that graduates in depth for underwater rehab, and a 15 x 15, seven-foot deep pool for cardiovascular training. An additional area contains a 7 x 21 foot walk-in cold jacuzzi style tub.  
Modality Treatment Area
There are 17 tables where the athletes receive modality treatment. In this area you will find a variety of rehabilitation machines used to shorten rehab time and return our athletes back to their sport in a timely manner.
Taping Area
The athletes fill our taping area that contains 14 separate taping stations. This areas, as in all other areas of the facility are coed. Each sport has equal access to this taping area at all times of the day. On average, well over 150 athletes will move through this area on any given day.
Rehabilitation and Fitness Area
The Broussard Center for Athletic Training offers the athlete the best opportunity to maintain their fitness level while undergoing short and/or long-term therapy for their injury. Among the cardiovascular equipment you will find: three (3) Stairmasters, five (5) Life Cycles, two (2) Nordic Tracks, two (2) Cybex Upperbody Ergometers, and a Woodway Treadmill. There are a wide variety of Body Master isotonic machines used to build and maintain the strength of our athletes during the rehabilitation process. Our Cybex Norm isokinetic machine has the ability to rehabilitate all of the major joints in the body. The Cybex Norm is used in the NFL Combine as a diagnostic tool to determine the strength and/or deficits in the knees of future NFL players.
The Second Level
The second floor offers four private physicians offices, x-ray capabilities, an optometry center, an echocardiogram station, an athletic training student lounge, as well as an in-house pharmacy. A 14 x 14 conference room serves as a staff meeting room as well as a meeting room for athletic training student in-services. Formal staff offices, a men's and women's locker room facility and a storage facility complete the second floor.
X-Ray Room
Having access to a hospital grade, on-site x-ray facility allows our orthopedic surgeons and general practitioners an immediate and reliable means for making a medical diagnosis of injuries or illness. Our X-ray technicians are in the facility in the evenings to help expedite the diagnostic requests of the physician. If a diagnosis is made that requires splinting or casting, our casting room stocks everything necessary for long and short-term immobilization of the athlete's injury.
Eye Exam Room
Our team ophthalmologist has the on-site facility to perform ophthalmic examinations for our athletes. These specialized machines help to determine one's visual impairments as well as provide measurements necessary to fit one for contacts and glasses.
EKG Station
During pre-season physical examinations, our team cardiologist is able to perform electrocardiograms as well as echocardiograms on all of our athletes. LSU is the first school to have availability of the echocardiogram within the training room. This state of the art diagnostic tool can provide the doctor with a print out of the heart's electrical as well as an actual moving picture of the valves and arteries within the heart muscle.
Dental Lab
The Broussard Center for Athletic Training houses a full service dental clinic complete with board-certified team Dentists committed to serving the student athlete at LSU. Performing restorative cavity and root canal procedures, all encompassing care can be done at this state of the art facility.
Conference Room
The John Weston Hawie Family Conference Room is used for staff and graduate assistant meetings, student in-services and volunteer interviews. Housed within the conference room is the Dr. Joe Serio Library. This library contains a variety of educational books and periodicals on the topic of athletic training.
Storage Room
The storage room contains all of the medical supplies that the Athletic Training Department would use in a given year. Inside this area you will find a wide variety of prophylactic splints and braces, first aid supplies as well as our molded mouthpiece station. Once mouth molds are taken of our athletes, our athletic training students are able to provide the athlete with custom fit mouthpieces which aid in reducing the number and severity of dental injuries and concussions.
Athletic Training Student Lounge
The Broussard Athletic Training Facility serves as the main athletic training facility for all treatments and rehabilitations. There are satellite athletic training facilities in the Pete Maravich Assembly Center, the Carl Maddox Fieldhouse, LSU Soccer Complex, Tiger Softball Park and the New Alex Box Stadium serving pre- and post-practice necessities. The Broussard Athletic Training Facility is manned by six full-time Certified Staff Athletic Trainers, 10 Certified Graduate Assistants and 25 athletic training students.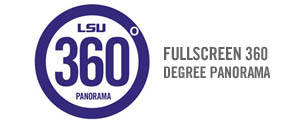 Satellite Athletic Training Facilities
Football Operations Building Athletic Training Facility
In August 2005, the Athletic Training Staff was fortunate to add yet another athletic training room to its long list of operational facilities. The Athletic Training Room at the Football Operations Building is 8000 square feet of the latest state-of-the-art equipment and rehabilitation tools to better assess, treat and return our athletes to sport. Although this athletic training room is considered a satellite facility, it is large enough and so well equipped that it is a facility that certainly ranks amongst the best in the country.
This facility's focus on rehabilitation begins in the hydrotherapy area with three (3) in-ground pools powered by HydroWorx. Two of these pools are plunge pools, one hot and one cold. The third pool has a built in treadmill and jets designed to be modified based on the degree of injury or the stage of rehabilitation. Computer driver with built in cameras, this underwater treadmill allows the athletic trainer a way to evaluate the athlete's gait and helps determine their readiness and progression to dry land training. With full visual access to the football fields at the McClendon Practice Facility, the athlete can utilize stationary bikes, a Life Fitness Elliptical Trainer, Stairmaster Climbers, a Woodway Treadmill as well as a host of other dynamic equipment.
This facility is a great working environment for the staff of certified athletic trainers as well as the certified graduate and athletic training students. With easy access to the LSU practice fields and the indoor facility, setting up the fields for practice has never been easier. In making the daily transition from academics to the clinical experience, the athletic training students have personal lockers and shower facilities within the athletic training room itself. The Athletic Training Room at the Football Operations Building is certainly top notch.
Pete Maravich Assembly Center Main Athletic Training Facility
This facility is home to Women's Basketball and Volleyball on a daily basis for Practice Preparation, Treatment, and Rehabilitation. For competitions this facility houses Men's Basketball, Women's Basketball, Gymnastics, Volleyball, Track and Field, as well as Visiting Teams. This facility is equipped with 2 whirlpools, 2 taping tables, 4 treatment tables, and modalities.
Pete Maravich Men's Basketball Athletic Training Facility
This facility is located downstairs in the PMAC and houses the Men's basketball team and is used for both practice and game days. This facility is equipped with: 2 Treatment tables, 2 taping tables, and modalities.
Fieldhouse Athletic Training Facility
This facility is located inside of the Carl Maddox Fieldhouse and is home to: Men's and Women's Tennis, Men's and Women's Track and Field, and Gymnastics. This facility is equipped with 2 whirlpools, 2 treatment, and 2 taping tables and modalities.
Soccer Athletic Training Facility
This facility is located at the LSU Soccer Complex and exclusively houses the Women's Soccer team. The Soccer Complex Athletic Training Room is used for practice, game days and for visiting teams when playing the Tigers. This facility is equipped with 2 treatment tables, numerous modalities, a taping table, and a whirlpool.
Alex Box Athletic Training Facility
The athletic training facility is located inside the new Alex Box Stadium and is home to the LSU Baseball team.  There is over 1,000 square feet of space that is used for daily treatments, long- term rehabilitations, as well as practice and game preparation.  The facility is equipped with cardiovascular equipment, therapeutic modalities, taping tables, Theraband wall stations, and whirlpools. The LSU baseball team has one of the nicest athletic training facilities in college baseball.
Tiger Park Athletic Training Facility
The new Tiger Park boasts a state of the art facility that tops most in the country and is home to the LSU Softball team. The athletic training room is located on the second floor of the new Tiger Park facility. It is equipped with a treatment table, hydrotherapy room, as well modalities used for practice and game preparation. The grandest part of this athletic training room is the top notch view of Tiger Park.