For Landon Marceaux, Confidence Is Key
How a more confident Marceaux has transformed into LSU's ace and Friday night starter
Expectations are ingrained into the fabric of the LSU baseball program, but it's a pressure to perform that tested Landon Marceaux in a different way than most.
His résumé was decorated before he even threw a pitch for the Tigers: Perfect Game's No. 1 rated player in Louisiana, a draft choice of the New York Yankees, Team USA World Cup gold medalist, and three-time 1st Team All-District selection were just a few of the feathers in his cap. 
In three preseason scrimmages as a freshman, Marceaux threw 10.2 innings, giving up no runs, tallying 17 strikeouts. A week before that, he was named Preseason Freshman of the Year by Baseball America. The fanfare was mounting, as one could imagine. Those were all eye-popping accolades at the time, but he'd probably tell you it did more harm than good for his psyche. 
Three years later, now in control of LSU's Friday night starter role, Marceaux has learned a thing or two about hype: how to manage it, how to block it out. There's been a lot of self-reflection along the way. More than anything, he's realized how to stay true to himself and not try to be someone he's not. 
He achieved that in many ways. For starters, it didn't take long for Marceaux to delete his social media and listen to the people that matter most. "It was after he went through a rough spot his freshman year, he just turned that stuff off," said Joey Marceaux, Landon's father. "He was getting the kind of stuff you get on there." 
Marceaux turned to his coaches and his parents, and tuned out the comments on Instagram and Twitter. His authentic self was always on a dirt hill anyway, 60 feet, six inches away from a white plate. That's where a quiet and reserved Marceaux has always felt the most outgoing.
Good stuff… but let's not forget about the little engine that could down on #TheBayou …. Landon Marceaux @LSUbaseball still hasn't given up an earned run! @SECbaseball has plenty of ??….gona be fun to watch! https://t.co/g2SbR9tDTA

— Ben McDonald (@realbenmcdonald) March 22, 2021
GO BACK IN TIME and you'll find a young Marceaux sitting in front of the television set watching the MLB Network as if class was in session, taking mental notes from the commentators, imitating the grips that former pitchers on set were using, even looking up videos of Greg Maddux on the side. 
Marceaux idolized a handful of pitchers, but his favorite to watch growing up was Pedro Martinez, three-time Cy Young award winner and, like Maddux, a member of Cooperstown. Fascinated with how explosive and powerful Martinez was for his size, Marceaux found a certain relatability to his own body type, which inspired him to emulate his grips and mechanics and use them as his own.
"I've done so much research on Pedro on how explosive he was, how powerful he was," said Marceaux. "That was very, very interesting to me. We have similar bodies. I'm not quite as explosive as him. But, a lot of my pitch grips mimic his. That's where the studying of the game was really fascinating to me."
"Maddux was more the mental side," he added. "It was the mindset of command over velocity, changing speeds, keeping hitters off balance. That's more of what that was."
Baseball quickly became a hobby for Joey, too, and the two would bond for hours on end over their shared passion. Joey would do pitching research, look up analytics, and study the game, even becoming Landon's travel ball pitching coach from age 11 to 14. At that point, everything in the house revolved around baseball. The relationship between Marceaux and his father went far beyond playing catch in the backyard with pops — and it still does. 
Sure, Marceaux has picked up some other hobbies and interests since going away to college. Hunting, the outdoors, visiting the family property in Vermilion Parish. But there's certainly one constant: he eats, sleeps, breathes baseball. That's his life, and he wouldn't want it any other way.
"He was one of those kids that had a thirst for knowledge," Joey said. "He would latch on to any piece of information that would give him a little edge and make him a little better. He was always a student of the game."
Even now as a 21-year-old, that thirst for knowledge hasn't been quenched. The fire beneath him, to be a sponge and remain coachable still burns bright. It has to be, he says, if he wants to achieve his most far-reaching goals.
"I'm definitely just as big of a student of the game," Marceaux said. "That's something that you just can't lose. Every day, the game throws something new at you that you've never seen before or heard before. With all the analytics now … there's all types of room to improve."
It's one thing to become knowledgeable, but it takes a certain baseball IQ to understand what's going to help you as a player and match to your skill set. Implementing that little change into your repertoire to take that next step is something that both Marceaux and pitching coach Alan Dunn have perfected.
"I think that's the thing that we've been able to connect on," Dunn said on working with Marcaeux. "For me, it's such a fine line: if it's not broken, I definitely don't want to fix it. We're in a good place right now."
Throughout high school, and even into his freshman season with the Tigers, Marceaux kept a journal in the dugout to jot down his thoughts in between innings about the opposing team, what he was feeling like, or things he could improve on. That came to an end his sophomore year. He didn't store it away, or keep it somewhere where he could find it later; he threw it out.
"It really got me thinking too much instead of focusing on the task at hand," Marceaux said on the journal. "It brought me back instead of looking forward. I still keep mental notes."
Life is about balance, too. Learning and discarding. Figuring out what works, evaluating, and moving forward. Dunn has seen Marceaux do that over what he referred to as a "maturation process" in his career at LSU. While the journal is useful in some cases, all that information can get noisy quick. Trust your stuff and let it rip. Don't second guess.
"There's so much information out there; it's an overload," Dunn said on Marceaux's journal. "It can be something that puts clamps around you, where you can't breathe and you get too much. I think he let some of that go, and relied on the knowledge that he has, the stuff he has, which is well above average, and the feel he has. He's done a great job of balancing those things."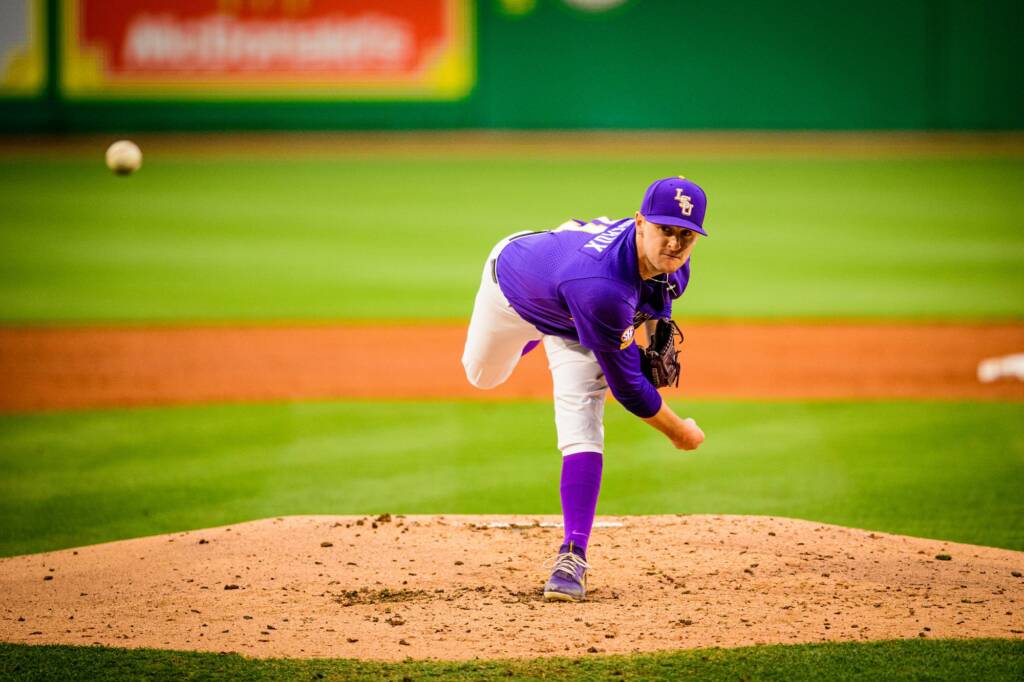 CONSISTENCY WAS THE MAIN THING Marceaux said he wanted to improve on the mound in 2021. It's only April, but going 33.2 innings without allowing an earned run to start the season is as consistent as it gets, and he feels as confident with his command as ever before.
That confidence boost wasn't something that came out of the blue. Rather, it was something that won't necessarily enter the conversation that his father Joey feels has made the biggest impact; the connectedness, and the increase in trust between Marceaux and Dunn.
"His confidence has increased, they're getting more on the same page," Joey said of Marceaux's relationship with Dunn. "(Alan) has learned what works for Landon. I think they've figured each other out and they've found what works."
When Marceaux entered the program as a freshman, it was an adjustment in many ways. The change of pace and routine was something he needed to feel out, mostly because he had a process for everything in high school. His offseason arm care routine. His midweek routine. How he worked up to the beginning of the season. That was all modified when he got to Baton Rouge, which threw him off a little bit, but now he's found a groove and a new rhythm that suits him.
"Landon knows himself so well," Dunn said. "He knows his strengths and weaknesses, and he plays off those. Early in his career, I think he may have tried to be someone that he wasn't. That's not something that's uncharacteristic of guys that come to the next level."
Landon Marceaux, 11th K and Fist pump.???? pic.twitter.com/S6Iv57P5dl

— Rob Friedman (@PitchingNinja) March 14, 2021
Not only has his confidence soared, but he's viewing the game with a different perspective in Year 3. When 18-year-old Marceaux stepped on campus in 2018, he attracted hype that not many freshman pitchers have seen in program history, and trying to live up to, and exceed those expectations was a weight on his shoulders that he'd admit impacted his outings. Now, he's just relishing every opportunity and having fun. It's translating into consistent results.
"I think that's maturity," Dunn said. "Adversity in this game will make you go one or two ways. For him, I think he hit it in the mouth and understood that this is a league where the struggles that you have, you have to be able to turn the page. I think he's done a great job with that."
"As a highly-touted freshman coming in (to LSU), I expected to do big things and I think I tried to do way too much," Marceaux added. "I tried to exceed those expectations when they were already sky high. Now, I'm playing the game for fun, competing and doing what I love."
Taking adversity and turning it into a learning experience is something Dunn feels Marceaux has done an especially good job of over the past three seasons. If you evaluate the outing properly, Dunn says, you can turn that rough start into something that's adjustable the next time out.
"I think he does expect a lot out of himself," Dunn said. "I think that's one thing he's learned over the past three years. I don't ever want any guy to settle for mediocrity. But, there's going to be those adverse days. If you evaluate it properly, keep your thoughts and perspective right, then the game won't eat you up."
Inside the mind of Marceaux is a mentality that's unique. Baseball is a game of failure, but Marceaux is a perfectionist at heart. As a pitcher, that can be both a blessing and a curse, but it certainly drives him to always want more. 
"He's never satisfied, he tries for perfection," Joey said of Landon's mindset on the mound. "He knows he can do it. He always wants more. He's got high expectations for himself."
There's an old adage. What comes first: success or confidence? In Marceaux's case, success in travel ball and high school led to confidence. But when he arrived at LSU, a couple uncharacteristic starts forced him to regain some of that confidence back, which has led to his latest success. It's all come full circle.
He's pitching with the confidence that's always been inside of him. The baseball-loving, student of the game, who has a passion for pitching. 
That's Landon Marceaux at his best.
Not being someone he's not. Not trying to exceed expectations set from others. 
Being himself, and putting up zeros.
"He's been an ace," says Paul Mainieri, "in every sense of the word."