Gameday 2020: LSU's Team-Oriented Approach to a Season Unlike Any Other
It's Friday afternoon in Tiger Stadium, and thousands of LSU fans are already in their seats, eagerly awaiting Saturday's kickoff against South Carolina in just over 24 hours.
It's not unusual for LSU fans to arrive early for a game, but there's something quite different about this year's early arrivals. 
They're constructed entirely of cardboard.
They, and their presence in the stadium well in advance of the gates opening, are not the only oddities present in 2020. Home game operations in college football's premier venue look different this year as a whole, as they do throughout the entire country. Within LSU's athletic department, it's taken a team effort to bring some normalcy to a year that has sorely lacked it. 
Just ask Assistant Athletics Director for Marketing Dave Haskin, who places those cardboard cutouts in seats throughout the week to represent those who can't be in attendance. For many, these extraordinary times have required extraordinary measures. When LSU first made the cutouts available for fans to purchase, preserving some semblance of their presence in Tiger Stadium for the fall, Haskin wasn't sure what the response would be like. He quickly got his answer once the first-day sales numbers came in. 
"Our initial sales were higher than some NFL teams," Haskin said. "That tells you all you need to know about LSU. We were trying to think of ways to do something for our fanbase, especially for those that weren't able to make it to Tiger Stadium."
The 2020 season is all about adjustments. That holds true for everybody. The players. The coaches. The fans. So much is out of their control. But there's no option but to adapt. Inside the football program and athletic department, those adjustments have been months in the making. A season unlike any other has required preparation of a similar mold. 
FOR SHELLY MULLENIX, LSU's Senior Associate Athletic Director for Health and Wellness, the season started back in March. As soon as campus shut down, there were immediate preparations in motion for how they would bring people back.
"It started as simply understanding the virus, learning what we had on our hands, and how we could work within that in our athletic setting," Mullenix said. "The hours were a lot, because if it wasn't spent in the office putting together policy, it was time spent on your own, learning as much as we could about the virus to see how it can maneuver in the environment that we were trying to establish."
Once the policies were put in place, the next step was educating the student-athletes, the staff and everyone interacting around the athletic building and practice facility. These plans were primarily focused on one thing: limiting the spread. Mullenix admitted there were not any unrealistic hopes that the program wouldn't be affected by COVID-19, so it became a matter of how to limit the exposure.
"Getting a team of contact tracers in the athletic training room, ready to roll, that was an important part of it," Mullenix said. "Understanding the testing and establishing those relationships with the local hospitals was also an important part." 
The virus will spread.
We have to protect each other. pic.twitter.com/dlxu3ZYIVo

— LSU Football (@LSUfootball) August 26, 2020
The lead-up to a game day in 2020 is unlike anything the football staff has experienced. It's a grind. Mullenix estimated that LSU is testing around 300 people per week, three times per week. That means the program is administering 700 to 900 tests per week, just to get football cleared to suit up on Saturday.
"Testing three times a week is something that's unique for everybody," she said. "You quickly understand how many people it takes to run a program when you start having to decide who's going get tested because they have interactions with the student-athletes."
Another aspect that's changed is the attention to seating charts and keeping track of where players sit during team meetings, airplane and bus rides, as well as in hotel rooms. What was normal last season has been renegotiated to allow the proper distancing needed for each player.
"You really want to be thoughtful about where you're placing people who have either not had the virus yet or had the virus as a way to insulate them from being next to someone else who has not had the virus and then in turn trying to limit the spread," Mullenix added.
So much of what Mullenix is doing now for LSU is new to her, but the masking up, the hand sanitizing, the distancing, that all seems like a commonplace for her and the staff at this point.
The SEC has also distributed KINEXON watches league-wide to enhance contact tracing efforts during games. This new technology allows Mullenix to determine the proximity and length of interactions among players.
"Reviewing those records after a game into Sunday, making sure we haven't had any people that had contact over 15 minutes is an extra step for sure," Mullenix said. "The interesting part of my job is working with the SEC office to let them know how many kids we have available for the week."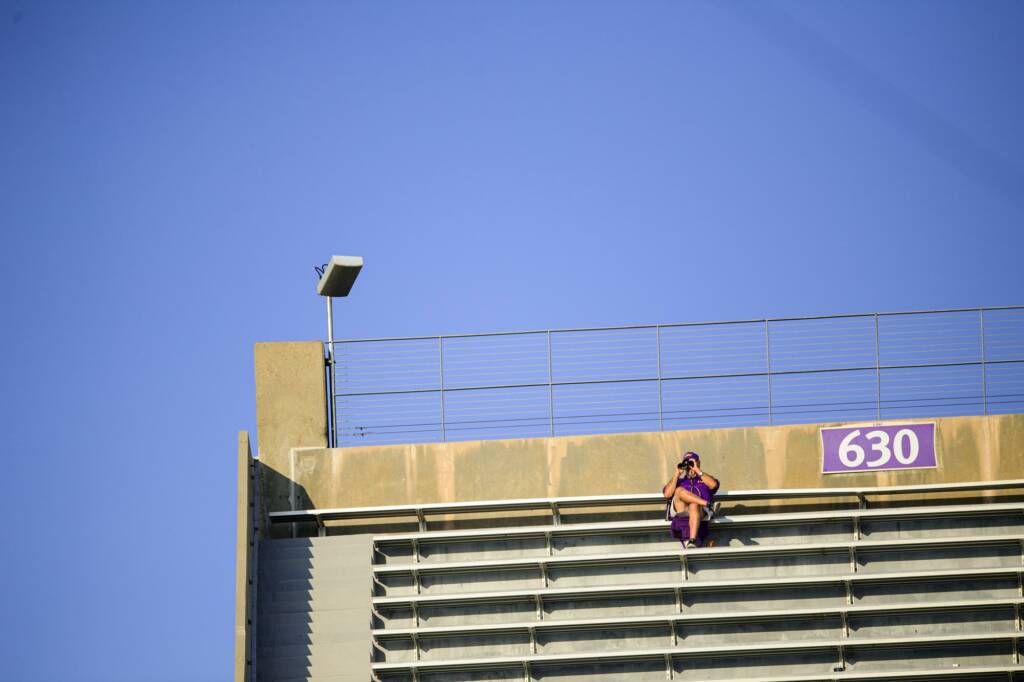 ROBERT MUNSON HAS been forced to make adjustments on his end, too. As LSU's Senior Associate Athletic Director for External Communications, his biggest stress has been equipping the fanbase with the information needed for a safe return to game day. 
Munson's concern is always with fan-experience. He, among others, are constantly working on a multitude of ways to remind the fans of LSU's COVID-19 protocols, while simultaneously trying to maintain a first-rate experience. Now, almost a month removed since LSU's last home game, Munson's prep started on Monday via social media, press releases and emails to refresh fans' memories of what's expected when they arrive to campus on Saturday. 
The work around Tiger Stadium to set up for game day has changed drastically, as one could imagine. From the implementation of thousands of social distancing stickers, to the addition of 3,000 cardboard cutouts, to enhanced cleaning and sanitization; every piece of the puzzle allows LSU to have fans in the stands come Saturday. And that makes it all worth the while. 
You ready? #LSU pic.twitter.com/ylAqSNqVy8

— Robert J. Munson (@RobertJMunson) September 25, 2020
"We have more gameday staffing now than we did with full capacity," said Munson. "A lot of that is for monitoring, cleaning and sanitizing. The unsung heroes in Tiger Stadium right now are the folks that are keeping everything clean, because the cleanliness, the sanitization of everything is what keeps our fans safe and comfortable and coming back. If you don't have that, then you don't have fans in the stands."
"Someone had to design every sticker, type every word and figure out how to communicate pretty complex protocols to fans in a way that they could understand and adhere to," Munson added. "And that takes a huge team effort. I don't know how many people we have working here – probably 350 or so – I don't know one person that hasn't invested a great deal of time into making this happen."
The past seven months have been a learning experience for most. For Munson in particular, he's learned to always be on his toes and expect anything. Through this pandemic, multiple hurricanes and last week's cancelation of the Florida game in Gainesville, he's figured that out quickly. 
"I'd say be ready to pivot at any time," said Munson. "Anything can change at a moment's notice. We're all more prepared to pivot than we probably have ever been just understanding that change at this pace is pretty much inevitable. So you just have to be ready to go."
When LSU kicked off the 2020 season at home against Mississippi State on Sept. 26, it certainly didn't resemble a normal afternoon in Tiger Stadium. But in these new and uncharted waters, normalcy wasn't the main concern, public safety was. Munson gave his staff a grade for their performance: "an A with room to improve."
Munson's biggest goal toward improvement is for fans to remember to wear their masks in their seats and to remain in their seats. With stadium capacity at just 25 percent, he realizes it can be tempting to move around, but also wisely pointed out those empty spaces are there for a reason.
"When you consider the number of protocols we had in place that fans had to suddenly practice, they did them for the most part," Munson said on LSU's unprecedented season opener. "We had some areas that we need to improve on in two main areas. They were respectful and patient at entry and they maintained distanced at concessions."
While Munson couldn't exactly pinpoint an aspect of game day set up that's more challenging than anything else, he did make one thing abundantly clear: for it to work, it takes a village. 
"I think all of it combined is an enormous challenge for everybody," said Munson. "Figuring out seating that's safe and comfortable for fans. Figuring out how we serve and prepare concessions. Everything from how many people can get into an elevator, to what lines look like at entry. Everything has changed. So all of it together has been a monumental event for us."
Even as a veteran communications strategist, Munson will be the first to tell you there's no way to properly prepare for the unpredictability of the past seven months. But he does know how the game works in communications, and like everyone else in the athletic department, he adapted. 
Leading LSU Athletics' overall brand strategy, while also overseeing in-venue fan experience and live media productions on television, video and radio, Munson understands what it takes to get the message out. You can't be one-dimensional. You have to cover all bases.
"You can't rely on any one venue or any one channel," said Munson. "If you only do things on social media, you're going to miss half your audience. If you only do things with earned media, you're going to miss a third of your audience. You have to spread it out."
When LSU runs out of the tunnel on Saturday, take into account what goes into making that happen. It takes a village – and then some.  It's been as much of a team effort off the field as it has been on it. 
"It's taken everybody," Munson said. "It's taken the entirety of the staff and more. Everyone's played a role in this thing."
There's still much to be done until a return to 102,321 strong on Saturday is within reach. And until the cardboard cutouts can go home and their real life avatars can return to Tiger Stadium, the work continues.