Jurnee Woodward's Wolf Mentality
Sitting comfortably in a kitchen chair, Jurnee Woodward casually smiles and points to her favorite tattoo, an intricate wolf's face on her bicep, which symbolizes the mental strength she continues to hunt. The 20-year-old hurdler has needed every ounce of it to conquer life's obstacles, on and off the track.
Woodward's hazel eyes glitzen when she reveals her first passions were soccer and film. It was okay that Woodward wasn't a good soccer player, because she always knew her profession would be rooted in the film industry. She had no intention of becoming one of the top hurdlers in the country at collegiate level.
The Vacaville, California native continues to achieve big accomplishments in her track and field career. During her freshman year, she claimed gold at the Louisiana Classics in 100 meter hurdles. Going into her sophomore year, she was a semifinalist at the IAAF U20 World Championships in Tampere, Finland. Woodward ranked second in the 400 meter dash at the Red Raider Invite her sophomore year. That same year, she ranked first in the 400 meter hurdles at the SEC Championships and posted a personal record of 56.77 seconds. 
Woodward first encountered track and field when her younger sister began running. She became interested in the sport after attending a track and field summer day camp for children in which she trained with coaches and professional athletes. Her ability to skillfully run over hurdles was natural. Her mom, Da'Fona McClain Jackson, decided she wanted both her daughters to run track.
"I ended up realizing that I was really good at it," Woodward, who is wearing a purple and gold LSU tracksuit, says. "Especially when I put the focus, effort and time into it."
Although Woodward was one of the best athletes at Vacaville High School, she didn't want to participate in track and field in college. The film enthusiast wanted to pursue her childhood dream at USC in Los Angeles, California. Jackson suggested she run track while studying film in college.
Many colleges wanted to recruit Woodward, but the California native chose LSU. Woodward decided to run for the University because the recruiting coach, Debbie Parris-Thymes, impressed her mother. The track and field girls' strong bond also influenced her decision. 
Woodward's first semester was very challenging. The hurdler struggled with making friends. She eventually realized that she didn't need to change herself for anyone. 
"It was very hard," Woodward, whose eyes darken, says. "I felt very lost at first. When I didn't have those personal relationships, I let myself get affected. I felt like I didn't belong here. Once I got to outdoor season, it was much easier to put every negative emotion into my race."
Woodward seeked counseling at the mental health center for student-athletes on campus during her freshman year. Her sport psychologist was very open and made her feel safe and comfortable enough to divulge her feelings in a safe setting.
"Growing up, mental health was something that I always tried to balance," she says.
The hurdler delves into poetry writing, a hobby she began in highschool, as a way to cope with the stress of college life as a student-athlete. She often feels inspired to write poetry when she has a difficult day. Like film, poetry gives Woodward the opportunity to tap into her creativity. She has a writer's quill on the top of her left forearm to show her love for poetry. 
"I think poetry and storytelling really go hand in hand, " she says. "Storytelling is being able to paint a picture in somebody's mind and have them hang on to your every word. Everything is a story to me."
Woodward's stress levels usually skyrocket when she's about to compete in a meet. She listens to self-created hype playlists for preparation. Sometimes, she meditates to center herself. A ritual that calms her the most is when she recites inspirational quotes under her breath. One of her favorite quotes is from the animated Netflix series "Troll Hunters: Tales of Arcadia." She cried when she first heard the quote and decided to include it on the quote wall in her room.
'"I never knew that a show called 'Troll Hunters' could make me feel so much emotion,"' Woodward, who is widely grinning, says.
Her smile disappears when she begins talking about the heart-shattering truth she's grown to accept. During March of Woodward's sophomore year, her mother died. She received the news from her coaches when she participated at NCAA Indoors Track Championships as an alternate.
LSU's sprint assistant coach, Tamara Ards, called Woodward and told her she was coming to her hotel room. The hurdler's immediate thought was that she missed Shake Out, which is when the team gathers to jog, stretch, do drills and run to loosen their legs. Woodward was surprised to see the whole track and field staff when she opened the door. The hurdler noticed everyone was sad and asked, 'Did someone die?' She thought it was her grandmother and couldn't believe it when they told her about the death of her mother. Her coaches led her to a conference room so she could process her emotions. She was mostly concerned about the whereabouts of her younger sister who lived with their mother.
"I was very stunned," Woodward, who has tears streaming down her face, says. "I remember breaking down."
The hurdler's coaches told her they would have her on the next plane to California. She declined the offer. Woodward knew her mother would want her to stay as an act of dedication to her team and as a reminder that she was mentally strong. 
"There was no other option, " she says. "That was just the natural path." 
Woodward's mother was very tough on her, but that didn't stop them from sharing a special bond. The hurdler and Jackson got matching tattoos of an arrow on the top of their right forearms when she was a sophomore. The tattoo reminds Woodward of her mother and the belief that she continuously has to be pushed back, like an arrow, in life to be pulled forward again. When Jackson died, the hurdler decided to get a hummingbird tattoo in memory of her mother, who adored the creature. She later got a tattoo of an arrow compass on her upper back which includes "Wolf" in runes, when read clockwise, to honor Jackson.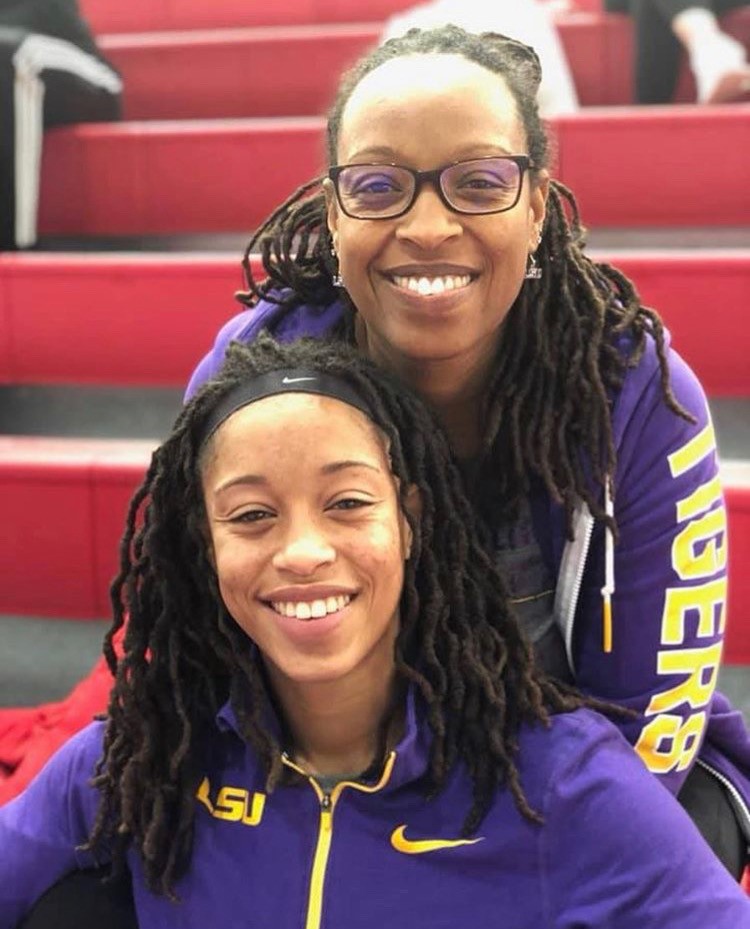 Woodward credits her mother for the self-discipline bestowed within her. Jackson always reminded her that the lion and the tiger are powerful beings, but the wolf is not a circus animal. 
"She always told me to be the wolf and go hunt," she says. "A wolf doesn't allow itself to be paraded around for entertainment. That was really important to me." 
Janet Benford recognized Woodward's self-discipline when she began coaching the hurdler in 7th grade. A coach from Full Stride Track Club, which Woodward participated in, asked Benford, a former short hurdler, to help strengthen Woodward's athletic abilities. Benford helped coach Woodward until she graduated Vacaville High School.
Woodward only participated in outdoor track in high school because West Coast schools don't hold indoor meets. Unlike most track and field high school athletes, Woodward ran on a rugged dirt track when she practiced. 
"For her to be able to accomplish what she did without the training facilities that most kids are accustomed to was really a testament to her talent," Benford says. "Just to find somewhere to work out during winter was very hard. Before it was daylight savings time, I would get off work and try to hustle to get to her. There were a lot of times we were running in the dark or we were practicing in the rain. It was really tough, but she did it." 
Benford made sure Woodward constantly practiced drills. The former short hurdler strived to improve Woodward's hurdling techniques. 
The self-discipline and drills paid off. Woodward won the championship for 300 meter hurdles at the CIF California State Meet her junior year in high school. The day before winning, she fell while running over the second hurdle in preliminaries. The fall didn't stop her determination. She did a forward roll and continued running.      
"Jurnee got up and started running and just picked them off like flies, " she says. "She just went into a whole other gear. Just thinking about it gives me goosebumps." 
Benford sees Jackson's strong personality in Woodward. She was close with the hurdler's mother and was devastated when Jackson died.  
"Da'Fona and I would talk practically every night about her daughters' academics and goals for track," Benford says. "We would talk until one or two o'clock in the morning." 
Woodward managed to achieve her goal of competing in NCAA Outdoor Track and Field Championships without Jackson cheering her own throughout the season. Although Woodward ticked a box off her list of goals, the hurdler was hard on herself for not having the fastest time. She ranked sixth in the 400 meter hurdles with a time of 57.28. 
"She was very disappointed because she wanted to do better," Benford says. "For a sophomore, that was good. She did really well. I am so proud of her. Especially the year that she had. To be able to make it to NCAA was huge." 
Benford often gives Woodward words of encouragement.
"Whatever she needs, she knows that I'm there, " she says with a smile in her voice. 
Mike Papadopoulos, who coached Woodward in track and field at the school, knew she would be determined to keep reaching for success despite her mother's death. Diligence earned Woodward the title as a record holder for the 100 and 300 meter hurdles, 400 meter dash and 4X400 meter relay at her high school.  
"She's super special," says Papadopoulos, now the varsity head football coach and athletic director at Vacaville High School. "She maximizes all the gifts God gives her. She has a solid foundation mentally and physically. She had some great teammates, who were role models, around her early on in high school. I believe those things contributed to her growth as well."
Woodward was a member of a relay team who broke a national record in the 4×100 meter shuttle hurdles at the Arcadia Invitational, which is the largest in-season gathering of elite high school athletes in the country. This type of relay could be challenging for athletes on the West Coast because it's usually not contested regularly in that region of the country.   
"She was the last piece of that puzzle," he says. "Everything kind of came together for us during that time." 
Papadopoulos admires Woodward for not letting challenges in life hinder her from achieving her goals. He's glad she chose to run for the University which has a track and field team who creates a family atmosphere. It was a pleasure for Papadopoulos to coach Woodward. He's inspired by who she's becoming.  
"I'm just really thrilled and happy for her," Papadopoulos earnestly says.   
.@JurneeWoodward ran what was then a PR of 57.28 in the 400 meter hurdles to claim ?? in the University finals.

— LSU Track & Field (@LSUTrackField) March 30, 2020
Her teammates are just as impressed as her coaches. Noel Baker, who throws the javelin for LSU, goes to Woodward for advice when she loses focus. The student-athletes met in the spring of their freshman year at the University. Baker values when people are honest with her. She considers Woodward the realist person she knows. 
"Jurnee's very blunt," Baker says. "She reminds me of who I am." 
Baker respects Woodward's ability to focus her mind solely on track when competing. Woodward gets tunnel vision when she's on the track. One time, Baker and Woodward were roommates while attending the 2019 Clyde Littlefield Texas Relays. Baker remembered Woodward being silent and tuning everyone out by listening to music before she was about to compete.  
"We walked to the track, and she kept her headphones on, " Baker says. "Then, she got out there and she won." 
Lisa Gunnarson met Woodward at the 2018 IAAF World U20 Championships. However, the student-athletes became friends when Gunnarson transferred to the University during her sophomore year. A pole vaulter for the Tigers, Gunnarson likes that Woodward is a good listener. She always feels comfortable being honest with her. 
"I have problems showing my feelings," Gunnarson says. "Even if it's hard, she makes me develop those feelings and actually express them." 
Bennie Brazell, LSU's sprints, hurdles, and relays assistant coach, would want Woodward on his side if he was going to war on a battlefield. He appreciates the hurdler's ability to always be mentally strong. 
"In our sport, it's super mental," Brazell says. "If you don't have the 85 percent mental part of it, I don't care how much talent you got, you ain't going to make it." 
When Woodward came to LSU, her mother told Brazell to challenge her daughter. She wanted Woodward to perform to the best of her abilities. Brazell remembered  Jackson attending most of her daughter's meets. He was heartbroken when he had to tell Woodward her mother died. 
"It was one of the most heartbreaking things you can ever go through as a coach," he says. "We've never been through a situation like that, and to present this to a young girl, that was one of the saddest things ever to do."   
Brazell reminds athletes they must have a positive mindset when they practice and compete. He tries not to be hard on them because that can affect their performance, but he does think mental toughness is key. 
"It will play a mind game on you and make you feel you're not good enough," he says. "If you can get through track, you can get through life." 
LSU's head coach Dennis Shaver respects the mentoring Woodward received from her mother. Jackson molded the hurdler into an athlete who can separate her personal, academic  and athletic life. Shaver saw Woodward completely put that mindset into action when she decided to stay at the meet after hearing about her mother's death. 
"Jurnee is very focused and determined," Shaver says. "She's our big grinder. She's always somebody you can count on to get the job done. She's a big leader just by her actions and the way she handles herself on a daily basis, particularly practice." 
Shaver knows it's a huge commitment to be a good student, hard-working athlete and perform at an elite level. He tries to create an environment where athletes commit to his expectations but enjoy being a part of the team. He advises athletes to create a good balance between academics, athletics and social life because all three aspects are important for mental health. Shaver also sees teamwork as a tool that remains an essential part of track and field culture because athletes perform better when they have support. 
"The really important thing is that they're able to have a great time, balance everything and be happy," he says. "I always tell them if it was easy, everybody could do it." 
LaKeitha Poole isn't surprised many people have misconceptions about mental health. Mental illness is often defined as mental health, when in reality, mental health is the condition of someone's well being. 
"Life throws curveballs at us," Poole, LSU's Director of Student-Athlete Mental Health Sport Psychology and Counseling, says. "Mental health is your ability to make sure your emotional and mental state are in the most positive places that they can be." 
Poole believes mental health can be stigmatized in the sports world, but it's getting better. Many collegiate athletic departments are beginning to include psychologists, counselors and therapists. Professional athletes are breaking the stigma by becoming more open about the importance of mental health as well. 
The director for sport psychology and counseling has diverse staff which comprise individuals of different age, ethnic and gender groups. She wants student-athletes, who are afraid of opening up about their mental health, to talk with someone they can connect with. Gender diversity is invaluable for male student-athletes who might feel more comfortable discussing their problems with a male.  
Physique is one of the main topics Poole discusses with female student-athletes. In sports such as swimming and diving, gymnastics and track and field, women's bodies are inevitably judged more critically. In track and field, some female student-athletes are more concerned about their appearance when the camera pans to them than completing a race in good time. 
A majority of student-athletes visit Poole about non-related sports issues. Usually, being financially independent, homesickness, relationships and life after college are issues Poole and her staff hear about the most. 
"You're a teen transitioning into your 20s," she says. "You're still learning and growing, and we all do that for the rest of our lives. I think people are surprised by how simplistic it can be for them to have a space where they can just vent about everyday things." 
Student-athletes often experience adjustment disorders because they have to quickly adapt to college life while participating in a sport at an elite level. Adjustment disorders can make individuals have symptoms such as anxiety and depression. When someone shows signs of frequent irritability, an eating disorder, disinterest in passions or abnormal sleep patterns, they can be suffering from an adjustment disorder.
Poole and her staff try to be flexible with their office hours because they know it can be difficult for student-athletes to schedule an appointment with little free time. The sport psychology and counseling department wants student-athletes to understand the counseling process so staff can help them learn tactics to cope with mental health issues.  
"Our goal is to work with and around them, so they can be able to get the support that they need in between still trying to tackle everything else," Poole says. That's the referral process. The therapy is getting to the root of what happened and peeling back the layers of what might be there. We also don't want to become a crutch for them because that defeats the purpose." 
Poole feels good knowing she helps people change their lifestyle for the better. She tells student-athletes that nobody can control the negative circumstances they experience, but individuals can decide how to respond, accept what happened and grow from it. Her favorite day of the school year is when student-athletes graduate because it's when they're usually their best self compared to their freshman year. 
"To watch somebody transform their life for the better is amazing," Poole enthusiastically says. "It's nice to see somebody who comes in one way and see them develop that sense of autonomy and power. For anyone doubting counseling, I would just say give it a shot. Allow yourself to be open."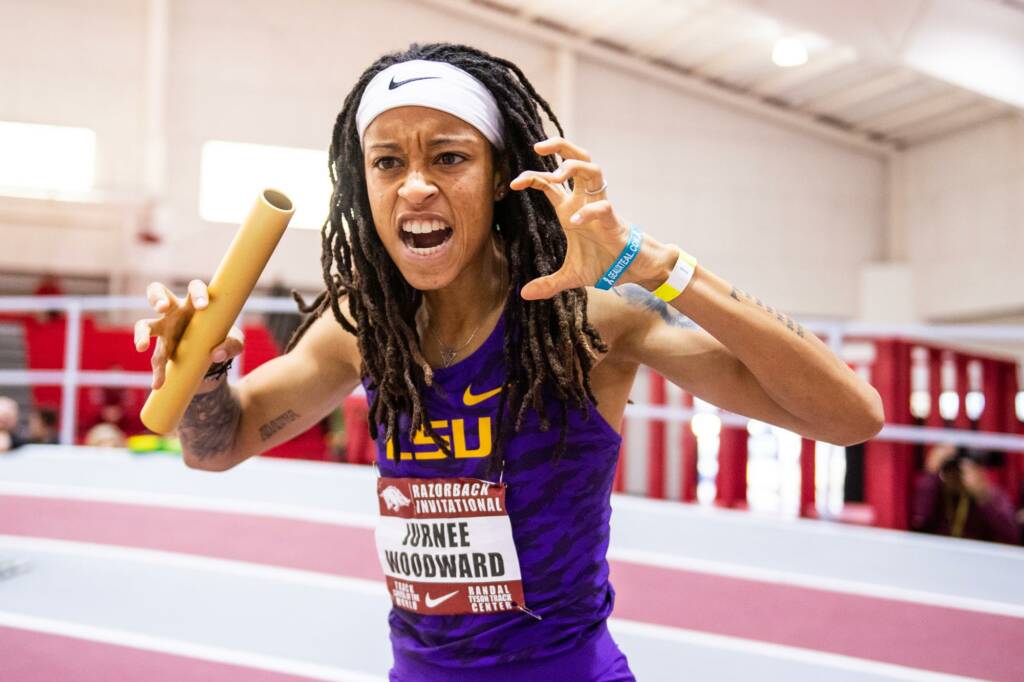 Woodward intends to leave her sprint spikes, baton and track outfit behind when she graduates. She wants to move to Los Angeles and focus on film. Currently, the hurdler has a YouTube channel, "Tuesdays with Jurnee," in which she documents her life as a student-athlete for the world to see every three weeks. 
The hurdler promised herself she would divide her time between track and "Tuesdays with Jurnee" because she didn't want to stray away from her dream. Woodward's Youtube channel allows her to connect with people and showcase her talents. 
"At the end of the day, I love track," Woodward says. "It has definitely been a part of who I am for so long, but it's not what I'm passionate about. I'm passionate about telling stories. I want to dip my toes in a little bit of everything."
Whatever she dips her toes into, Woodward will attack the task with her wolf mentality. It's the reason she's made it this far, over every hurdle life has thrown her way. And it's the reason she has no fear for whatever comes next.