Look at Ali Gaye, the Star Who Shines for So Many
Look at Ali Gaye. Watch him place his hand in the dirt and lift his eyes to find himself in the middle of a miracle. Watch him balance six feet, six inches of heart and 262 pounds of hope on his fingers and toes. Watch him explode from the earth, past his foe, and toward the football. 
What you see when you look at Ali Gaye depends on where you stand. If you are his head coach, you see a talent developing quicker than you ever imagined, a gem mined on the recruiting trail and already one of the most precious assets on your team. If you are an LSU fan, you see the SEC's leader in pressures lined up at defensive end, and you cheer, because you know good things are about to happen.  
If you are the opposition quarterback, you see him barreling down on you, and you would be wise to run, and wiser simply to get rid of the ball before you lose sight of him and catch sight of the turf he's tackled you into.  If you are the opposition tackle tasked with blocking him, you do your best to stop him, not realizing that he's defeated far more menacing obstacles than you could ever hope to be. 
But if you are his father, watching from a home that is a world away from the one you knew for your entire life, the one you left to make a better life for him and his sisters, you watch your son on the clearest video feed you've ever seen him play on, and you shake your head, because, like him, you can't believe it – that this is where his path has taken him, that this is who he has become. 
And still somehow, there's still so much more to see when you look at Ali Gaye. It's all there, in front of your eyes, every unbelievable detail.
Just look a little closer. 
No. 11

Ali Gaye's unlikely path to Baton Rouge and playing football at LSU pic.twitter.com/NZlcOv57fS

— LSU Football (@LSUfootball) October 5, 2020
LOOK AT HIS HAND. Underneath the tape and wristbands and braces and gloves he wears on game day, there is a scar from another world. It is a reminder of where he comes from, a token of the sacrifice his parents made to give him a better life.
Ali was born in The Gambia, the African mainland's smallest country. It is nestled on the west coast of the continent, and nearly 50 percent of its 2.3 million citizens live in poverty. Ali's father, Omar, was one of eight children – four brothers and three sisters – raised in the country's rural regions, and he was the only one of his siblings to receive a formal education.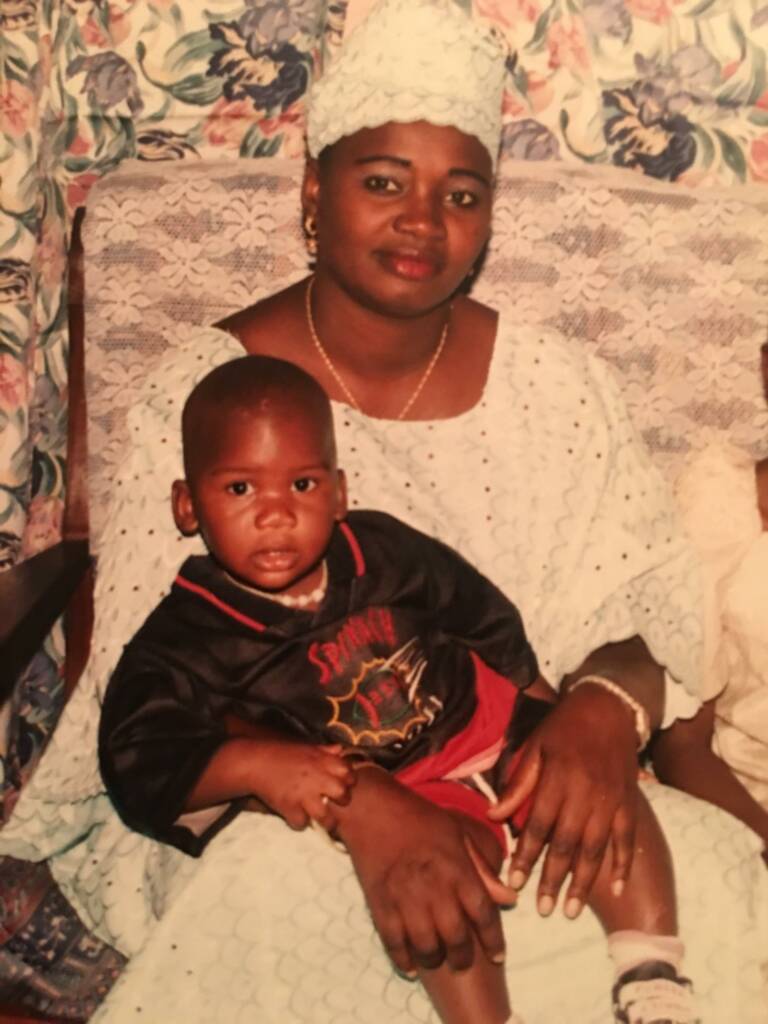 Ali and his mother, Afsatou Jallow
"If you have not been to Africa, you may have heard of all the difficulties we encounter there," Omar says. "When I was growing up, I had a big family – four brothers and three sisters – and we grew up way away from the capital. We grew up very poor, and I was the only child who went to school among my family. It was hard at the time, because I couldn't understand why I was going to school."
By high school, however, Omar says "started understanding the purpose of learning." Education could be his path out of poverty. He completed his schooling, secured a steady and well-paying job with a non-governmental organization in the capital, and married his wife, Afsatou Jallow.
For 20 years, Gaye worked with Catholic Relief Services in The Gambia, providing food, clothing and other support for Africans. He was a middle manager in charge of all the food items distributed to Gambians. It was a good job, with good wages and a reasonable schedule. It gave his children a better life than he had and a childhood Ali recalls with a warm smile. "I would be outside all day, every day," Ali says. "And I wouldn't come home until late, because we were all just out having fun, playing soccer in the streets. The only time we would come back home was when we were hungry."
Omar was worried about his son, though. His parents had raised him to be disciplined and respectful, and he wanted to instill those same principles in his children. But Ali was stubborn. He didn't like going to school. He'd rather play soccer or go to the beach. "He was hard headed at an early age," Omar says. "We thought it was going to be a little tough to manage him at some point."
When Ali fell from the tree, everything changed. "That was a nightmare," Omar says. Ali was about five years old, and he was climbing higher than he was allowed, trying to get a mango for his younger sister, Ida, when he fell. He landed on his arm and got up with a fracture. What would be a relatively minor and manageable injury in the developed world was a terrifying prospect in a third world country in West Africa. "In The Gambia, you don't have good medical support," Omar says. "That's why he has that scar. If there were good health care, then it would have been different."
Doctors put a cast on Ali's arm, but it did little to help the injury heal. In fact, it might've made things worse. "At some point, if you're not careful with those casts, your hand can get really bad," Omar says. "We had to remove it prematurely, and he had to go for surgery." Eventually, the wrist healed, but the scar remained. 
So did Omar's concerns. He had created a good life for himself and his family, making the best of a bad situation. But he wanted more. He wanted his son to play soccer in shoes, not barefoot in the sand-filled streets. He wanted an excellent education for his children, not a sufficient one, and access to quality healthcare, not unreliable medicine. "At some point, we said, 'We have to leave if we want our children to grow up differently,'" Omar says. 
"We had to find a way. That was what our motivation was."
LOOK AT HIS FILM. The first time Ali uploaded clips of his football film to Hudl was after his sophomore year at Edmonds-Woodway High School in Edmonds, Wash., just 20 minutes north of Seattle. When Gaye reached out to a teammate to help him put the highlight package together, he still wasn't sold on a future in football. 
"He wanted to be a basketball player," recalls Nick Venema, Gaye's high school teammate. "We were trying to tell him, 'Hey, you should really, really play football, man. You're good at it.' And then he fell in love with it after that."
Gaye's journey to the gridiron was indirect. Omar brought his family to America two years after he had left The Gambia to prepare for their arrival. He took a job in home health, working 16 hour days six days a week, taking time off only on Friday mornings to attend mosque before working another 12 hours. "That's what I've been doing since I've been here," he says. "To keep up with the bills, you have to make sure you put in the hours." The work was and is demanding, but the reward was and is more than worth it, Omar says.
"When they came, my primary focus was to make sure my children learned, that they respected their education," Omar says. "I kept telling them, at some point, make sure you make the most of your education, get to the highest level you could, and then give back to where you came from. To offer your support. Because they need it."
When Ali arrived in America, he wasn't particularly big or athletic. "I was the same size as my mom is now," he says. "He wasn't big always," Omar adds. "He was a little tall but kind of frail." Ali wanted to play soccer, but the school didn't have a team. He wanted to try football, but seventh graders weren't allowed to play. He tried out for the basketball team and got cut. 
But Ali had learned from his fall, and this one did not break him. He was no longer a stubborn boy. His parents' teaching had taken root, creating a young man who grateful and determined, quick to listen and slow to speak. He saw his parents working those long hours – his mother took a job in home health, too – and he saw how much they missed home.
"Being from a third world country, it's different when you come out to a place like here," he says. "It taught me, don't take anything for granted. Make the best of your opportunities. That's why we came out here: for better opportunities. The opportunity to learn, to make something of myself.
"If you think about it, they spent their whole lives in one place. Coming to another place, that's a big move. And I think they made a sacrifice for us, for me, my sisters, to find better opportunities to be successful in the classroom and to make something of ourselves."
That was Ali's goal, and he would not be deterred from it. Adjusting in the classroom was initially difficult. There were language barriers to overcome. Ali's first language is Wolof. Adapting to English-language instruction took time and caused frustration, but he stuck with it.
Perhaps that's why Ali was drawn to sports. They reminded him of the way he felt playing barefoot soccer in the sandy streets of The Gambia. They gave him roots in a new land, friends in a strange place. "He was all the time thinking about sports," Omar says. "I didn't know that until very late. He was into basketball at the beginning.  I wasn't too interested because I thought that was going to be a distraction for him."
In fact, sports didn't distract Ali at all. On the contrary, they motivated him. They assimilated him. They transformed him. The stubborn kid who fell from a tree was gone. He was replaced by a more thankful and focused young man who impressed everyone around him. 
"He was always motivated to get to work and always asking questions," Venema says. "He was just super grateful to be where he was and super grateful to be in the position he was in."
Basketball was Ali's first love. He studied his idol, Kobe Bryant. mesmerized by his skill, entranced by his artistry, and inspired by his work ethic. When Ali got cut from the seventh grade team, he didn't blink. "That's one of the things about me," he says. "When I find something that people said I'm not getting, I just work towards getting better at that."
Ali spent the summer on the court. He mastered the fundamentals, sharpened his skills, and, fortunately, started growing. By his freshman year, he had grown to 6-foot-4 and added 50 pounds – the frame of a football player, the feet of a soccer player, and the desire to be a basketball player. "Football wise, I just kept getting bigger and bigger, but football wasn't really something I wanted to pursue moving forward after high school," Gaye says. "I thought of myself as becoming a basketball player making it to the NBA."
His coaches and teammates convinced him otherwise. As a sophomore, he'd shot up to 6-foot-6 and earned all-conference honors on the football field. One day, Gaye approached Venema, a senior who had already put together his own highlight package in the hopes of playing Division II football, and asked him for help on his own tape.
"When you're first using Hudl, that thing is kind of complicated," Venema says. "He came to me and just asked for help. And so I kind of showed him through it and helped him put it together, essentially."
Soon, that tape was in the hands of college coaches across the country. Gaye picked up offers from Power 5 programs all over the United States, committing to nearby Washington before opting for junior college. 
Earlier this year, Venema got a call from Ali, who he'd not spoken to in a year or two. When Gaye told him he'd signed with LSU, Venema was thrilled, but he wasn't entirely sure why Gaye was telling him, specifically.
Until Gaye said, "Thank you."
"He had remembered back in his sophomore year, that highlight tape that we had sat down and put together, and he just called to thank me," Venema says. "There are people in his life that impacted him ten times more than I did, but just that little thing, that he took the time to call me, that was pretty cool. It made me feel good. And it was nice hearing from him."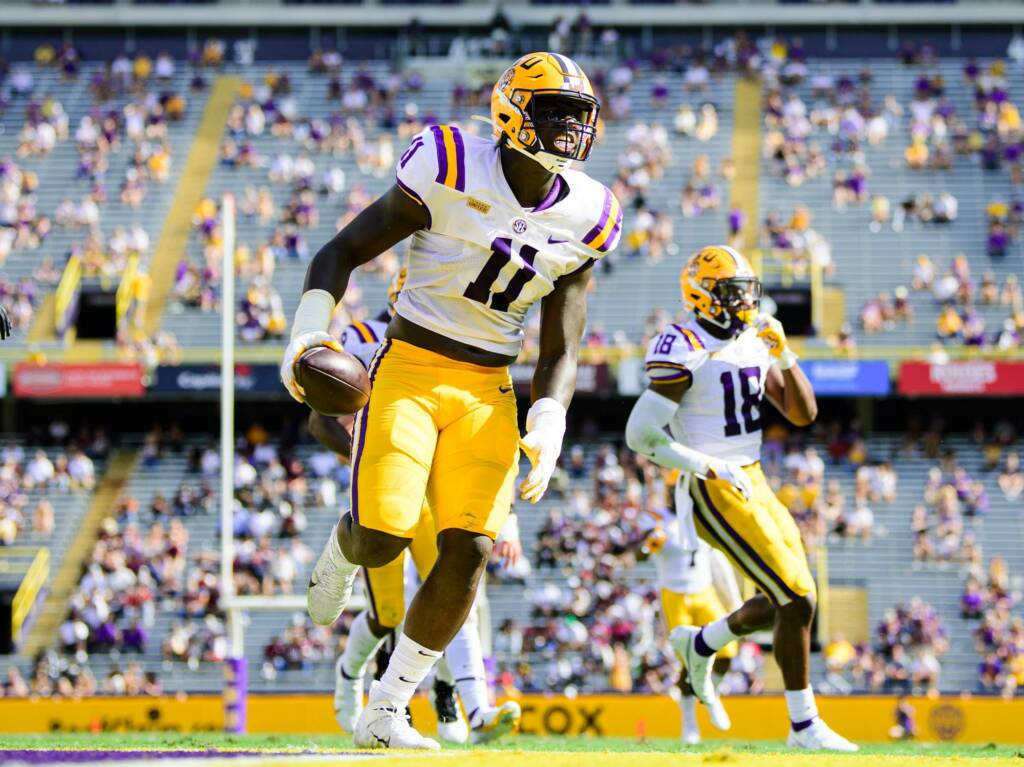 LOOK AT HIS NUMBER. Gaye has worn several throughout his career: 47 and 88 in high school, 94 and 5 in junior college. When he got to LSU, Gaye wore 52. But 11 represents something else to Gaye. Someone else. A friend. A mentor. A soul whose journey intersects with his in ways that hint a bigger purpose, a grander plan. 
"The whole reason I wear 11 is to honor one of my past teammates," Gaye says. "I met him at junior college. His name is Bryce Beekman. And he was just somebody that I was around a lot. And I wanted to honor him, because in the spring, he passed away."
BEEEEEEK @BeekmanBryce https://t.co/BgvbKednbD

— Ali (@Ali_TheGreat52) November 24, 2019
Beekman, Gaye's teammate at Arizona Western, passed away in April. He and Gaye were friends and teammates, and his death hit Gaye hard. "Having that kind of person in your life gone so soon is something you think about every day. You wish it was all a dream," Gaye says.
Gaye has made an impact at every stop on his journey, captivating peers and parents, coaches and classmates alike with his dedication, his optimism, and his gratitude. But it was Beekman who captivated Gaye. He made him feel welcome in Arizona. His energy motivated Gaye in difficult times. His infectious personality helped Gaye open up. His tenacity on the field helped Gaye tap into a new demeanor on the field. 
"I wear 11 because it reminds me of him, and reminds me of the kind of energy that he brought out every practice, every game," Gaye says. "So I wear the number because I want to honor him, but at the same time, keep that same energy and use that same energy for my team, and be the energy guy on the field, and just make things happen."
There's more to the story, though. Their paths crossed in Arizona, but Beekman and Gaye stayed connected when they left. That's because Beekman signed with Washington State, in the state where Gaye found his way in America. And Gaye signed with LSU, in Baton Rouge, Beekman's home town, his dream school. 
"I actually think about it every day, the fact that me and him crossed paths in Arizona," Gaye says. "Me and him always kept in touch. And I told him, it's crazy how we met in Arizona, and he's going to Washington State where my family stays, where I stayed at, and me coming to his hometown and playing in front of in his hometown, where he grew up."
When Gaye took the field for LSU's season opener in Tiger Stadium on September 26, he could feel Beekman's presence, wearing his number on his back and writing his name on his eye black. He raced around the field. He batted passes and beat defenders. By the game's end, he had racked up the most pressures in the SEC's opening weekend of play.
Eleven pressures, to be exact.
"You could say it's coincidence, but for me, I felt like it was something that was already written," Gaye says. "I felt that Saturday, that same energy was in me. I feel like he was there watching. I felt a type of way I've never felt before, it being my first game but also wearing that number. I hope he was watching, and I hope I made him proud."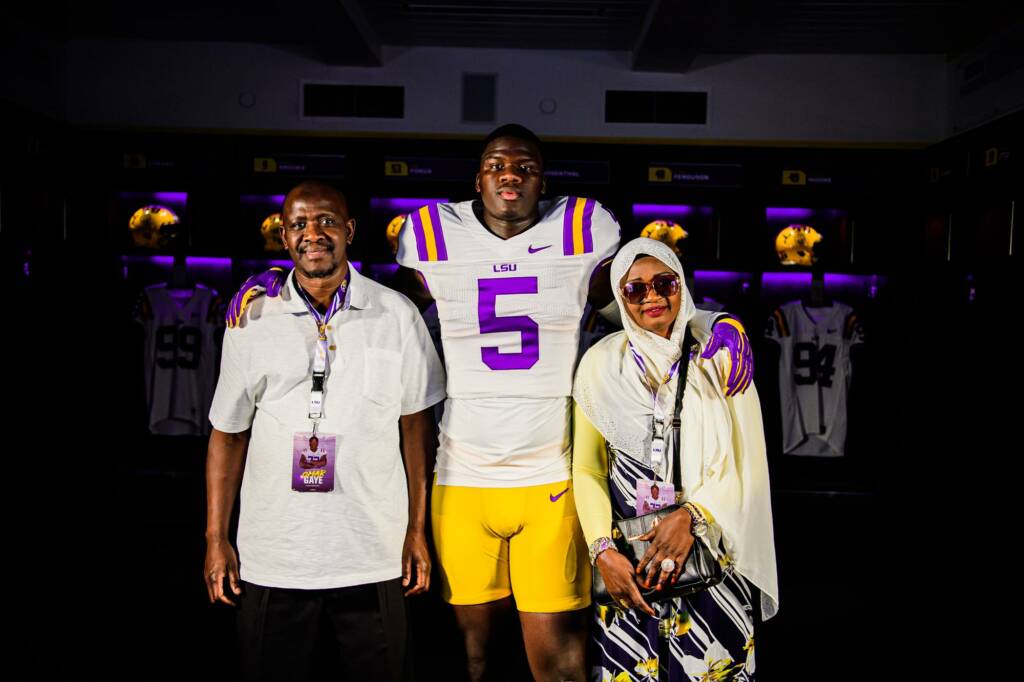 Ali and his parents, Omar Gaye and Afsatou Jallow, on his official visit to LSU
LOOK AT HIS FUTURE. Watch Gaye racking up pressures and sacks and batted passes, and watch his NFL Draft stock rise so fast that his coach is a little concerned, quite frankly. 
"I think he is going to be a high pick, first, second, third round pick," Orgeron says. "He's going to play in the NFL. He's got the size. Hopefully he stays for two years. Don't get too good."
Orgeron was partially kidding, but Gaye's emergence is no joke. It is, however, a surprise to Gaye. He didn't expect to even start for the Tigers, much less star for them. He stayed on campus during quarantine, working out on his own and mastering his mother's recipe for Domoda – peanut butter soup. He FaceTimed his sisters, Ida and Ajara, begging them to show Afsatou's cooking to save some for him in the freezer. 
I would like to thank the LSU staff for the Great hospitality they showed me and my family on my Official Visit. I'm excited about being a Tiger and looking forward to joining the Tiger family soon! GeauxTigers! ?? pic.twitter.com/vrScHqBUrS

— Ali (@Ali_TheGreat52) June 21, 2019
The workouts paid off – the Domoda, too. He got faster and stronger, and by camp, he was a constant presence in the Tigers' offensive backfield in scrimmage and practices, batting passes and racking up sacks the same way he's done through the Tigers' first two games. In the blink of an eye, he's gone from an under-heralded recruit to the SEC's leader in pressures (15 in two games) and a potential draft pick. And should Gaye make it to the NFL, he'll likely be the league's first player from The Gambia. (The only other record of a Gambian player: former Tiger Lamin Barrow, a New Orleans native whose father was born in The Gambia). 
For some, the rapid success would be hard to handle, but Gaye isn't buying his own hype. That's not who he is, and he knows how far he has to go to get to where he wants to be. 
But he also knows how far he's come. Gaye knows why he plays, and who he plays for: the friend whose legacy he hopes to honor and whose memory brings him inspiration. The coaches, teammates, and friends who helped him become a star. The country he left and he loves, and the friends still there, whose faces will never leave him, whose stories he one day hopes to help tell. He both a star and a moon, producing his own light and reflecting all the love that fills his life back into the world. 
"I play for everybody who has ever put their hands on me, everybody that's ever touched me, that's ever pushed me to work hard and keep growing," he says. "Anybody that I've met across my whole life, anybody I've met across my journey of becoming a better person, a better student, a better athlete. Everybody that's touched or had a had an impact on my life."
No impact will surpass that of his parents, though. Above all, he plays for them. They have never seen him play in person. Their work schedules are too demanding, his collegiate games too far away. Omar watched some junior college games on grainy Internet streams, but he usually couldn't tell how well his son was playing. 
11 – Ali Gaye's 11 pressures against Mississippi State were the most by an LSU player since 2015. (Lewis Neal, 15 pressures, Florida 2015). https://t.co/nBhJ2kPehZ pic.twitter.com/Lfb5cLhsrA

— Cody Worsham (@CodyWorsham) September 30, 2020
Watching him in HD against Mississippi State was revelatory. "This was the first time I had the perfect idea of how he played," Omar says. "I was very impressed." For now, Omar will continue watching his son's games from television, but he won't be tuning in for LSU's home matchup with Alabama in November. 
No, for that one, he'll have to come watch in person. Ali's high school coach's wife has helped organize trips for his family – his sisters, his cousin, Modou, and of course, Afsatou and Omar – to see, in person, Ali: the football player, the inspiration, the son worth every sacrifice, the heir to and fulfillment of a dream that's coming true, every day, right in front of our eyes. 
Omar can't wait. Because for the first time, when he turns his eyes to the field, he'll look at Ali Gaye, and he will see all there is to see. 
"Seeing my son play," Omar says, "that would be a wonderful thing."