Derek Stingley Jr.'s Next Play
LSU's All-American cornerback made history as a freshman, but his focus is on the future
Forgive Derek Stingley Jr. for not realizing the history he made in 2019. To do so, he would have to look back, to reflect, to reminisce, and that's now how Stingley operates. Since he first started watching film with his father when his peers were still watching cartoons, Stingley's been taught to think one way: next play. Thinking about the past, getting distracted by the previous snap – good or bad – that's the surest way to get burned on the next one.
So while he has spent the first few months of his first collegiate offseason devouring clips of his (infrequent) mistakes, working on his mental and physical flexibility and balance, while he's been obsessing on how he can improve on a freshman season with seemingly little room for it, Stingley overlooked the history he made: he became the first true freshman defender in college football history to earn Consensus All-American honors. His name now joins those of Herschel Walker, Adrian Peterson, and Rondale Moore – all offensive stars – as the only players to land on the Consensus All-American list in their first year removed from high school.
"Wait…what?" Stingley replies when informed of the trivia. "No way."
Way. See, contrary to what the 15 offensive coordinators, quarterbacks, and receiving corps he faced in 2019 might argue, and despite his SEC-leading 22 broken up passes and six interceptions, and even taking into consideration the numerous awards, honors, and accolades he earned last season, it is possible to catch Stingley off guard. 
"That's some good company to be in," Stingley continues. "That's mind blowing, for one, because I really thought it was a normal thing.  I thought if you're out there playing as a freshman, you're making an impact…It's a blessing, too, because I'm the only I'm the fourth one. It took a long road, but I'm glad I got to be in that company, though."
It's a select company, to be sure, but it's exactly the sort in which Stingley fully belongs. The things he showed as a freshman – not just the interceptions and PBUs, but the poise, the instincts, the IQ, the silent leadership by example –  they were enough for Ed Orgeron to call Stingley "off the charts" and "probably one of the greatest corners to play here at LSU." They marveled the sport's top marveler, Heisman winner Joe Burrow, who reminded the world and himself after Stingley's two-interception showing in the SEC Championship game: "In case anybody forgets, Derek is a freshman. In case anybody forgets that. I forget it a lot." In a year where a cornerback went No. 3 overall, some scouts wondered if Stingley wouldn't have been the first corner off the board in this year's NFL Draft, were he eligible. Oh, yeah – and Pro Football Focus graded him the most valuable non-quarterback it had ever graded at the college level, a database years in the making. So if it felt at times like Stingley was the sort of corner college football had never seen before, well, that's because it hadn't. 
Joe Burrow follows up Ed Orgeron's answer on Derek Stingley:

"Derek's a true freshman, in case anybody forgets that. I forget it a lot." pic.twitter.com/9294I6ONE0

— Cody Worsham (@CodyWorsham) December 8, 2019
If any of that matters to Stingley, he hides it well. As much as he did well in his debut season, he genuinely believes there's more he needs to fix. "If you really go back and look at it, there's a lot – like, a lot – something every single play that could have been better," he says. "Always. There's no point that someone can reach to where you can just be like, 'Oh, that was a perfect game.'"
Last year's play was good. But it's finished. It's a lesson to be learned from, not a laurel to be rested upon. The past is a good teacher but a bad companion. The next play – that's what has always mattered most to Derek Stingley. Even after a historic season, that much has not changed for college football's best cornerback. 
WHAT DO YOU THINK OF when you remember LSU's 45-38 win over Texas? Burrow's 3rd and 17 touchdown pass to Justin Jefferson, surely. Three Tiger receivers going for more than 100 yards each, possibly. Stingley holding Collin Johnson catchless and nearly nabbing his first career interception in his collegiate coming out party, certainly. 
Not Stingley. He thinks about a play everyone else forgot, a 13-yard completion from Sam Ehlinger to Devin Duvernay early in the fourth quarter. If you didn't know LSU's coverage and Stingley's responsibility – with two receivers to his side and an out-breaking route from the slot that he should've jumped – you'd never know he made a mistake on the play, that he left a chance to put a dagger in the Longhorns' hopes 10 minutes before Burrow did. 
"I was supposed to come down and either make the play, make the tackle," he says. "But I got mixed up with something else. And I didn't come down on that route. I stayed on my man, and the ball was thrown to the outbreaking route, and they got the first down. But if I were to do what I was supposed to do, it would have been a pick six…That would've been a game changer."
Stingley's football IQ shines through on the field, but it's even more evident in conversation. Like Burrow, he can remember even the most obscure plays with incredible clarity of detail and thought. He doesn't just recall what he did right or wrong physically. He remembers what he was thinking, what his teammates' assignments were, and the array of possibilities his information processing could have presented, had he selected a different branch on the tree of choices. 
His breakdown of an interception he snatched late in the first half against Auburn highlights his mental advantages as much as the play itself highlighted his physical advantages. He remembers the situation, and he remembers getting inside the head of the opponent.  "There's eight seconds left," he says. "I'm thinking, they're going to try to throw it deep. Bo Nix is at quarterback, and I know in his head he's thinking he wants a touchdown, not just to settle for a field goal. I'm on Seth Williams, and that's their big yardage guy."
He remembers the snap, and he remembers knowing exactly what was going to happen. "Bo immediately looked over to my direction," he says. "I wasn't even looking at the receiver, at any point during the snap. As soon as the ball was snapped, it was almost immediately in the air."
He remembers the technique he should have played with, and he remembers improvising to make a play few other players in the country could make.  "I was really supposed to turn into the receiver from the jump," he says. "I was supposed to backpedal and turn into the receiver, but I didn't backpedal at all. I shuffled and hopped. But I was at an angle to where I wouldn't have been able to make the catch at first, so that's why I turned around and then found the ball again."
Derek Stingley vs. Auburn:

2-of-10
50 yards
0 TDs
1 INT
8.3 NFL Passer Rating

As a wise man once said: "Never throw at Derek Stingley"pic.twitter.com/4g58ya83Sq

— Cody Worsham (@CodyWorsham) October 27, 2019
Want to establish yourself as the best cornerback in college? All it takes is intellect and athleticism, to see game-changing opportunities and to seize them before anyone else does. Or, better yet, to flat out create them out of nothing. 
That's all. 
THE POSITIVE PLAYS, the ones that showcased Stingley's impeccable technique, his supernatural ball skills, and his unmatched instincts, far outnumber the negative ones. But the negative ones bother him far more than the positive ones excite him. Everyone remembers the plays he made as a freshman, but he remembers the ones he didn't. 
It's not just the Texas coverage he missed. He can, for instance, cite, letter for letter and digit for digit, the time, score, down, distance, and yardage of a touchdown he allowed late against Alabama. "If I would have been smart about the play time, the score and all that, then I would have been able to adjust differently," he says. "And I would have been able to hopefully knock the ball down or intercept the ball. And the score wouldn't have been as close as it looked." Similarly, he's still bugged by a scoring drive by Florida to start the second half and a muffed punt against Auburn. 
Yes, Stingley's freshman year statistics were mind-boggling, but perhaps the most impressive detail of Stingley's historic freshman season can't be quantified. Every blue-chip newcomer who makes a splash in his first season eventually stumbles, and too many of those find themselves swept downstream in their own self-doubt when they do fail. They lose confidence, and the next time the moment comes, they shrink from it. 
Not Stingley. He tended to be at his best while feeling his worst. He rebounded from the Florida scoring drive by securing a fourth-quarter, game-clinching interception in the Gator end zone. He answered his muffed punt against Auburn with the previously-described interception that kept a 10-10 game tied at halftime. When Georgia tried to repeat Alabama's success a few weeks later and threw his way 16 times in the SEC Championship Game, he intercepted two and allowed just five to be completed. Time and time again, Stingley exuded resiliency. What few evident missteps he committed, he quickly and more than sufficiently redeemed. 
"He's not a future superstar – he's a superstar."

Derek Stingley is special. pic.twitter.com/1B9n8ZFn41

— CBS Sports (@CBSSports) December 8, 2019
He credits some of that to going against the likes of Burrow and Ja'Marr Chase since the pre-Fiesta Bowl practices of December 2018 and throughout the spring of 2019. He's been doing battle with Chase since they were 7-on-7 high school teammates, but Burrow's dime-throwing taught Stingley acceptance. Sometimes, he realized, you can be in perfect coverage, and you'll still get beat. Those plays don't bother him as much anymore. But if he beats himself? That's when he beats himself up. 
"Trust me," he says. "You can ask all my teammates, my dad, my coaches. When I mess up, say, I drop a pick or make a play, like a fumble on the punt return or something like that, I'm in my head. People say, 'Go play by play.' And that's something that I definitely have to work on. But from those moments, until I do something good, that's all I'm thinking about."
His vice is his virtue, though, because Stingley's rare mistakes seem to bring out the best in him. The seconds after he commits one, that's when he gets what he calls his "tunnel vision." He stares straight ahead. He hears his teammates telling him to not worry about it, to move on, but he doesn't really process it. Stingley wants to work on this, too, to flush his few failures more quickly, to move on to the next play faster in his head. It's hard, because he's not used to failure on the football field. Before you can learn to recover from something, you have to actually experience it first. 
In a weird way, though, Stingley can channel this catatonic state and transform it into a Zen one. He's not immune to doubt, but its symptoms manifest themselves in him abnormally. What would kill others makes him stronger. Most players choke on their negative thinking. Stingley chews on his, finding focus where others find fear. He doesn't worry about making another error; he seeks redemption for one already made. And he always finds it.
It's the moment right before this restitution that Stingley can feel his lingering doubts subside, and he senses it before the rest of us do. It's the moment the ball is in the air, just before everyone else watching from the stands and the sidelines and on television realize what's about to happen. Stingley realizes it before all of them – his opponents and observers. This is his defining trait– not his precocious talent, but his preternatural intuition. 
"When a play comes, I can – I'm not gonna say I can feel – but, yeah, I can sort of feel when something's about to happen," he says. "So that's when I lock in, that's when I block everything else out. Then a play comes, and from that moment, I'm good."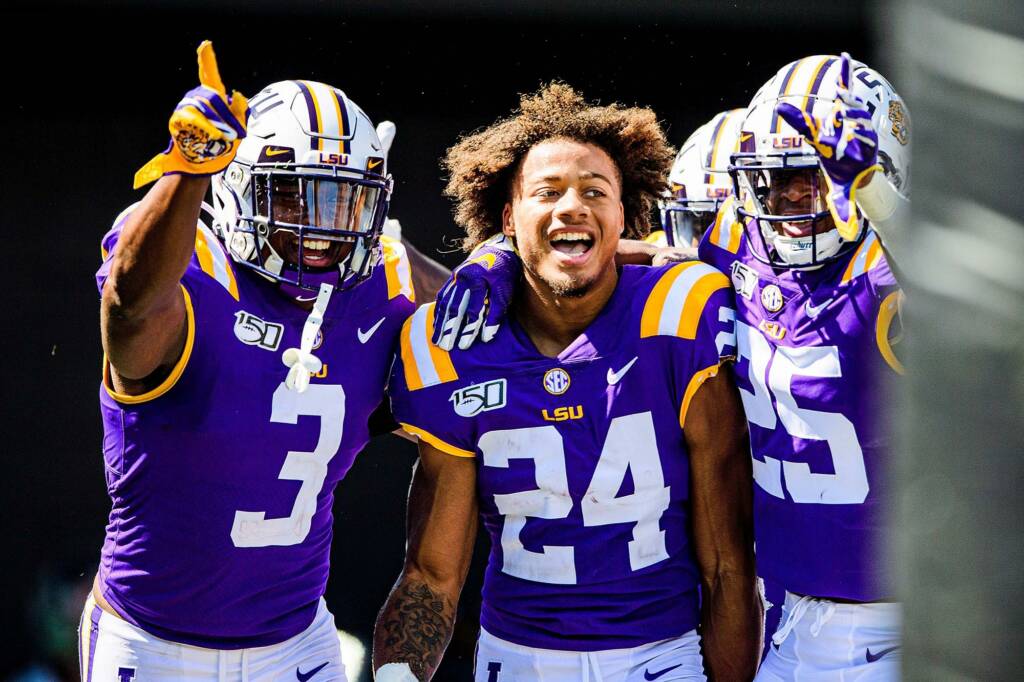 WHEN THE UNEXPECTED OCCURS, that's when Stingley tends to be at his best. His moments of improvisation – the last minute adjustment, the unplanned deviation from convention, when instinct is needed more than technique – are when his most singular traits shine through.
That's true on the field and off of it, and the complications created by the global response to the novel coronavirus has affected Stingley in many of the same ways it has affected other athletes across the country. Without access to his normal workout facilities and routines, with a new defense to learn through virtual installments and a new defensive coordinator to learn from, he's had to get creative. 
That's where ballet comes in. As a high school senior at The Dunham School in Baton Rouge, Stingley took a dancing course to fulfill a fine arts credit. In ballet, he found an unorthodox but advantageous method of cross training. The stretching and core work improved his flexibility and balance, not to mention the additional benefits for his footwork and agility. During the shutdown, he's found time between on-field and weight room workouts to return to ballet, and he's brought company with him. 
"Me and all the rest of the corners, we all went and did it together," he says. "We saw how difficult it is one, for one, because it's not as easy as it looks. And we'll do things like certain stances or movements that you have to have good balance with. Sometimes, we'll just sit down and stretch. Stretching and balance, that's what it really helps with. We had fun with it."
Stingley's father has been his trainer since four years old, so working on his craft hasn't been an issue. During their on-field workouts, they've focused on fixing things they've seen on film – consistency with his stance, quicker releases, playing inside routes more physically. Stingley is also working to get more rest. He admits he's not the best sleeper, but he's trying to develop better habits for recovery. 
There's also a new scheme to learn and a new coach to learn from. Stingley is excited about Bo Pelini, who he calls "a source of ammunition." He recalls Pelini's first spring speech to the defense as "a hype speech" and remembers thinking, when it finished: Oh yeah. This is about to be very, very good. "He's a very good coach," Stingley says, "and the way he talks to us, it's almost like it breaks through to us easier."
In the three spring practices before the shutdown, Pelini, too, got a feel for his sophomore cornerback. "He's not one of those guys who's gonna rest on his laurels and say 'I've arrived,' " Pelini said on Hangin' With Hester. "I think he's only scratched the surface on how good he's gonna be." As a freshman, Stingley mostly dropped back into man coverage – his 289 snaps in man led the nation – but Orgeron expects Pelini to utilize him with more variety in 2020. "I think this year you're not going to see us just use Derek in man free coverage," Orgeron told WWL Radio in a recent interview. "I think you're going to see him blitzing, I think you're going to see him use his talents in some places where we need him on defense." There's been speculation about Stingley playing offense, too, eventually, though Orgeron thinks that's more likely to happen in his junior season.
Right now, that's too far in the future for Stingley to worry about. He doesn't look too far ahead, and he doesn't look too far into the past. There are more pressing matters at hand, weaknesses to strengthen, strengths to refine, growth that only comes with work and maturity.
He'll leave the rest for others to consider. He doesn't think about things like potentially being the first three-time Consensus All-American in college football since James Laurinitis from 2006-2008, or the SEC's first such winner since Walker from 1980-82. He doesn't realize it's something no Tiger has ever done before – Tommy Casanova, a two-time Consensus All-American, is the school's only three-time All-American. Like his current association with Peterson, Waker, and Moore, Stingley wouldn't know unless you told him. 
Stingley is honored to be included in conversations featuring those names, but he wants to be better than them. He wouldn't say as much, and he probably doesn't even think in those terms, consciously at least. He's as humble as he is dynamic, and his focus isn't so long term.
But it is exactly what he wants, because Stingley wants to be the best. More specifically, he wants to come closer to perfection than anyone ever has. 
And he only knows one way to get there, one mode of thinking that gives him his best shot at the seemingly impossible. Next play. That's it. That's the mantra, that's the mindset. It's the reason Derek Stingley Jr. is where he is, and it's the reason Derek Stingley Jr. is going where he's going.