That's Joe
How the Stars Aligned for Joe Burrow, College Football's Brightest Star and Hero of The Plains
Outline
Part I: The Vision
Part II: The First Transfer
Part III: Shady Arrives
Part IV: Joey Buckets Takes Over
Part V: Hardwood Prophet
Part VI: 3-on-3 in PE
Part VII: The King of Athens
Part VIII: Waiting in the Wings
Part IX: Joey Heisman
Part X: I Told You
WEARING A BUCKET HAT and a new haircut, Joe Burrow tries to explain a vision almost no one else can see.
It's summer in Louisiana, the heat so hot it's made Burrow trim his flowing, Midwestern locks and don a Dri-FIT boonie for the first time in his life. He's from The Plains, a tiny Appalachia township in Southeast Ohio. Even after a year on the bayou, he's still getting used to the climate.
The reporters gathered around Burrow at the Manning Passing Academy in Thibodaux, Louisiana, are so close that it can't help matters, thermally speaking. Meanwhile, they're peppering him with questions about LSU's new offense and his hopes for his senior season.
Boy, do they have questions. In the year before this moment, Burrow had transferred from Ohio State and won the starting job at LSU, before leading the Tigers to a 10-win season and a Fiesta Bowl victory. He was tough. He was gritty. And he was, for most of the season, good, throwing for more than 2,800 yards and tallying 23 touchdowns.
Good enough never is, though. Not in Burrow's world, and not in football's. If he was going to reach the lofty expectations LSU fans placed upon him when he arrived in Baton Rouge – and accomplish the loftier goals he had for himself – he was going to have to be better than good in 2019.
He would have to be great.
And, despite Burrow's confidence in a new offense and after a year of developing, the media gathered in Thibodaux are skeptical.
How different, really, is this offense going to be? they ask
Burrow greets the question with a knowing smile.
"Oh," he says, eyebrows arching, mouth curling into a wry grin. "I mean, it's going to be" – he pauses. More mouth curling – "a lot different. I'm going to try not to tell you how different it's going to be."
Joe Burrow knew, man.

From the Manning Passing Academy this summer.

Reporter: How different is the offense going to be?

Burrow: ?? pic.twitter.com/npgNrydg41

— Cody Worsham (@CodyWorsham) November 13, 2019
Now, he's wearing a full-on, ear-to-ear smile, pearly whites and all. It's practically holding up his bucket hat, at this point.
It's the look of a man who knows something you don't.
Soon, he's making claims that will be, once they're posted to social media in the hours after this interview, met with polar opposite receptions. To LSU fans, Burrow's assurance of an offense that will score "40, 50, 60 points a game" is music to their ears. To almost everyone else, it's mockery fodder.
Collectively, the college football world turns Burrow's confidence into a punchline. That many points? At LSU? It would take a Heisman-worthy season from a quarterback with 200-to-1 preseason Heisman odds. No chance, they say.
And, they sort of had a point. They at least had history on their side. Since Heisman betting was allowed on the boards in Vegas in 2015, every player that had won the award started at 50-to-1 or better. Not since Johnny Manziel started the 2012 season off the Heisman board entirely on offshore markets had a quarterback made such an improbable run.
They couldn't see Burrow's vision. They couldn't believe he was capable of that sort of season, no matter how tough and gritty and good he'd been before.
Before Burrow's explosion this season, before his rise from Heisman afterthought to Heisman frontrunner, before Ohio State's surplus became LSU's superstar, there was almost no one who could've seen it coming.
Except for Burrow, his family, and everyone in The Plains, who saw it coming all along, because they'd seen it before.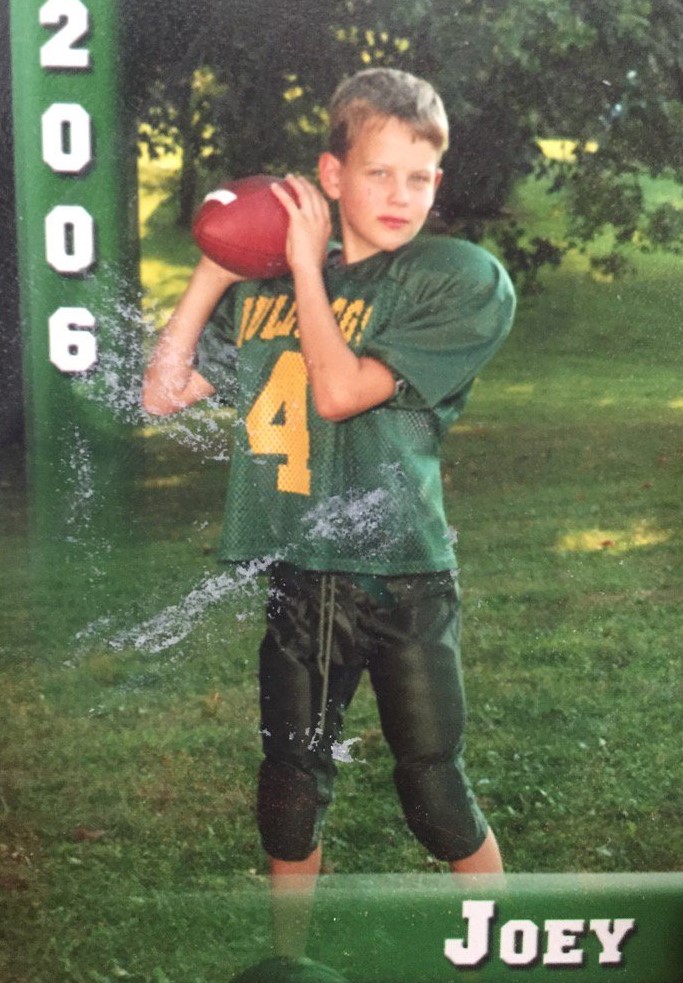 SAM VANDER VEN SAW IT when Burrow was in third grade.
That's when Joe arrived in The Plains, the son of Ohio University's new defensive coordinator, Jimmy. That was a big deal for Sam and his fellow second graders, who were big OU football fans. One of the coaches' kids is in our grade? Vander Ven remembers thinking.
"The first glimpse that we had at him was baseball," Vander Ven says. "It was our summer baseball team that he was on. The kid was just a crazy good athlete."
They called him Shady, because he always wore sunglasses. Jimmy says it was mostly because Joe's eyes, for whatever reason, were sensitive to the sun, "but they all thought it was cool."
Even cooler was Burrow's talent and competitive drive. He arrived in Ohio with both. The son of a former Nebraska football player and the brother of two others, Burrow was born into a competitive family and took quickly to all sports – baseball, in particular. In Ames, Iowa, where Burrow was born, the family lived in a two-story ranch house. Joe would spend hours in the backyard with a baseball bat and a wiffle ball, launching homers over the roof from the front yard to the back.
"He had to hit a certain number," his mother, Robin says. "He would always choose however many he was going to hit that day."
It took time for Joe's self-competitive streak to translate outward, though. When the family moved to Nebraska in 2001, Joe gave soccer a shot, and the early returns were unfavorable for his future athletic endeavors.
"He basically stood for two days with his hands in his pockets," Jimmy says. "About the third day, though, he started running up and down the field and elbowing guys and being physical and competitive. He just had to check it out, make sure it was what he wanted to do."
From that point forward, Joe was hooked. Competition was his addiction. Winning – in anything – was his sole objective. When he played coaches' pitch, he kept score, even though no one else did. In basketball, he wanted to shoot 3s when others were still learning layups. As he grew older, the wiffle balls flew higher and further. He moved to Fargo and picked up flag football, where he caught passes and played defense but kept an eye on quarterback.
"He's always wanted to be the person with the ball in his hand and be the person scoring points," Robin says, "whether it was soccer or basketball or baseball or football. It's just in his DNA, I guess."
"He's the most competitive dude on the planet," Sam says. "Without a doubt. Whether it's a video game or anything outside of sports, he's a ruthless dude."
Burrow hated losing and loved winning with equal zeal. Soon, the walls of his bedroom were lined with trophies, but hardware has never motivated Burrow – unless it reminds him of a defeat.
"The only trophy that he ever paid attention to was when he got second in a baseball tournament, and one of his best friends had thrown the second place trophy in the garbage can," Jimmy says. "So we're driving home and we're just horrified that that happened. Joe gets home. We go up to his room about an hour afterwards, and he had dismantled the second place trophy."
That provided an opportunity to teach Burrow a lesson in humility and losing with grace. Even as he absorbed that lesson, it didn't make the losing less intolerable to his disposition.
No, there was something different about this kid. Everyone could see it. Especially when he arrived in Ohio, shades on his face and a competitive fire burning so intensely in his gut, you could see its glow in his eyes. 
The only problem? Burrow initially enrolled at The Plains Elementary, literally within shouting distance of his childhood home. The friends he played sports with went to Morrison, five miles south in Athens.
So, for the first time, Joe made the switch.
""That," Jimmy says, "was his first transfer."
The first star took its place in the sky.
SAM SMATHERS SAW IT when Burrow was in third grade, too.
Smathers, who founded the town's youth football program in 1994, needed a quarterback for his third and fourth grade team. Usually, that honor would go to a fourth grader who had taken his lumps the year before. But the year Burrow arrived in town, the third grade quarterback from the year prior decided to sit the season out – star number two.
"We were having a football camp up on the hill here," Smathers says, "and my assistant coach came over, and he said, 'Well. Found our quarterback.' Here comes this boy with sunglasses on, walking up the hill, that Joe strut, walking into camp."
Burrow had never played quarterback before, but he knew the game. He learned to ride his bike on the field at Memorial Stadium in Lincoln. Football was the fabric of his life. He understood the sport, which is more than half the battle when you're trying to teach the wing T to pre-teens. Jimmy still blames Smathers for breaking up the family's defensive legacy by putting Joe at quarterback.
"We needed somebody to learn a lot of different plays and handoffs," Smathers says. "His IQ, at that level? It started right there."
Like most who've known Burrow since his time on The Plains, Smathers calls him Joey, and Joey quickly took to the position. He still loved defense and tackling – his favorite days were those Smathers put the team through Oklahoma drills. But it was clear, even that early, he was ahead of the curve under center. Take, for example, the time Burrow read the defense and noticed the middle linebacker too far from the center of the field. He checked into an audible – QB sneak on bump – and before the defense knew what hit them, he was in the endzone.
"He ran for a 60 yard touchdown on that," Smathers says. "It was all him. That's poise. He didn't get flustered by anything. You don't get that with a lot of kids in fourth grade, that have that IQ, that poise, to see that at that age."
By sixth grade, Smathers had ditched the wing T in favor of the spread double-wide shotgun hurry up. Watch film of Burrow's sixth grade team, and you might think Joe Brady was designing the passing concepts. He read defenses, threw outside the hashes, and took shots downfield. The team played their games in Peden Stadium on Ohio's campus, and Jimmy's office overlooked the field.
"I could just turn my chair around, watch Joe, and continue to do some work," Jimmy says. "Every Sunday, I could see him play."
At night, they'd watch film, Joe's sometimes, players Jimmy was recruiting other times. Jimmy tried not to force football on his son, but Joe devoured it. If the TV was on, there was a good chance he was watching football – with a coach's eye.
"We all sat and watched that, honestly," Robin laughs. "That's just what he thought was normal – to sit and study the game. He didn't know any different."
On the field, it worked to his advantage, except when he played scout team. Smathers, a defensive coach by nature, put Burrow in on scout one week to run an opponent's offense while he was working on schemes with his defensive players. As the defense piled up stops, Burrow huddled his teammates up and designed a new offense on the fly. Joe! Smathers shouted. Stick to the script of what they're running!
"He was drawing up things they weren't running to get us," Smathers laughs. "He said, 'No, I can beat that defense.' And this is in sixth grade. That's Joey. That's how his mind thinks.
"When you have a guy like that behind the wheel, throw him the keys to that Ferrari, baby, and let him run it."
TOM VANDER VEN SAW IT on the basketball court.
Tom, Sam's father and Joe's fourth-grade basketball coach, is a Professor of Sociology at Ohio University whose areas of research include criminology. Early on, he saw signs in Burrow he'd only previously seen in studies of first responders.
"Most of us, when it's a high-intensity situation, an anxiety-producing situation, we run in the other direction," Tom says. "So that's why law enforcement, emergency medical services personnel, those who are successful at the job, are unique people, because they run towards danger. Most of us run away from it, or it's such a stressful situation that we don't feel comfortable in that situation.
"I think Joe thrives on that."
Both Vander Ven men bore witness to that quality during a game pitting Burrow's fourth-grade squad against Maysville, a town about an hour north of The Plains. Maysville held an eight-point advantage with 30 seconds left, and Burrow's team was down to just four men after several players fouled out.
So, Joe took over. First, a steal, then a drive to the basket for an and-one. Burrow was happy to embellish the contact. He's always hated losing.
"It was the best selling job of a blocking foul that I've ever seen," Tom says.
Then, the free throws. Tom remembers Burrow hitting about seven in a row. While he and the head coach were "coming unglued on the bench," Burrow was the epitome of calm at the line.
"Nine year olds don't hit more than two free throws in a row," he says. "There was a stoic, flat, poised look on his face, standing on the free throw line, draining one after the other."
If you think nine year olds struggle from 15 feet, back them up to 19 feet, nine inches, where the shots are worth triple but are more likely to find the top of the backboard than the bottom of the net. Sam isn't sure if Burrow had ever taken a three before that moment, but that's what the moment called for.
"Joe put the team on his back," Sam says. "We were in fourth grade, and we barely shot 3s. All of a sudden, when we needed it, Joe created a three-point shot."
Thirty ticks of the clock later, Athens won, and Tom Vander Ven learned a lesson he would never forget.
"If the ball's in Joe's hands at crunch time," he says, "you just know he's going to get it done."
We're goin to the Shoe, Shoe, Shoe! How about you, you, you? pic.twitter.com/1KJ7r6M41G

— Robin Burrow (@burrowr) November 29, 2014
JEFF SKINNER SAW IT on the basketball court, too.
He was Burrow's coach for four seasons at Athens High School, where, after football season, he racked up four all-division honors and, as a senior, made All-State and was the TVC-Ohio Player of the Year.
In fact, after his wiffle ball days, basketball was Burrow's first love. He idolized – still does – Cleveland Cavalier Matthew Dellavedova, and in junior high, Robin would drive him from baseball games an hour and 15 minutes twice a week for AAU practice in Chillicothe. He did homework on the drive there and back and arrived home in time for bed. As a sophomore, Creighton called and expressed an interest in recruiting him.
"Most people think if he'd have just chosen basketball," Jimmy says, "he probably could have played Division One basketball."
What stood out to Skinner about Burrow's prep career was his leadership and intelligence. Skinner called Burrow – with apologies to his son – the smartest player he ever coached, and he marveled at how the other players would follow in Burrow's silent footsteps.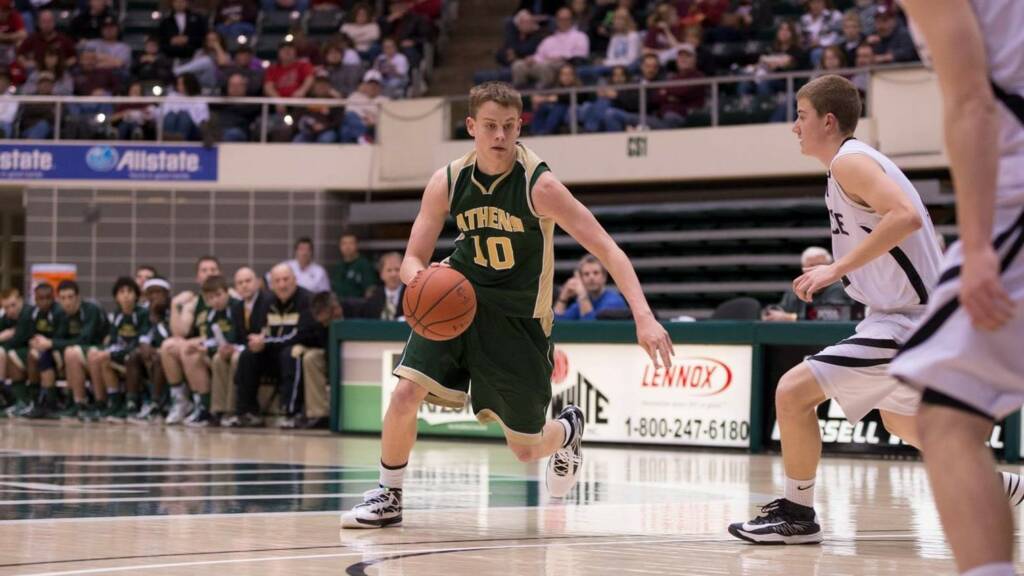 "His leadership is almost prophetic in nature: he doesn't even try to lead, and other people follow him," Skinner says.
On the floor, Burrow was his best post player and his best point guard. He played everywhere, prepared like a maniac, and mastered the rules of Athens' matchup zone. When people would ask what the rules of the defense were, Skinner would reply, "I don't know. You're going to need to ask Joe."
Just once does Skinner remember raising his voice at Burrow. That came at halftime of the district semifinals during his sophomore year, when Burrow took just two shots and Athens entered the locker room trailing by 15.
"I was just trying to get everyone involved," Burrow said.
"We need you to take over this game," Skinner replied.
Burrow obliged. Two quarters later, Athens won, and four quarters after that, they had won the school's first district championship since consolidation in 1967.
"After the game I wanted to do cartwheels and back handsprings across the gym floor at Ohio University," Skinner says. "I turn around, and there's Joe and the boys. They're just getting in line to shake hands, because that's what they did. They just won."
Skinner still marvels at two stories which indicate Burrow's commitment. After he signed with Ohio State, the Buckeyes asked him to enroll early, which meant Burrow would miss his senior season of basketball. Burrow declined – he had a job to finish on the court.
"That was a big deal to me," Skinner says.
So was the time Burrow threw for Urban Meyer at a passing camp in Columbus, then drove two hours to Knightstown, Indiana for a summer basketball game in the historic Hoosier Gym.
"He's walking in the door as we're getting ready to tip," Skinner says, "lacing up his shoes, and I'm yelling, 'Timeout!' And the referee says, 'You can't call a timeout. We haven't even started yet.'"
RYAN ADAMS SAW IT in middle school P.E.
Before he was Burrow's high school football head coach, Adams had his future quarterback as a student. Once again, basketball provided the window to the intangibles he'd later use to thrive on the gridiron. By far the best player in the class, Burrow – "on his own," Adams insists – would partner up with "two of the guys that, in all honesty, nobody else was going to put on their team" for three-on-three games.
"He would clean everybody out," Adams says.
So, Adams made it tougher. First, Burrow couldn't score two straight buckets for his team. Then, he couldn't score at all. Didn't matter. Still won.
"You should have seen this dude toss the ball off, setting picks, screening off other guys so that they could just put these little cherry shots in," Adams says. "He just works so hard at making other people around him better.
"He had them kids red-cheeked."
By the time he reached high school, Burrow had established himself as one of the school's best athletes, but his future under center was TBD. He'd started as quarterback on the freshman team, running a similar pass-heavy attack he'd been leading for Smathers' teams since sixth grade. Occasionally, he practiced with the varsity, impressing in his scout team duties all over the field. That year, the Bulldog varsity squad won its conference with a sophomore signal-caller starting its last three games, and Joe entered the offseason planning to play wide receiver and defensive back the next season.
Man plans, and God laughs. The quarterback ahead of Burrow moved to California, clearing the way for him to take the reins of the offense. That quarterback? The same kid whose decision to not play football as a fourth grader opened the door for Burrow's initiation to the position.
Hello, third star.
Meanwhile, Adams hired one of his former players, Nathan White, to take over as offensive coordinator. His offense of choice? The spread system Burrow had been groomed to operate since middle school grade.
"Just like LSU," Jimmy says, "they put in the spread offense."
"The new stuff we brought in [at LSU]," Burrow says, "it fits what I've done since high school."
The stars are piling up at this point.
"We just had so many things that came together to make what happened here happen," Adams says.
THEY ALL SAW IT in high school.
From his first game with the Bulldogs until his last, Burrow marveled, constantly setting the bar higher with each record-breaking performance.
It started before the games, with the summer 7-on-7s. That's when Jimmy got suspicious that his son might be the real deal – a legitimate D1 prospect at quarterback.
"They were just throwing the ball all over the place," Jimmy remembers. "And I asked one of the coaches, 'Is this normal for Athens?' And he said, 'Absolutely not.'"
Burrow was 160 pounds soaking wet, but he understood the scheme, where to throw it and when. In his debut, he tossed for 229 yards and three touchdowns in a loss to Gallia Academy.
"It didn't really hit me until like the first varsity game he started as a quarterback," Sam Vander Ven says. "He was a skinny, 160-pound quarterback, and he was just absolutely picking apart defenses. Even though we lost, we were just like, 'Yeah, he's arrived. It's only going up from here.'"
The next week, the Bulldogs were in another shootout, this time with Watkins Academy. "A pinball machine" game, Adams says. "Back and forth. Back and forth." Watkins struck just before half to pull close, before Burrow unleashed a 45-yard rocket for a back-breaking touchdown. By the game's end, Athens had won 62-54, Burrow had thrown for 324 yards and four touchdowns, rushed for 144 yards and two more touchdowns, and Adams realized he had a difference-maker in green and gold for three more seasons.
"We just knew," Adams says, "that we had our hands on a really special kid."
Once he settled into the job, Burrow started showcasing all the intangibles that have helped elevate him into the Heisman forefront at LSU: toughness and competitiveness, poise and preparation, persistence and grit.
White quickly learned how much his quarterback loved to hit – and get hit – during his sophomore season. In games, Burrow sought out contact, refusing to slide or avoid tacklers in the open field. (Sound familiar?) In practices, Burrow begged his coaches to get him more snaps on defense.
"I think we might not ever know anything about Joe Burrow if we had let him have his way," says John Rogers, who was an assistant coach for Athens during Burrow's career and is now the school's assistant principal. "I think he'd have been like the middle linebacker on the football team, because he was a hitter, he was a great form tackler."
"You talk about a kid that takes great pride in laying a hit," Adams adds. "He loved that stuff. That's what he lives for, those opportunities to be able to be physical out there on the field."
It didn't take White long to realize the best way to get his quarterback going was to run him. One game in the middle of his sophomore year, Burrow and the offense were sputtering. Man, White thought. I'm just going to run Joe until he gets into this thing. It wasn't exactly QB sneak on bump for 60 yards, but it had the intended effect.
"He started rolling, got a few hits," White says. "He was like a different man after that."
Burrow would finish the game with 161 yards on 23 carries, and for the rest of his prep career, Burrow ran the ball on the second or third play of every single game. To this day, White – now the head coach at Athens – runs his quarterback early to get them going.
"I enjoy getting hit sometimes," Burrow says. "It makes me feel like a real football player instead of a quarterback. People can look down on quarterbacks sometimes if they're not taking hits. I like mixing it up in there."
What set Burrow apart, though, was his mental approach to the game. He didn't just process White's game plans. He questioned them. Who are we reading? Can we change this if we get two high, one high? He also contributed to them, once he gained his coaches' trust.
"He had so many questions," White says. "That was the neatest part. He was so smart and so great at it, but he always wanted more. The thing that set him apart was his desire to learn the scheme and know exactly what we're doing."
His preparation was unmatched. Burrow spent hours after school on the board with White, drawing up plays and schemes. At home, he watched tape with his dad, studying the previous Friday's game every Thursday to learn from his mistakes. He didn't make many mistakes, but when he did, he responded with brilliance.
"After he threw an interception –  which was not very often in high school – he would light somebody up," Tom Vander Ven says. "Whoever picked him off, he would make them pay."
His preparation paid off, and it also served as a pressure release for Burrow. The bigger the game, the bigger the moment, the better he played – because, in no small part, of how much he prepared for those games. Higher stakes increased his focus in a way Tom Vander Ven chalks up to first-responder's DNA.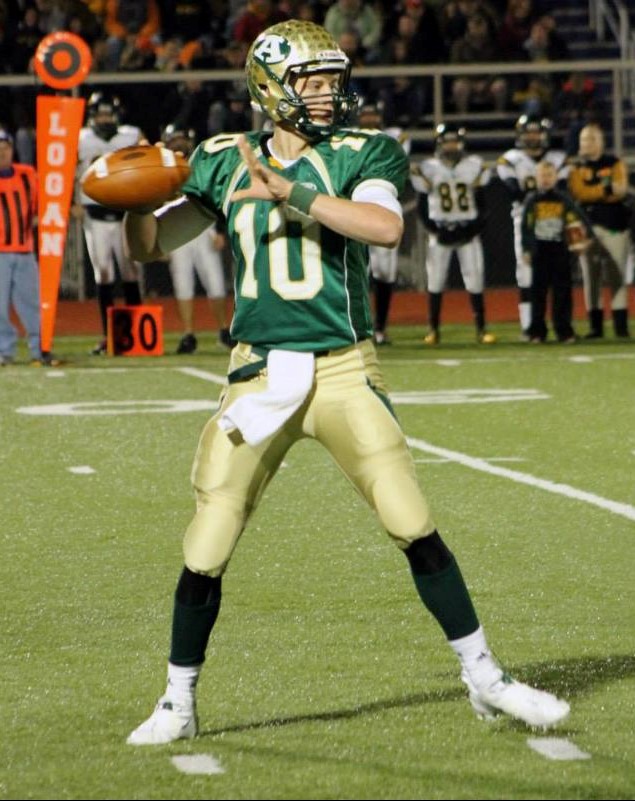 "He's just relentless in preparation," Adams says. "I think that's how he ends up dealing with the pressure in big games. He always had his best games when the most was on the line. He deals with that by just preparing and preparing and preparing."
As his career progressed, his confidence grew. Rogers remembers picking on Burrow before one rainy game against Meigs High School, telling him the weather wouldn't allow him to throw the ball all over the yard the way he liked. "The rain doesn't touch my ball," Burrow barked back.
His confidence was also contagious. Tom Vander Ven points to an overtime win over Tri-Valley during Joe's junior season. When the Athens defense forced a field goal on the first overtime drive, Vander Ven knew the game was over. It was in Joe's hands, now, and like a first responder, Joe thrives under pressure.
"I'm such a pessimistic sports fan," Vander Van says. "My teams are all terrible. And they all break my heart. But in that situation, I knew. As soon as we got the ball, I knew, 'This game is over.' He instills that kind of confidence in people and his teammates and his fans. You just know he's going to get it done."
By his senior year, Burrow was 40 pounds heavier and an unstoppable force in the Tri-Valley Conference. He threw for 4,445 yards and 63 touchdowns with just two interceptions, rushed for 642 more, and even caught a touchdown pass on his own deflected pass. Athens set an Ohio record with 861 points and marched to the state championship game for the first time in school history. Burrow played both ways in a 56-52 shootout loss to Central Catholic, throwing for 452 yards and six touchdowns on offense and playing every snap on defense.
"It was continuous Iron Man football for him," Rogers says.
The defeat broke Burrow's heart, despite his own valiant play. He called it the worst day of his life in a teary-eyed postgame press conference, and three days later, when he posed for his senior basketball picture, the aftermath still rested heavy in his eyes.
"He carried that loss with him quite a long time," Jimmy says.
College coaches didn't care. They loved everything they saw in Burrow, who, by this time, had won Mr. Football and signed with Ohio State. Still, when they showed up to ask Adams about his quarterback, he gave them all the same line.
"That's the SOB you don't want on the other side," Adams says. "Because he's going to find a way to beat you."
THEY ALL SAW IT in college, too, even as Burrow's opportunity to shine in Columbus never manifested itself.
Burrow knew what he signed up for when he signed with the Buckeyes. His freshman season, he shared a quarterback room with Cardale Jones – who had just led Ohio State to the national championship – and JT Barrett, who would finish his career with 25 school records and the most touchdown passes in Big Ten history.
Never once did he shy away from the competition. A late-bloomer in recruiting circles, Burrow kept a chip on his shoulder throughout his time at Ohio State. He knows the names of all the players who were ranked ahead of him by recruiting services and the guys who made Elite 11 ahead of him.
"I had this great high school career, and then I got to Ohio State, and I'm thinking I'm going to be the man after one year, two years max," Burrow says. "It just didn't end up happening."
As a redshirt freshman, Burrow played in five games, completing 22-of-28 passes for 226 yards and two scores as Barrett's backup. His sophomore season, he played in five more games, going 7-for-11 for 61 yards, while freshman and future first round NFL Draft pick Dwayne Haskins entered the fold.
Barrett's graduation opened the door for a battle between Burrow and Haskins for the starting role in 2018. It was neck and neck all spring, and Burrow showed, with 15-of-22 completions for 247 yards and two touchdowns in a breakout spring game performance, that he could produce at this level.
"I knew that he could have taken that job," Sam Vander Ven says. "I knew he was good enough for it."
"The Ohio State thing was frustrating," Jimmy says, "because most people there would say, 'Hey, you can play here. You and Dwayne Haskins are dead even.You can be a great quarterback.'
"But the opportunity was just never there, and I think he uses that as incentive at LSU."
Haskins won the job. Burrow was the backup. At Athens, they were stunned. How could Columbus not see what they in The Plains had seen for years.
All he needed, they knew, was a chance.
"The most frustrating thing for me was wondering, Is he doubting himself at all? Because I never wavered once," White says.
Burrow talked with his family. He talked with his coaches. He had a decision to make. He had a question to ask himself, an answer to discover.
"I talked to Joe and said, 'Hey, man, what's the plan?'" Rogers recalls. "I think Joe was kind of sorting it out: 'It depends on what my goals are. If my goal is to try to make it in the NFL, then I've got to make that decision. If it's to just get my degree and go into business and just sort of leave football behind me, I've got to make that decision.'
"For my own selfish reasons, I was hoping he would make the decision to do what he did. So that I could keep following this story."
Schools across the country came after Burrow, perhaps even more than came after him in high school. Jimmy and Robin helped him whittle the list to a select few. He wanted to go to a school that needed a quarterback, but he didn't want to be handed the job. He didn't want to drop down outside of the Power 5. Most importantly, he wanted to win.
In LSU, Burrow found both a fit and connections. The Tigers needed a quarterback, and they also had ties to the staff through Bill Busch and Dave Aranda. Busch coached at Nebraska during Dan Burrow's – Joe's older brother – senior season and at Ohio State during Joe's freshman season, while Aranda and Jimmy knew each other through coaching circles.
Serendipity struck again, this time in the stars above Wesson, Miss. Jimmy, a Mississippi native, was recruiting at Copiah-Lincoln Community College the spring before Joe's transfer when he bumped into LSU offensive coordinator Steve Ensminger. Hey, Coach, Jimmy said. He's trying to decide what he's going to do as far as transferring. If you're interested, it might happen.
LSU was very interested. Burrow and his parents visited Baton Rouge in May, and Dan, a resident of Houston, joined, too. Robin handled the academics and logistical side of the visit. Jimmy and Joe talked X's and O's with Ed Orgeron, Ensminger, Busch, and other LSU staffers. A conversation scheduled for two hours went four.
Looking good in purple! @Joe_Burrow10 pic.twitter.com/44bvI0FidX

— James Burrow (@jburrow3) May 30, 2018
"He needed to understand where they were going with the offense," Robin says.
The Burrows bought into LSU's vision. Joe took a week to make up his mind, shutting out even his parents on his decision-making. His other primary suitor was Cincinnati, and he bounced ideas off his brothers for a week while making up his mind.
Eventually, the idea of playing for SEC and national championships won out over playing closer to home. Joe had to compete, and he had to compete at the highest level.
"Some people still thought, Well, he couldn't play at Ohio State, maybe he should just drop down a level," Jimmy says. "I think in his mind, picking a school in the SEC that was capable of doing what they're doing now but hadn't done it in a while was key.
"It came down to playing football at the highest level and a chance to win the national championship. That's why he went to LSU."
They're just happy everyone else can see it, too.
"Everyone around here probably had a collective sigh of relief that we weren't just seeing things," Rogers says. "Nobody is shocked."
Burrow had little time to settle in upon his summer arrival in Baton Rouge. He had to learn a new offense and a new roster. He knew, he guesses, the names of 10 players, maybe, when he first walked into the LSU locker room.
His parents spaced out their visits. They tried to balance keeping him comfortable and connected to family with giving him space to find his feet in a new city with an entirely new culture, and a new program with a foreign scheme.
"I had never been under center before," Burrow says. "I had never done that footwork before – play action, turn your back, seven step drop, that was brand new to me. I had to learn that in about a month and a half."
To Joe, this was a business decision. He treated LSU like a graduate internship. There was no time to waste on the excesses of college. Win a job, then win some games.
"I had my three years of being a college guy," Burrow says. "I graduated and moved down here, and I looked at it as my first job out of college. That means you have to be a pro. No nonsense. No parties. Nothing like a normal college guy. I looked at this like a regular job."
He got through his first year at Baton Rouge on sheer grit, with his talent and toughness taking over where his comfort levels were deficient. The family knew he was at home before he ever took a snap. The only photo Joe has in his Baton Rouge apartment, they say, is from the moments before the 2018 opener against Miami, when he threw up an 'L' with one hand while walking away from a pre-game scuffle with the Hurricanes.
"You knew right then," Jimmy says, "that he was part of the team, that he cared about that team, and they cared about him."
Other turning points included the road win at Auburn and the home win over Georgia. Those were moments of realization for Burrow and his family – Joe can do this. Same guy, different jersey.
Even the lowest moments served as a platform for Burrow to grow. His late pick-six in a road loss at Florida stung almost as much as the state championship defeat in high school.
"I was 100 percent sure that he was going to do exactly what he'd always done," Robin says of the Florida loss. "Drive his team down the field and score. I was just dumbfounded. And he was heartbroken."
"But you can't be heartbroken for very long in the SEC."
Burrow took more lumps – the overtime loss to Texas A&M "was the second dagger," Robin says – but he's always had an ability to catalyze defeat, to harness heartbreak and transform it into motivation and clarity of thought. He takes defeats hard, but they don't hold him back. In fact, they have the inverse effect.
"He can channel that frustration into positive energy," Robin says. "I think he definitely internalizes things a little bit, but uses it in a positive way."
LSU's move to a true spread attack during the offseason gave Burrow the external impetus to match his internal motor. When Orgeron hired Joe Brady from the Saints, Barrett – a practice squad player in New Orleans during Brady's time there, if you're looking for yet another star to fall into alignment – instantly called his former teammate. You're going to love Coach Brady, Barrett said, and he's going to bring a lot to your offense, to your team.
"Joe was sold before he ever even met Joe Brady," Jimmy says.
The rest is history – literal, actual, quantifiable college football history. Through nine games, Burrow has thrown for 3,198 yards, 33 touchdowns, and four interceptions while completing 78.9 percent of his passes. He's on pace to break the LSU and SEC single-season passing records, as well as the national completion percentage mark. After leading the Tigers to their first win over Alabama in eight years, he's the Heisman favorite.
Most importantly to Burrow, he's 9-0.
"That's all that's ever mattered to me: winning games," he says. "When my stats weren't great last year, and we were winning games, I said the same thing. I'll say the same thing this year."
In The Plains, as Burrow smashes records and smothers defenses, they say the same thing they said 15 years ago, when Burrow walked up the hill to football camp with his sunglasses and set the town on fire for a decade, one touchdown at a time: "That's Joe."
"This is Joe," White says. "What he's doing right now, it sounds crazy to say, but it doesn't surprise me at all. I thought he was this good when he was a sophomore in high school. And I'm so proud that he's gotten here."
Adams knew it after one game. When he saw Burrow dismantle Georgia Southern in the season opener, it was déjà vu all over again. He'd seen this all before. The same plays. The same firepower. The same execution. The same executioner at quarterback. It was Georgia Southern and Texas and Tri-Valley and Meigs and Alexander and Nelsonville-York and it didn't matter who, because when Burrow has that kind of offense at his fingertips and that cocktail of confidence and competitiveness in his bloodstream, you're powerless to stop him.
"After the very first game this year, once I saw them executing that offense the way that they were, I had a lot of faith at that point in time that he's going to light it up all year long, as long as he stays healthy," Adams says.
"From the bottom of my heart, I knew that he could play with anybody," adds Sam Vander Ven. "But as good of a friend as he is to me, seeing Heisman is just like, 'Oh my god, like he's a front runner for the freaking Heisman Trophy.' That's still very hard for me to believe. But I don't doubt that his skillset is worthy of a Heisman."
No one does. Not anymore. Not after hooking Texas, chomping Florida, and rolling up more points on a Nick Saban defense than any quarterback since Drew Brees. (There's divine destiny in that detail, too: Burrow's favorite team as a kid was the Saints.)
"It's amazing how the stars have had to align, to get to this point," says Jimmy, who retired before the season to watch his son's final season. "And so far, they've lined up pretty good."
"This is why I decided to transfer," Burrow says. "I wanted to play. I knew I could play on this stage…I always thought I would be on this stage, but I didn't think I would be in this jersey. It's been a bumpy road and a long one, but I couldn't be in a better place."
THE REPORTERS SEE IT, too, the vision Burrow tried to express months ago.
Moments after beating Alabama, Burrow is back in front of the media – many of whom were among those questioning Burrow that summer day in Thibodaux. Burrow's hair is still short, his smile still ear-to-ear, but now, what he knows is no secret.
"I told you." pic.twitter.com/ksUENtQ1WT

— Cody Worsham (@CodyWorsham) November 13, 2019
With his Heisman bona fides in plain sight and his team leading a championship charge, Burrow is asked about those comments, that promise of points to come, the assurance he's long since delivered upon, the repetition of history, the perfect alignment of those stars.
"I told you," he smiles. "Nobody believed me. I told you."
People believe what they see, and they believe now. They see the evolution of Joe Burrow isn't really an evolution at all. He is who he was; he will be who he has been. All that's changed is the stage and the stakes, the platform from which he wows the world. The most transformational player in college football has transformed very little.
This is who Joe Burrow has always been. He's just been given the opportunity to be seen.
Now, everyone sees. It's what Burrow always saw in himself, and what The Plains saw long ago. The fire. The poise. The grit. The talent. 
That's him. That's Joe.