Derek Stingley Jr. is Humble, Unflappable, and Just Getting Started
Not much bothers Derek Stingley Jr.
Traffic. Department store mannequins. Perfectly thrown back shoulder passes.
Other than that, it's hard to get a rise out of Stingley – so hard, in fact, that when I called to ask his father for some questions to ask him for the latest episode of Hey Fightin' Podcast, Derek Stingley Sr.'s first inquiry was simple: "Ask him what gets under his skin."
Turns out, not much.
Through seven games, Stingley has been a stoic superstar for the Tigers, perhaps their best defensive player at just 18 years old. Opponents are just 18-of-39 (46%) for 255 yards, two touchdowns, and three interceptions when throwing his way, good for a paltry NFL passer rating of just 52.8 – third-best in the SEC and second nationally among freshmen. He's also tallied 13 forced incompletions, the third-best figure in the country and tied with teammate Kristian Fulton for tops in the SEC.
Those stats explain why Stingley earned midseason All-American honors from the Associated Press, CBS Sports, Sporting News, The Athletic, and ESPN. What they don't explain is how he keeps delivering despite an ever-brightening spotlight on his name and an ever-growing target on his back.
Ask him that, and you'll start to understand: Stingley Jr. is a rare breed, equal parts unflappable on the field and humble off of it. 
"When you're playing with people like Grant Delpit, Kristian Fulton, and everybody else's that's on our defense it, it just helps me," he says. "It helps because our D-line is stacked. That helps our secondary, and our secondary will help our D-line by making the quarterback hold the ball. When everybody's working together, it just helps me out."
Stingley's parents, Derek Sr. and Natasha, instilled him with both of his primary assets as a cornerback: confident humility and elite athleticism. Derek Sr. was an Arena League Football player and a college baseball player selected in the 1993 MLB Draft by the Philadelphia Phillies who later became an Arena League coach, and his mother is a sheriff. That combination of coach-father, sherriff-mother helped forge a strong mentality Stingley has leaned on early in his career. 
Look no further than LSU's 42-28 win over Florida for evidence. The Gators attacked Stingley early and often, throwing his way 14 times in the game. On the first drive of the second half, they completed four passes on Stingley, including a couple of those bothersome back shoulder throws as well as the go-ahead touchdown. 
"It was just stacking up on me," he says. 
Back on the sideline, Stingley studied his mistakes. He leaned on his technique and training. He solidified his will and competitive drive. By the fourth quarter, he picked off the game-clinching pass in the Gator end zone and earned SEC Freshman of the Week honors. 
"Eventually, I just told myself, 'Alright, I gotta go out and do something about this so I can stop thinking about this other thing that happened,'" he says. "I made the play and I just forgot about everything else, and I was just back to having fun out there."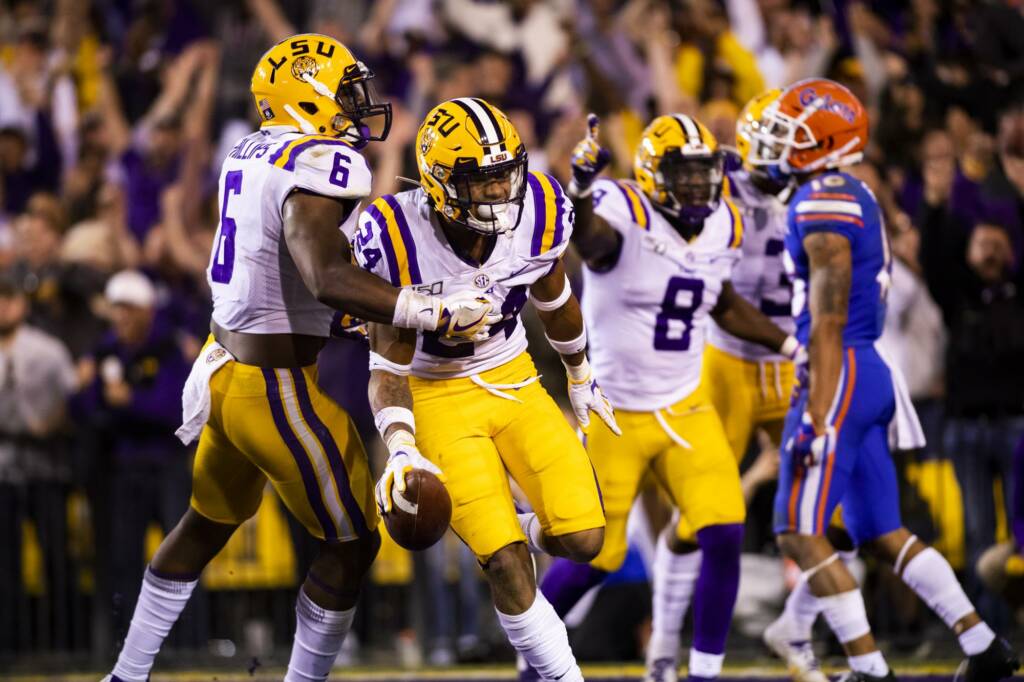 Teams have been avoiding Stingley since, starting with Mississippi State last week, who didn't throw a single pass his direction all game. The freshman cornerback never avoids any challenge on the football field, but there's one thing away from the sport he veers clear of at all times: department store mannequins. 
"Whenever I'm walking by one, I just feel like a mannequin just gonna pop out and attack me or something. It just feels like a normal person. It's right there. Every time I see one I'll just change my path and go way around."
Stingley's fears never follow him to the field, even though he understands the dangers of the sport better than most. His grandfather, Daryl Stingley, was a former Patriots first-round pick whose career was cut short at 26 by a spinal cord injury that left him paraplegic. It never deterred Stingley Jr. from pursuing the sport he loved.
"It is part of the game," Stingley says. "You can't go out and just think about injuries. Because if you're thinking about that, and you're playing scared, and then something's going to happen like that. So you just gotta go out there compete. And if something happens, then it'll happen."
His grandfather and his father passed on both the athleticism that makes Stingley special as well as his love for the game. When he was three, he spent hours in the backyard kicking a football off of a tee into a fence, chasing it down. Kick and chase, kick and chase, never growing tired. 
"A football has always been in my possession," Stingley says, "since I was a little kid. It was kind of engraved in me." 
And defense was always his calling. 
"I was always a defensive person," he says. "Playing flag football, going out on offense, that was just fun. Whenever I'd go to defense, that's when it got serious. I knew I had to tune in more for the defensive side of the ball."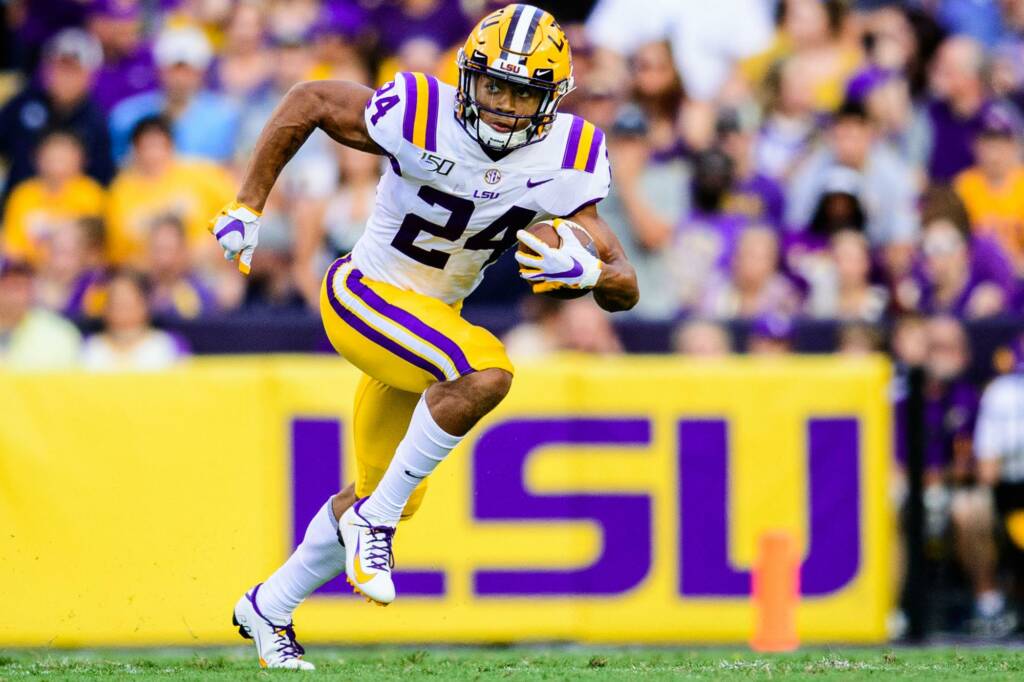 Stingley graduated from backyard kicking and flag football to emerge as the No. 1 recruit in the 2019 class, signing with LSU in the early signing period and enrolling on campus mid-year. That cost him a semester of high school but allowed him to acclimate to college football at a rapid pace. Practicing with the Tigers during Fiesta Bowl prep last December, he earned marks from Ed Orgeron as the best cornerback in practices – at just 17 years old. 
"I remember my first day when I came, and I was able to practice," Stingley says. "I'm on the field, and I see Grant, Ja'Marr. Like, I'm on the field with these people, and I'm just like, 'I made it. I made it to what I always wanted to do – play football at the next level.' It was just a surreal moment, but everything was moving really fast. Everything was a blur. But eventually that slowed down for me."
By the spring, Stingley had cemented himself as a starter opposite Fulton in a secondary Orgeron would call as talented as any he'd ever been around in his coaching career. He also emerged as LSU's starting punt returner, and of all the plays he's made in his early days as a Tiger, it's a 32-yard punt return in his debut against Georgia Southern that sticks out most. 
"I just felt like there was just so much pressure on me to do something back there in punt return," he says, "and to do that on the first one that I had, it was nice."
His first interception came a few weeks later at Vanderbilt. Like the pass he intercepted in Tiger Stadium during the spring game months earlier, Stingley lost his helmet after the play.  
"It seems like every time I hit the ground on the deep ball, the receiver always rips my helmet off," he laughs. "I like it – I get to show my hair off."
The interceptions showcased Stingley for all of college football for the first time. The unspoken message sent was as obvious to see as his mile-wide smile: get used to this face, because you'll be seeing a lot of in the future.
Derek Stingley Jr. is just getting started.