Women's Golf Wins Magnolia Invitational; Lindblad Earns Individual Title
WEST POINT, Miss. – For the first time since the 1996-97 season, the LSU women's golf team has won back-to-back tournaments with today's win at the 2019 Magnolia Invitational. LSU won the Princess Anne Invitational in Virginia Beach on Oct. 6, making this the first season since 2014-15 that the Tigers have won multiple tournaments in a season.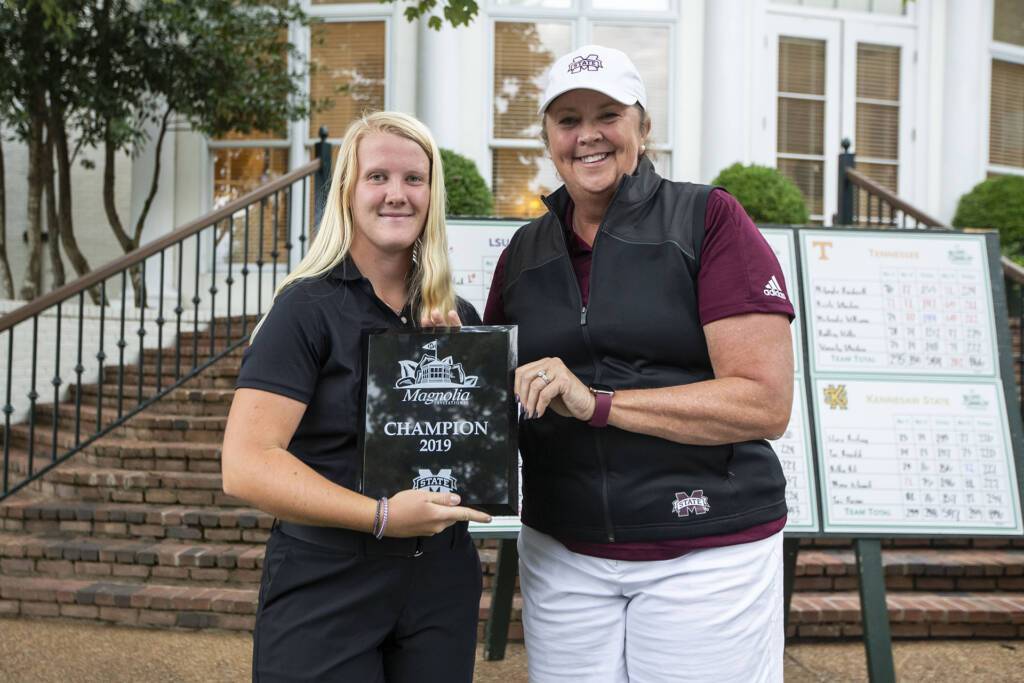 Ingrid Lindblad – 2019 Magnolia Invitational Champion
"I am extremely proud of this group for another historic day," said second-year head coach Garrett Runion. "Winning tournaments is always fun, but to go back-to-back and wire-to-wire while holding off a trio of SEC teams for the win is special."
Freshman Ingrid Lindblad led the charge for LSU, winning the individual crown with a three-round score of 10-under 206. Today she shot 5-under 67 in Round 2 and followed that up with a 4-under 68 to finish Round 3, her fifth and sixth rounds of the season shooting par or under. Lindblad was the leader in par 5 scoring with a 4.25 average and 9-under. It is the first individual win for an LSU player since Claudia DeAntonio won the LSU Lady Tiger Golf Classic in 2018.
"I'm very proud of Ingrid with how she bounced back after being so close to winning individually in the last tournament," stated Runion. "She had a record-breaking round going and we hated to see her catch a bad break on the final hole. But glad she got the individual win to cap off a great week."
LSU shot 6-under 282 and 3-under 285 in back-to-back rounds on Monday to wrap up their second tournament crown in eight days after finishing as co-champions of the Princess Anne Invitational last week. It is the third and fourth rounds of the season that the Tigers have shot par or under. Overall, LSU has scored 1-over or lower in seven of nine rounds played so far this season.
Junior transfer Kiana Oshiro shot 3-under 69 in Round 2 and 2-under 70 in Round 3 to finish in a tie for third place at 6-under 209. She led the field in par 3 scoring with a 2.67 average and 4-under. Lindblad and Oshiro were 1-2 with the most birdies of the tournament with 21 and 14, respectively.
Freshman Latanna Stone shot back-to-back 1-over 73s on Monday to finish in a tie for 16th place. Sophomore Alden Wallace shot a 2-over in the third round, while junior Kendall Griffin shot 1-over in the second round to keep LSU in contention for the title. All five LSU players finished in the Top 35 of the 60-person field.
LSU led the field with one eagle and 61 birdies over the three rounds, and in par 5 scoring with a 4.70 stroke average. The Tigers were second on par 3 scoring and fourth on par 4 scoring.
"I can't remember a tournament where we made so many birdies," said Runion. "Every times I looked up someone was making a birdie. We had a few more bad holes than we normally have but it's hard to be beat when you have so much offense going."
LSU wraps up the Fall portion of the 2019-20 season at the Battle of the Beach in San Jose del Cabo, Mexico, hosted by TCU on Nov. 1-3.
Follow Along
Fans can check out final scores from the tournament at Golfstat.com and on Twitter and Instagram at @LSUWomensGolf.
LSU Individual Results – Final
1. Ingrid Lindblad – 71-67-68 – 206 -10
T3. Kiana Oshiro – 71-69-70 – 210 -6
T16. Latanna Stone – 75-73-73 – 221 +5
T22. Alden Wallace – 72-77-74 – 223 +7
T35. Kendall Griffin – 79-73-76 – 228 +12
Team Standings – Final
1. LSU – 289-282-285 – 856 -8
2. Mississippi State – 294-287-279 – 860 -4
3. Auburn – 290-287-287 – 864 E
4. Tennessee – 295-289-282 – 866 +2
5. Chattanooga – 295-298-300 – 893 +29
6. Kennesaw State – 299-298-299 – 896 +32
7. Tulsa – 302-299-296 – 897 +33
8. South Florida – 320-292-294 – 906 +42
9. Iowa – 311-304-293 – 908 +44
10. Memphis – 321-307-303 – 931 +67
11. Southern Miss – 309-320-307 – 936 +72