For Ja'Marr Chase and Derek Stingley, Iron Sharpens Iron
It's the talk of the fall, the matchup everyone – players, coaches, staff, NFL scouts, message board posters – wants to see. It would be the hottest ticket in town, if it were available. 
But this matchup takes place daily behind the closed doors of LSU's Football Practice Facility, and Derek Stingley Sr. has seen it before.
The battles between his son, freshman cornerback Derek Stingley Jr., and sophomore wide receiver Ja'Marr Chase, have become the stuff of legend around LSU's football operations facility. And as the two have exploded onto the scene in 2019 as two of college football's best at their positions, that legend has only grown. 
Tape of their one-on-ones is "the first thing I watch when I come in," says head coach Ed Orgeron. 
"I love it. Those guys compete every day."
For Stingley Sr., this is nothing new. He's been watching Ja'Marr go at Derek and Derek go at Ja'Marr for years, since the two were teammates on the same 7-on-7 team in high school. He spent the entirety of fall camp watching from the sidelines, feeling deja vu all over again, as Chase and Stingley Jr. slugged it out on the practice field, each making the other better, each setting the stage for the other's breakout season. 
"They go way back, those two," Stingley Sr. says.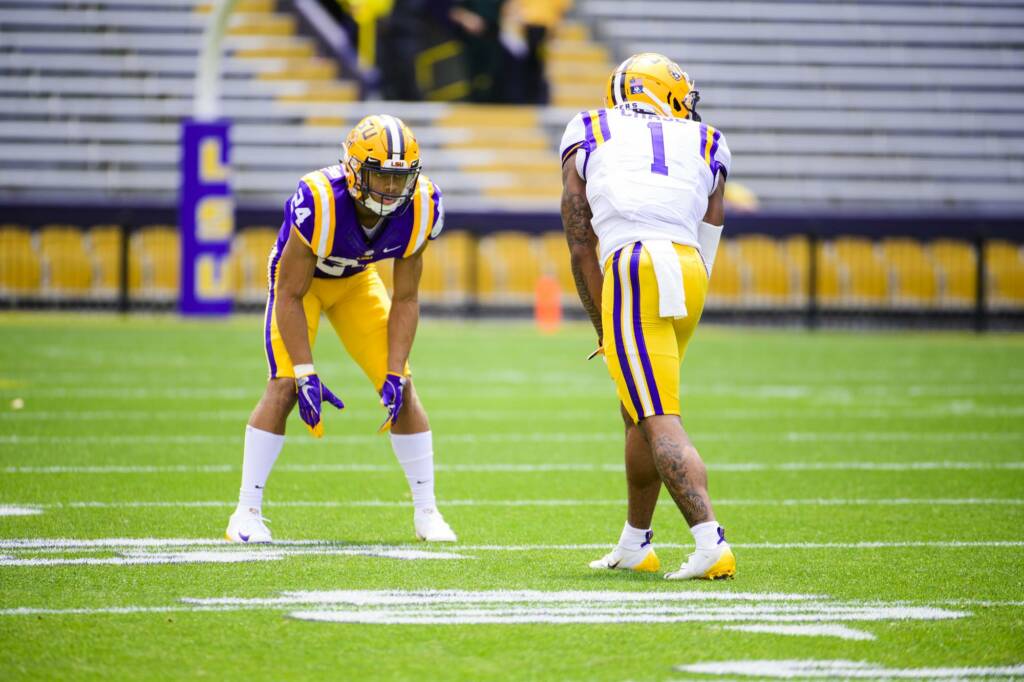 BEFORE THEY WERE TIGERS, Stingley Jr. and Chase were teammates on a Louisiana-based 7-on-7 team, which allowed Stingley, a Baton Rouge native, and Chase, who hails from New Orleans, to matchup in practice – occasionally. Practices were competitive, but 7-on-7 teams save their energy for games.
Whether he was going up against his son or someone else's, Stingley Sr. saw Chase's talent grow in front of his eyes. 
"Back then, we saw Ja'Marr was special," says Stingley Sr. "He would catch everything. His hands were so strong. He was so much more more defined than the other kids. Some kids have muscular physiques, but he was more solid muscle. 
"He was a grown man out there. I just remember him always going up and seeing his hands go wide around the ball and just grabbing them out of the air."
Chase wasn't the only one making spectacular catches. Stingley Jr. already has two leaping picks to his name as a Tiger, but his teammate has seen that sort of display before. 
"Even during 7-on-7, he was like that still," Chase says. "One thing about him, he's got great, great ball skills when the ball's in the air."
Their best matchups before both became Tigers, however, took place at LSU. Two years before they'd duel it out in fall camp and on Competition Tuesdays, Chase and Stingley went one-on-one in LSU's elite camp for high school prospects.
Some footage from the archives. Derek Stingley Jr. and Ja'Marr Chase going 1-on-1 – as high schoolers, at LSU's elite camp in the summer of 2017. pic.twitter.com/sWCx2L1YRQ

— Cody Worsham (@CodyWorsham) October 9, 2019
Reporters crowded around to film their encounters. Like boxing foes, they traded blows, the defender winning once, the receiver winning next, their videos going viral on Twitter and on recruiting message boards.
Fast forward two years, and their matchup became the must-see spectacle of fall camp. 
Who needs Big Cat (they did that, too, in the spring) when DBU is battling WRTS?
Said this on the podcast and on the LSU Football IG story today, but Ja'Marr Chase and Derek Stingley has been an amazing matchup to watch. Two elite talents going head to head and making each other better. https://t.co/jnlWmYRyNy

— Cody Worsham (@CodyWorsham) August 10, 2019
"It's the same exact way as when Ja'Marr was going into his senior year (of high school) and Derek was going into his junior year," Stingley Sr. says. "I've been hearing this for a long time with those two: the term 'iron sharpens iron.'"
Sometimes, things get heated, Chase admits. When iron sharpens iron, sparks will fly. 
 "That's what happens when you're getting better," says junior linebacker Patrick Queen. "That means they're competing."
It's a competition both have embraced for years, and the signs were there all August of big things to come. Take LSU's second preseason game, for example. Chase caught three passes for 101 yards. Stingley nabbed two interceptions. Back and forth they went, a physical, football tango.
Practices became equal part chess match and battle tactics. Stingley Sr. saw it all from the sidelines, never missing a fall practice, never missing a metaphorical punch or counter punch.
"Just watching those two, the way they competed, I knew once the season started, games were going to be easy for both of them," Stingley Sr. says. "Because they were both giving each other all they could handle.
"If Derek would win out, Ja'Marr would come back the next day with something. If Ja'Marr would win, Derek would come back with counter stuff. It did become the main event, when they would line up against each other."Now, they're reaping the benefits of those clashes, proving too sharp for their actual opponents to handle. In LSU's 5-0 start, Chase leads the SEC and ranks sixth nationally with 112.8 receiving yards per game, and he's posted a 144.0 NFL passer rating when targeted by Joe Burrow this season.
"Just watching those two, the way they competed, I knew once the season started, games were going to be easy for both of them."  – Derek Stingley Sr. on Ja'Marr Chase and Derek Stingley Jr. 
Stingley, meanwhile, has those two interceptions, plus nine pass break ups, good for the nation's lead with 11 passes defended. Opponents are completing a meager 37 percent of passes thrown his way with a 37.9 NFL passer rating. In man coverage only, that passer rating dips to 19.0. 
Chase laughs and says he owes Stingley a steak dinner at Ruth's Chris. That was the wager he made the freshman if and when he netted his first interception of the season.
He's yet to pay up.
"I'll probably just take him to Waffle House instead," Chase jokes.
The sophomore wideout may owe his teammate a dinner, but he also knows the debt they owe each other. Thanks to their heated August, both spent September and October torching their foes.
"I just think it helped both of us," Chase said of the camp battles. "We know each other, so we take away each other's strengths and weaknesses. We just tried new things on each other, and we just bring it to the game, and we show a display of it."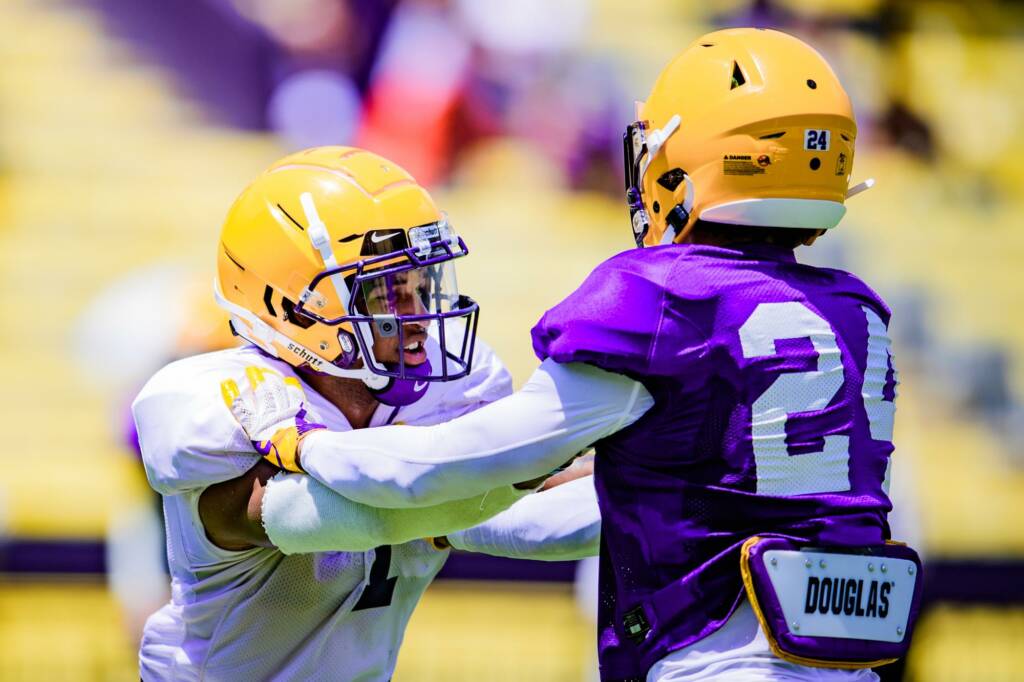 IT'S A SHOW Stingley Sr. is all too familiar with, and it gives him a unique perspective. For all the talk of Derek and Ja'Marr facing off, he laughs when he thinks about the similarities between the players. 
"Ja'Marr, it's the total package with him," he says. "He's got the ability to stop and start, get right back into his route. He's got the ability to be strong and bulldoze through you, get your hands off of him. He's a great route runner, deceptive. He's got little keys he uses to try to create separation.
"With Derek, it's the same. Derek can be patient. Derek can be aggressive. Derek can read your route. Derek can see keys. Derek can give you false looks. Derek is a great leaper, and he can run with just about anybody."
The battles wage on during the season, though with far less intensity, given the nature of the schedule. Competition Tuesday provides the best window to witness greatness colliding with greatness to produce even more greatness. 
No wonder the most exciting matchup in fall camp and during #LSU practice is WR Ja'Marr Chase and DB Derek Stingley. The way these get vertical is INSANE. https://t.co/yW0Hzoyylc

— Emily Villere Dixon (@emilyvdixon) October 5, 2019
"One day Ja'Marr will get him," says senior corner Kristian Fulton. "One day, Derek will get him. It's like an NFL matchup. It's going to be 1-1 each time."
"Those guys won't see anybody that's better," adds junior safety JaCoby Stevens. "For Ja'Marr, going against some of the corners he's going against, it's easy. That's why he's always on You Got Mossed. That's why, for Stingley, it's easy to keep up with those receivers. He's not playing any receivers like Ja'Marr Chase."
It's also why Coach O's first stop on Wednesday morning is Tuesday's practice footage. Most of the time, film is about ascertaining an advantage over the next opponent, or finding an internal weakness in need of correction.
Sometimes, though, it's about sitting back and watching the sparks fly.
"One day, Ja'Marr will win, one day Derek will win," Orgeron says. "That's what makes them better. We talk to our recruits: iron sharpens iron. That's why you come to LSU, because the game is supposed to be harder on the practice field than it is on Saturdays."