Yoga Enhances Flexibility, Mental Clarity for Tigers
Lloyd Cushenberry lies motionless on his back, fire on his fingertips and a galaxy reflecting from his face, as he ponders the temporary nature of the universe.
In a couple of hours, Cushenberry, a preseason All-SEC center, will crush any man who dares stand in his way, attempting to drive their bodies into the dirt and pancake them as flat as he is in this moment.
For now, however, he's merely noticing. The feeling of the carpet on his arms. The distractions of his mind. The rise and fall of his breath. The popping of his joints.
"Understand these are your thoughts," a voice tells him. "But also know you are more than just your thoughts."
He breathes in, and then out.
"Even in the middle of a battle," the voice says, "your breath controls your thoughts, your power, your strength."
Welcome to yoga. Actually, scratch that – welcome to "Power Relaxation."
Led by Shelly Mullenix, LSU's Senior Associate Athletic Director of Health and Wellness, Power Relaxation, held every Thursday in the defensive walk through room inside of football ops, is where the Tigers come to stretch out and zone out, a weekly respite from the mental and physical brutality of the sport they love. It's also where they maximize their play by maximizing their mental and physical well-being.
"It's not just about performance on the field," Mullenix says. "If you just focus on performance on the field, you're just not getting 100 percent out of the student athlete. You have to tap into their mind, and you tap into that by pushing them in the classroom, by pushing them into places like this."
During the class, the walk through room is transformed into a quiet, calm sanctuary. Candles line the walls, their light flickering softly to the rhythm of tranquil music. A projection screen displays a galactic spacescape of stars on the wall, as Mullenix lowers her voice into a calming monotone, alternating between direct stretching instructions and serene relaxation advice.
Joining Cushenberry for this first session of the fall are a dozen other players and staff, including defensive lineman Jarell Cherry. The freshman defensive lineman spent the summer bulking up, adding nearly 40 pounds of muscle, in part, by filling his backpack with bricks.
Yoga, Cherry says, offers him the opportunity both to stretch out that newly added muscle and also treat any ailing injuries picked up in practice.
"Some of the injuries, knicks and knacks, yoga is a really good reliever," he says.
"Most people, when they're gaining weight, have problems with their knees. They have to work on training bigger legs, a bigger upper body. You're going to have to be more flexible."
For Mullenix, players like Cherry epitomize what she hopes to do with the class. She knows some athletes might tend to associate a feminine stigma with the practice – hence the veiled moniker "Power Relaxation."
"They have to understand that it gives them power and strength," she says. "Here's a guy carrying around bricks, but to me, he's man enough to put the bricks down."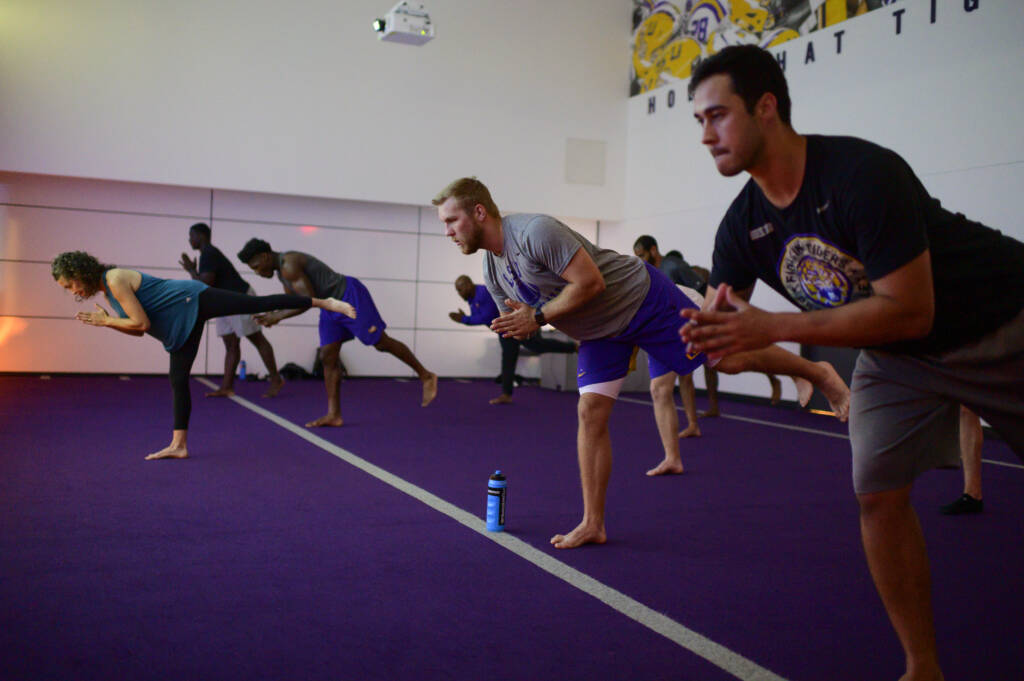 Additional power through flexibility was also key for punter Zach Von Rosenberg, who spent his first season on the squad as a tight end. Von Rosenberg put on 30 pounds to play tight end, but when he transitioned into his new role as a punter, he had to not only shed that weight – he also had to become more pliable to maximize his punting distances.
Yoga proved vital in that process. He began with some off campus classes before taking the free offerings in the student union, and the results were immediate and tangible – he finished third nationally in net punting last season and saw increases in hang time (3.95 seconds per punt in 2017 to 4.02 in 2018) and distance (43.0 in 2017, 45.2 in 2019) in a single season.
With Power Relaxation, he needs only walk down the hall of football ops to get those stretches in.
"When I gained all that weight, it was a problem, because you lose flexibility when you get stronger," he says. "I dropped some weight and started doing yoga. I haven't gotten it all back, and I'm not where I need to be, but I'm close."
The physical gains are tangible, but so are the mental and psychological ones, Mullenix says. She has LSU's athletic trainers encourage their athletes to attend – Mullenix offers a course available to all student-athletes, in addition to the football class – with a focus on those being seen for anxiety disorders and stress.
"Relaxation is critical, balance is critical," she says. "We're giving core workouts, so core strengthening is happening at that same time, but they're being forced to focus. Minds that going full speed all the time, to be able to shrink that in is very, very difficult."
Mullenix also likes that she can be hands on with the student-athletes. She's out at every football practice, so she knows which players had rough days and might need more care inside of the class, or which ones need certain muscles stretched more than others.
Class attendance is consistent amongst a core of players, and she's always recruiting others to join. Mullenix particularly enjoys when skill players show up.
"The skill guys are good, too, because the skill guys won't shut their mouths," she says. "It freaks them out. To have them silent for an hour, it just opens up space in their head. Which, of course, the coaches like."
Some coaches like taking the class themselves. Kevin Faulk started doing yoga late in his NFL career, and now as LSU's director of player development, he's a regular attendee.
"I wish I would've done it earlier in my career," Faulk says. "I was a naturally tight guy, and I wanted to get a little looser as I was getting older.
Faulk's message to players is simple: "It helps you. It's nothing that's going to hurt you. The relaxation part really frees your mind from the stress you have playing ball."
Free minds, flexible bodies. That's exactly what Mullenix aims for. When she sees Cushenberry stretched out on the floor, silent and still for 20 minutes, she sees a player who, in short time, will be on the field dominating.
Shorn of the weight of mental anxiety and stretched out to his full physical potential, nothing in the world is holding him back.
"Those that like it can really get themselves into a place that frees their mind a lot of the clutter," Mullenix says. "That's key, especially during camp, at times where they're being really critical of themselves anyway. This just gives them a place where there's just no judgment – it's about relaxation."