Dear Tiger Fan,
The spring semester at LSU is nearing its end, and final exams for our student-athletes are approaching. It's an extremely busy time of the year, as our teams begin moving into the postseason phases of their schedules.
Our gymnastics program just completed a remarkable season, finishing as the national runners-up at the NCAA Super Six competition. Congratulations to coach D-D Breaux and the Tigers for achieving the best finish in school history. We're proud to have opened the finest gymnastics practice facility in the nation earlier this year, helping to insure that D-D and the Tigers will remain in the national championship conversation each season.
D-D will enter her 40th year as the coach of the Tigers in 2017, and we're looking forward to another thrilling gymnastics season.
SPRING FOOTBALL WRAP-UP
Thanks to the many thousands of you who attended the National L-Club Spring Football Game last Saturday in Tiger Stadium. It's very evident that coach Les Miles has a talented, experienced team poised to contend for championships beginning in September. Our new football staff members – defensive coordinator Dave Aranda, wide receivers coach Dameyune Craig and running backs coach Jabbar Juluke – have already significantly impacted the program with their teaching and motivational skills.
Our season opener versus Wisconsin at Green Bay's legendary Lambeau Field will be one of the most anticipated games of 2016, and we're very pleased to give our players and our fans the opportunity to experience a game in one of the world's most historic sports venues.
SEC TOURNAMENT ON CAMPUS
Throughout this week, we will play host to the 2016 SEC Women's Tennis Tournament at our fantastic new LSU Tennis Complex. The Lady Tiger tennis team has been ranked in the Top 20 all season, and our co-head coaches, Julia and Michael Sell, have already signed three of the top players in the nation for next season.
I encourage you to check out the SEC Tournament this week, see our beautiful, fan-friendly tennis facility and support the Lady Tigers as they open postseason play.
NO. 36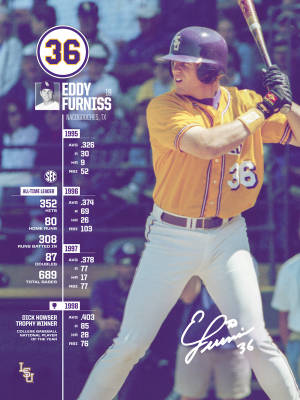 LSU on Friday night will retire the #36 jersey of Dr. Eddy Furniss, one of the greatest hitters in the history of college baseball. The retirement ceremony will take place at 6:45 p.m. in Alex Box Stadium prior to the LSU-Mississippi State game, and I strongly encourage you to get to the ball park early as we honor a gentleman who epitomizes the term scholar-athlete.
Eddy, who is now a physician in his hometown of Nacogdoches, Texas, was the 1998 National Player of the Year, the 1996 SEC Player of the Year and a three-time All-American, and he helped lead the Tigers to the 1996 and 1997 College World Series championships. He also excelled in the classroom, earning Academic All-America honors as a zoology major. After graduating from LSU, he played five seasons of minor league baseball before embarking upon his medical career, and he established a family practice with his father in Nacogdoches.
We are very excited to welcome 35 members of the Furniss family to "The Box" this weekend, including Eddy's wife, Crystal, and their children, Will, Ella and Owen. I hope you'll join us Friday night as we honor an LSU icon.
Be sure to follow the progress of our baseball, softball, tennis, golf, and track and field teams over the coming weeks. Our student-athletes are able to compete at the highest level due to your support, and I thank you for your continued devotion to the Fighting Tigers!
As always, we welcome your comments at athletics@lsu.edu. Unfortunately we cannot answer every e-mail we receive, but please be assured they are all read.
Geaux Tigers!
Joe Alleva
Vice Chancellor and Director of Athletics