Emily's Spring Football Blog - Spring Game
April 19, 2016
Spring Ball Entry #15
Well y'all, that's another wrap on spring ball! The Tigers completed their 15-practice spring with the annual L-Club Spring Game over the weekend, and now they patiently await the 2016 season.
One of my favorite parts about the spring game is having the opportunity to catch up with the former players who make their way to Baton Rouge each spring to support this next team of Tigers.
I was able to interview two of my favorite Tigers, catching up with current Miami Dolphins wide receiver Jarvis Landry and Cincinnati Bengals running back Jeremy Hill. I've watched Jarvis and Jeremy throughout their college careers and now in the NFL, and it's the best feeling to be able to talk to these guys about their current success. One thing our guys are very good at doing is promoting LSU throughout their NFL careers, and they make a point to frequently come back to campus – for a variety of reasons.
"Just to be around you guys, the fans, the players and to have an opportunity to feel these memories again like seeing [Jeremy Hill] run for six," Landry said.
For Hill, it's always a homecoming, not just coming back to Tiger Stadium but also his hometown of Baton Rouge, where he played high school football for Redemptorist High School.
"It feels great," Hill said. "There is nothing like this in the country. I have been to a lot of other places and a lot of other college stadiums, and there is nothing else like this, whether it is a spring game or a game on Saturday night. It's always good to be around these people and this atmosphere."
Also on the sidelines was the new group of Tigers that will soon enter the NFL, and these two former Tigers were able to give them advice and stand behind them in this next big step in their careers.
"I'm excited to see where they land," Landry said. "Just talking to a couple of the guys, my biggest thing to them is it's not where you get drafted, it's about what you do after that. I'm excited about them just having the opportunity and them supporting this organization and this school the right way."
Hill is also familiar with one Tiger who will make his debut in the NFL Draft next year – running back Leonard Fournette.
"I think he has done a great job on and off the field," Hill said. "I think he is a great leader on this team. I know a lot of the guys that come in after and a lot of the guys on this team now can look to him to see how to be a football player. I think he is going to do big things this season, and I am excited to watch him."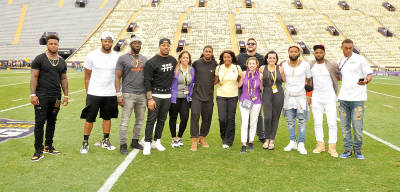 We have been talking about expectations for the 2016 LSU team all spring, and the former players – just like the current players and fans – are excited to see what this team can produce.
"Just continue to win, to build this legacy and this tradition here, and bring championships home," Landry said.
"Exactly what [Jarvis] said," Hill added. "I think it's about time for us to win another one. I think we have the talent to do it, and I think everyone in Tiger nation feels the same way. I think the guys here, just the swag they have, they are definitely ready and they can definitely do it."
I've had the opportunity to interview Jarvis and Jeremy so many times, and I always have so much fun doing it, but on Saturday I was able to interview one Tiger for the first time that made me pretty excited.
I caught up with Eddie Fuller, who is part of one of the most iconic plays in Tiger Stadium when he played in the "Earthquake Game". I know he always gets asked about this specifically, but with it being my first time to interview him, I had to get my question in about it, too – and pry on how often it is brought up to him.
"As a matter of fact, just an hour ago," Fuller said. "It's quite common. It's one of those plays that's in the same realm as the Billy Cannon Halloween run, so it's something that is a topic of discussion for me all the time."
Even though Fuller has gone down in LSU history as being part of one of the most talked about players in Tiger Stadium, the memory he's most proud of is getting his degree.
"I think the one thing that resonates with me is the opportunity to come here and to pursue a degree in education," Fuller said. "People always relate back to sporting moments, but for me, just graduating and fulfilling a commitment to my mother that I made when I stepped on campus [is one of the best memories]."
"The earthquake game, that was a great [memory], but the opportunity to graduate and walk across the stage was pretty special, too."
During the spring game you see Tigers from all different generations who come together with the common bond of wearing the purple-and-gold on Saturday night, and it's important to them all to continue coming back to LSU to support each team.
"I think it's important that we stay involved," Fuller said. "We are the guys who laid the groundwork, and just like the guys that were before me, to be able to come back and see some of your heroes, so to speak, and to know that you shared the field. Maybe not at the same time, but it's a rewarding feeling for me to be able to come back and interact with these young guys."
Fuller has seen many teams compete in Tiger Stadium, and he thinks this year's team will be another special part to LSU history.
"I think we are going to have a great season," Fuller said. "We have some returning guys that we thought were leaving, but they're back. We've got probably one of the best offensive players in the country and surrounding that with the great coaching staff, I think we are poised for greatness this year."
Next up for the Tigers is the freshmen reporting in June, fall camp in August and then we kick off the season in September at Lambeau Field! Thanks for following along my fourth spring ball blog since I've been back at LSU, and I look forward to bringing you more football coverage in August.
Until then, GEAUX TIGERS!
April 15, 2016
Spring Ball Entry #14
LSU's annual student day practice was held on Thursday, and this year head coach Les Miles moved practice and the events to Tiger Stadium. With the move, Miles included a tour of the game day locker room for students, as well as allowing them to run through the tunnel and into Death Valley – with many describing it as a 'once in a lifetime experience'.
"We come here for a bunch of reasons," Miles said. "One, we enjoy the ambiance of Tiger Stadium and also to invite the student population to join us for practice and let them participate as best we could."
While most of the post-practice events are geared towards student participation, this year's activities were kicked off by a "dance-off" between the offensive and defensive players.
While the emcee of the event proclaimed the defense as winners, the outcome is still up for debate around the office.
"This is a competitive group of men, and they don't want to lose anything – calf wrestling, dance-off, you name it," Miles said.
Besides the above-average dancing skills, Miles spotted some talent within the student body.
"We had two gals that could throw a spiral and connect on passes and were very, very talented," Miles said. "We had several guys who could handle really unusual punts. We turned that jugs machine up and they had to catch punts that were 50 yards plus and they did a great job.
"Of course, we had everybody's favorite, the obstacle course, which was exciting to say the least."
Miles and the Tigers hope to have another impressive crowd on hand this Saturday in Tiger Stadium when LSU hosts its annual L-Club Spring Game. The game kicks off at 3 p.m. and admission is free.
"This team has worked awfully hard, and we are looking forward to playing in front of the faithful," Miles said.
This will be your last chance to catch the Tigers in action before the season opener against Wisconsin next fall, so be sure to get out and enjoy the day on campus as you root on LSU football!
Full Video of Dance Off
April 13, 2016
Spring Ball Entry #13
The Tigers entered their final week of practice on Tuesday afternoon, and they only have one more to go before Saturday's annual spring game. With 13 practices down, I was eager to catch up with returning starter and wide receiver Malachi Dupre to see how spring has progressed – and how his new position coach, Dameyune Craig, is fitting into this LSU offense.
"I feel like this team has progressed tremendously," Dupre said. "I think we are getting better every day, and that is the most important thing, especially with a team with as much talent as we have. I feel like as long as we continue to get better every day, it's the most we can do. By the time the fall comes around, if we continue to do that then I feel like we will be hard to beat."
During spring ball and fall camp, head coach Les Miles puts the players through one of LSU's most famous drills, the Big Cat, and one person who has stood out for their over-the-top energy has been Craig. He's been a lot of fun to watch coach so far this spring, and Dupre told me that energy translates to practice and in the film room.
"He brings a lot of energy," Dupre said. "He's probably the most energetic coach. He's very youthful. He played the quarterback position, which brings us a different perspective to the room. He coached the position also, so he knows what the quarterbacks are looking for in receivers, so that helps us out a lot. He also gets to work with the quarterbacks and tell those guys the things that we are doing as receivers.
"We've taken tremendous strides since he's been here. We continue to get better and we like him."
Speaking of the quarterback position, Dupre has seen returning starter Brandon Harris mature and improve throughout spring ball, adding that he's taking strides in the right direction for this offense.
"I think Brandon has gotten a lot better since the last time we played a game in the Texas Bowl," Dupre said. "That's all we can ask for. I feel like he's a lot more comfortable, especially with having a year under his belt as starter. I think having Coach Craig come in also having a new influence on him, having a guy that played the position in the SEC, Brandon listens to him a lot, and I feel like that has helped him as a player so far."
Dupre has the most experience in this wide receiver unit this spring given Travin Dural has been sidelined due to injury, but he said there are multiple guys stepping up and competing for playing time.
"I feel like everyone in the receiver group is playing extremely well right now," Dupre said. "That just makes me extremely happy seeing everyone play to their full potential. It's very exciting and it's a testament to Coach Craig pushing everybody in the room. I feel like by the time the fall comes, the coaches are going to have a very hard decision on who's going to be able to play or not, or if they are going to play everyone, because it's so much talent in the room, and I have been very impressed this spring so far on the plays that everyone has been making.
"Russell Gage comes over from the defensive backs group, and he is playing extremely well right now. We've got (D.J. Chark) who got his first touchdown in the bowl game, and he's transferred that confidence over to practice and is also playing extremely well right now. Dee Anderson and Stephen Sullivan fresh out of high school are playing well.
"By the time the fall comes around, I'll just say that the coaches will earn their money in deciding who's going to play and how to balance as much talent as we have."
Just like everyone else I have spoken with this spring, Dupre has high expectations for the Tigers this season, but knows it will take hard work and dedication to get there.
"My expectations are very high, which I feel like everyone's around here are," Dupre said. "I feel like we should win a national championship with the talent that we have. It's not going to come easy. We have a tough schedule playing in the SEC West; in my opinion the best in college football.
"As long we continue to work and get better everyday, I feel like that is an obtainable goal."
April 6, 2016
Spring Ball Entry #12
Former LSU football star Marcus Spears is one of my favorite interviews, and I always enjoy when he comes on campus so I can talk to him about Tigers football. Spears was one of the featured speakers at this year's coaching clinic, and just like his interviews, his talk was something I didn't want to miss.
As an SEC Network analyst, Spears speaks all over the country, adding to a television and radio slate that has kept the former LSU player busy after life in the NFL. But Spears said speaking at his alma mater – and being back in his home town of Baton Rouge – is a whole different feeling.
"It was a great opportunity," Spears said. "These types of things humble you. When you get called to do something at home, it's different than going anywhere else and speaking all over the country. It's a different tone when you are here. You feel a bit more responsible for what you are about to talk about."
In his talk to the high school coaches at the clinic, Spears referenced his high school, college and professional coaches and the impact each had on his career as a football player and in life.
"I wanted to let all of these high school coaches know how important they are, and not only in high school but moving forward," Spears said. "The lessons that you learn in that stage of your life, it's the grassroots level. There's a lot of things that happen in high school that prepare you for the next level, and these guys play an integral role in that."
The main theme of his talk was to reinforce the coach's responsibility to their players, and how they play a role much bigger than just a coach on the football field.
"I think sometimes they get so caught up in coaching football, and it's the X's and O's and wins and losses, and they sort of judge themselves based on that," Spears said. "That's a huge part of it because that's their job, but a lot of the times in high school it goes beyond the football field.
"You become father figures. You become guys who give rides home to kids that don't have a car or parents are at work, and I was a product of that, so I knew how important my coaches were to me. And, sometimes it's just good to remind them of that responsibility."
At this time last year, Spears and I talked about the defensive changes on the LSU staff, and we found ourselves in the same position again. Spears has a history with defensive line coach Ed Orgeron, because Coach O recruited him out of high school when he was on the staff at USC. Spears describes Orgeron as a realistic type of coach, and the players reflect the honesty that he gives to them. Spears said his enthusiasm is second to none, and that he has found a great fit here at LSU.
"I love him," Spears said. "I have always had a great relationship with him. Players respond to him. To me, his strongest trait is having guys believe in him as a coach. The No. 1 thing coaches fight for and players love is that if you do what coach is telling you, and it equates to success, you will listen to him forever."
Spears also thinks LSU has hit a home run with the hire of Dave Aranda as the team's new defensive coordinator. He talked to me about the LSU defense moving from a from a 4-3 to a 3-4 base defense and thinks Aranda will fit in just fine in the SEC.
"His scheme is different," Spears said. "His techniques are different. Verbiage, terminology; all of those things are different. He was a hot hire, because he was a really good defensive coordinator. He was at Wisconsin and had a tremendous amount of success. He played in the Big 10, which is another physical conference. He understood what the SEC landscape is all about.
"I think Aranda has a different type of flavor. The expectation to be good is already there, and I think that is what they needed defensively."
As always, Spears said plenty of good stuff, and you can check out my full interview to hear more about his message to the coaches, what he's looking forward to with this 2016 team and more!
April 5, 2015
Spring Ball Entry #11
This year's annual LSU Coaches Clinic featured guest speaker Brett Favre, and I had the opportunity to interview him after the clinic and get his thoughts on this current team – plus the Tigers in the NFL. It's always interesting interviewing athletes that don't necessarily have specific ties to LSU, because I always find out that LSU fans are everywhere. The Hall of Fame quarterback talked to high school coaches from around the Southeast at the clinic, then spoke to the current players during their team meeting.
"It seems like every time I talk whether it be high school or college kids, I tend to say the same thing which is true; to enjoy the moment," Favre said. "As a 46 year old now and 20 years in the National Football League and four years in college, it goes by fast, and the older you get, the faster it goes."
His overall message to the team was simple, and he also had some more motivation for the Tigers.
"Also, I told them the truth," Favre said. "There is no reason why this football team can't win the SEC Championship and move on for a national title. There's a lot of competition in the SEC, but this is a well-coached team with tremendous players."
The Tigers will open up the 2016 season in a place that Favre is very familiar with in Lambeau Field, where he played for 16 years as the starting quarterback of the Green Bay Packers.
"I also look forward to the game against Wisconsin at Lambeau Field," Favre said. "What a way to kickoff the season. What a great place to play, period; or to witness a game. This should be an atmosphere that everyone will enjoy."
When Les Miles introduced Favre at the coaching clinic, he recalled a game he was coaching with the Dallas Cowboys when they played against Favre. Favre called himself a transplanted Tiger fan when he spoke to our team, because even though he didn't attend LSU, he grew up a fan.
Favre was raised not far from Baton Rouge in Mississippi, and it's well-documented how much of a Saints fan he's been during his life in football.
"Growing up I watched the Jerry Stovall show," Favre said. "My mom and Dad went to Southern Miss, and I played there and wouldn't trade it for anything, but I've always like LSU. I was a huge Tommy Hodson fan growing up, and I thought he was an awesome quarterback. I always thought, 'Man, it would be awesome to play with LSU'.
"Well, that was not the case, but I am honored to be here and speak to the team."
Favre might not have played for the Tigers, but he did attend a camp at LSU when he was in high school, and there's one person that is still on the staff today that he remembered from more than 30 years ago.
"Coach Nader," Favre said. "He has withstood a lot and is still here. He may say he remembers me, but I doubt it. There were 500 kids here. You know, he probably does. I think that's what sets him apart is that he remembers no matter where you fit on the totem pole.
"Something about when I was 15 years old at this football camp, our team won the Super Bowl, and I was probably 150 pounds, but I could throw it. No one cared, but Coach Nader seemed to be the one that for whatever reason showed me a lot of love.
"That's the kind of people that you want on your team, and that's why he's still here."
I am always interested to see how non-Tigers in the NFL see LSU players in the league. I asked Favre how he's viewed the LSU brand as it's grown throughout his 20 year career in the NFL.
"It's hard to say that it's growing, because I have always played against great LSU players," Favre said. "They're out there everywhere. It seems to be that now there is more, and more and more to a point where half of the graduating class has an opportunity to play. I think that speaks volumes about this program."
Favre and I talked more about LSU's matchup at Lambeau, running back Leonard Fournette and his plans to watch his first game in Tiger Stadium when Southern Miss comes to town in October. Be sure to check out my full interview below.
Spring Ball Entry #10
April 4, 2016
The LSU football team scrimmaged on Saturday afternoon in Tiger Stadium under clear skies in Baton Rouge, and the perfect football weather combined with the Tigers in action had head coach Les Miles pleased with the day.
"I felt like the energy was very high," Miles said. "Nobody got hurt, so that was key. It was about 100 snaps, offense, defense and special teams. There's a lot of film to look at. There will be a lot of comfortable corrections, and we improved today."
Miles saw plenty positives throughout Saturday's scrimmage, including some standout performances on both sides of the ball.
"Pass protection, I think that first defense got after it pretty good rushing the passer," Miles said. "I kind of like the way we threw the football and I kind of like the way we ran the football.
"I thought Arden Key had a big day with some flashes, and he makes big plays. I felt like (freshman linebacker) Devin White played pretty well. There were some really strong performances. I thought our quarterbacks played well. I think (Brandon Harris) had one of the best early scrimmages that he has ever had. He threw the ball extremely well. I think we're coming."
The Tigers are now a little more than halfway through spring ball, and Miles is pleased with how the team has handled the spring so far – and he had rave reviews for Dameyune Craig's wide receiver unit following the weekend's scrimmage.
"They have great energy and I think they are improving," Miles said. "D.J. Chark has had a great spring thus far. I think this receiving corps with Malachi Dupre is going to be big. Jazz Ferguson is going to be a nice addition. A guy that made a couple of nice catches and a guy who is looking pretty capable is Russell Gage."
The Tigers will be back in Tiger Stadium this Saturday and then for a final time this spring on April 16 for the L Club's annual spring game. The game starts at 3 p.m. and admission is free for everyone, so we hope to see you out there!
Spring Ball Entry #9
March 30, 2016
After a week off, the Tigers were back on the practice field Tuesday afternoon feeling well-rested following spring break. To kick off the practice, they jumped right into the Big Cat drill, which was rather spirited following the time away.
With practice No. 7 now in the books, I caught up with senior linebacker Duke Riley as the Tigers reached the halfway point of spring ball.
"It's been fun, a lot of energy," Riley said. "We have in my class all the seniors back, so there is a lot of chemistry out there built with those guys. We are just having fun. We are communicating well. We are running well, and we are getting coached by some of the best coaches around, so it is just fun for all of us."
While Riley is used to most of the players in his unit, there is a new face in defensive coordinator Dave Aranda. Although Aranda is Riley's third coordinator since he's been at LSU, he told me the change in coordinators has been seamless.
"It's not much of a transition really," Riley said. "We do a lot of the same stuff as the past guys did; it's just different terminology. We started to pick up on it well. He has given us more of the basics right now to get us to learn it.
"It's all coming together well with him. He is a good coach. He's a player's coach. He's fun to be around. We've got Peveto helping him out, and everyone knows how Peveto is. It's been fun. We are all having a good time out here. It doesn't even feel like we are out at practice."
The returning talent on this team has been the big topic of the offseason, and those veterans paired with the incoming freshmen class are making Tiger fans and this team excited for the 2016 season.
"The future is pretty bright," Riley said. "Everyone knows that. We are looking forward to getting all of [the incoming freshmen] ready to play, because we play freshmen here."
This will be Riley's final season as a Tiger, and as most around the team feel, the years go by quickly.
"It went by too fast, honestly," Riley said. "Playing every play like it's my last, but I do that anyway. Taking each play and not thinking too far ahead and playing game by game, and just taking my time with it because it just goes by so fast."
Watch my full interview with Riley to find out what his goals are for the spring, what his conversations are like with Aranda and Peveto and much more.
Also, don't forget that the annual LSU Coaching Clinic starts this Thursday and runs through Saturday. The featured speaker is NFL Hall of Fame quarterback Brett Favre, and both Aranda and former Tiger Marcus Spears will also be speaking. To get more info on the clinic head to www.lesmiles.net/clinic.
Spring Ball Entry #8
March 21, 2016
Monday starts LSU's spring break, but I have one more interview from the team's Pro Day to hold you over until the players and staff return from a much-needed break.
I caught up with my buddy Kevin Mawae, and even though we work together on CST's LSU GameDay Live during the football season, this was the first time I've interviewed the former Tiger. And, just like I expected, he was a great interview because of his unique insight as a former Tiger paired with his longevity in the NFL.
"LSU always puts out a strong class of draft picks, so this is just another opportunity to highlight the program and highlight the kids here," Mawae said.
Mawae played 16 years in the NFL and has seen up close how the LSU brand has grown in the pros year after year, and he feels this year's LSU Pro Day put out another class that former Tigers and LSU fans can be proud of.
"They carry a legacy behind them of the guys that came before them that have not just played okay but have played really, really well going way back," Mawae said. "There is a history of guys from this program that have sustained careers, and these guys are going to be the next group of guys to carry the torch for the LSU Tigers, and they are going to do it proudly, and we are going to sit back as former players and be proud of what they are putting on the field."
While we were talking, the 8-time Pro Bowl selection made the point that the former Tigers in the NFL – and out of the NFL – have sustained relationships with a lot of the scouts and coaches that are still in the league to where they can give their input on players from LSU.
Watch my full interview with Mawae to hear him talk about offensive linemen Vadal Alexander and Jerald Hawkins, what he is excited for this upcoming season and much more!
When the Tigers get back from spring break the players and staff will hit the ground running, and March 31 – April 1 is LSU's annual coaching clinic featuring NFL Hall of Fame quarterback Brett Favre. The Tigers then return to Tiger Stadium on April 16 for the L Club's annual Spring Game.
March 18, 2016
Spring Ball Entry #7
We heard from LSU quarterback Brandon Harris earlier this week, and now we have quarterback Danny Etling's first interview since arriving at LSU.
Etling, who had to sit out last year due to NCAA transfer rules, started seven games as a freshman at Purdue before making the decision to transfer – eventually landing at LSU.
"I've loved it so far," Etling said. "The guys on the team were great when I visited here, and there are just a lot of good things going on here with the program, and I really wanted to be a part of that."
A lot has changed for the junior in the past year, and with six practices down and an opportunity to now play, Etling feels he made the right decision to be a Tiger.
"It's good," Etling said. "I just love playing with my teammates. I look where I was a year ago today, and I was in West Lafayette (Indiana), so it's nice to be down in Baton Rouge, and I love learning from Coach Cameron and Coach Miles. It's all a great learning experience so far."
Even though he didn't have the opportunity to play last year, Etling learned a lot from participating in practice and watching the Tigers during the 2015 season.
"I think we're a tough team," Etling said. "I think we are coached great, and we are going to continue getting better. We were young last year, and we are going to continue to keep growing as a team. I think our chemistry is really high. I think everyone is getting along together, and I think that is the most important thing, to have good morale with everyone."
Even though Etling has a good chunk of experience from his playing days at Purdue, throwing for 2,490 yards and 16 touchdowns in his two seasons there, he continues to take things slow as he transitions into the SEC.
"I just want to get better every day and take it one play at a time," Etling said. "That's what Coach Cameron teaches us – to take it one play at a time, one day at a time."
I asked Etling what his favorite part of moving to Louisiana has been, and like most of our guys who come from outside the state, the common answer came quickly.
"Probably the food, because everywhere you go is amazing food," Etling said. "Then, obviously the people, because everyone is so friendly. They love football, and I love football. It's two of my favorite things – food and football."
March 17, 2016
Spring Ball Entry #6
The Tigers are a third of the way through spring ball, and players and coaches are settling in nicely to the grind of practice. I had the opportunity to chat with quarterback Brandon Harris in this week's 'Inside the Huddle', and he told me things are trending in the right direction on the offensive side of the ball.
 
"It's been going good," Harris said. "We are happy with the direction we are going offensively. We would like to build off of the performance we had in the bowl game against Texas Tech. We are at our peak, and we feel like we are taking strides as an offense."
 
Harris completed his first year as full-time starter last season, and a 9-3 finish taught the junior quarterback a lot when it comes to his responsibilities to the team.
 
"It's about how you handle adversity," Harris said. "Last year we went through a bit of a slide, and I am using that to build off of it."
 
The Bossier City native has had offensive coordinator Cam Cameron by his side since arriving at LSU, and the two have had a close relationship that's blossomed into a learning opportunity that Harris is making the most of.
 
"We have to work on leadership and communication," Harris said. "Building off of our bowl game, again, and having him on our sidelines was excellent. Use that momentum as fuel going into the spring, and we had a great offseason with our 4th quarter conditioning program."
 
One of the big themes with this 2016 team is the amount of returning talent, plus a top three recruiting class, that make this team one of the most talked about SEC programs this offseason. Harris told me that, along with the addition of two new coaches on offense, definitely helps the Tigers.
 
"We are excited," Harris said. "Everybody talks about our talent, but at the same time that talent has to be coached. A lot of guys are raw and continue to learn, and we have a great coaching staff with coach Juluke and coach Craig, who are two great men that I knew prior to them getting here to LSU, and I think they are the right men for the job to help us improve and use that talent and take it and coach it up and get it to where we need to be."
 
Given he came in as an early enrollee, this is Harris' third spring with the Tigers, and as the veteran quarterback on this roster, his approach to spring has evolved with experience.
 
"It's continuing to show leadership and communicate with our guys," Harris said. "We've got a lot of young guys and two new coaches who continue to learn our playbook, and I think my role as the quarterback of this team is to get everybody lined up and communicated with."
Spring Ball Entry #5
March 16, 2016
There was a handful of former Tigers on hand for LSU's annual Pro Day on Monday, and the collective resumes of this group shows the success the Tigers have had in the NFL. I had the opportunity to talk to former Pittsburgh Steelers defensive back Ryan Clark, and I couldn't stop asking him questions – he's that good of an interview.
 
There's no doubt that defensive backs coach Corey Raymond has put together talented and consistent DB units over the past four seasons for the Tigers, and Clark said that's not only noticed on the collegiate level, but also in the pros.
 
"I'm jealous of Corey," Clark said. "What Corey has done year after year, not only with the players he has put on this team, but also the guys that he has helped achieve the dream of playing in the NFL, I think it is second to none in the nation."
 
And, when it comes to that chatter of what school owns the "DBU" title, Clark said he might be old and retired, but there are plenty of Tigers carrying on the name.
 
"You see the Patrick Peterson, Mo Claiborne, Tyrann Mathieu, Eric Reid, and the list goes on and on of the guys that are not just on teams in the league but are stars in this league and starters," Clark said. "The other schools can make claims for whatever they want to make. We just want to win national championships and SEC championships, and that is what the guys are working for."
 
On the opening day of the 2015 NFL season, LSU had more players on active rosters than any other program in the nation. The LSU brand continues to grow with each new draft class, and Clark said the growth is because of one simple reason.
 
"It's huge, obviously, because the players are good," Clark said. "Period. Point blank. That's how it works, and if you went to a school and are a good player, the school gets that credit.
 
"As long as we keep getting the same type of athlete and they keep behaving as they should as men, I think it just bows well for the school and we will still be proud."
 
After 13 years in the NFL, you can now catch Clark as a regular commentator on football broadcasts for ESPN, and you can always expect him to be talking about the Tigers.
 
"I'm totally biased," Clark said. "I don't try to not stay biased. I'm totally biased. I'm purple-and-gold, and I let everybody know it."
Watch my full interview with Ryan Clark to hear what he is looking forward to most with this 2016 team, how LSU gets these guys NFL ready and much, much more.
Spring Ball Entry #4
March 15, 2016
The Tigers wrapped up the program's annual Pro Day on Monday afternoon, and more than 100 NFL scouts and assistant coaches were here to watch nine members of last year's team along with three former Tigers go through combine drills and individual workouts.
You can find the complete scorecard and a full article on the day's events here.
I caught up with head coach Les Miles during Monday's event, and despite it being his 11th Pro Day in Baton Rouge, saying goodbye for a final time before the NFL Draft doesn't get any easier
"I miss them, I can tell you that," Miles said. "You wish you could keep them for a while."
LSU has led the nation with 22 top 100 NFL Draft picks over the past five years, and a handful of players from this year's crop are expected to be drafted next month.
"I think a lot of them will end up playing a long time in the NFL," Miles said.
One of the highlights of the day was a 4.38 40-yard dash by linebacker Deion Jones, significantly improving from his 4.59 run at the NFL Combine.
"That is way fast," Miles said. "That may be the fastest linebacker that I've recruited, certainly that I've seen. That's a blur."
Another Tiger who showed major improvements was safety Jalen Mills. The defensive back ran a 4.61 at the NFL Combine, but bounced back with a 4.48 40-yard dash on Monday.
"I think Jalen Mills is going to be the smart safety that sits over top that understands what's going on and can really cover, has great ball skills and is a guy that is a corner," Miles said.
"He will be a guy that someone will want to take early."
While the offensive linemen kept their 40 times and bench press numbers from the NFL Combine, both Vadal Alexander and Jerald Hawkins did go through position drills with scouts and coaches from various NFL teams.
"Jerald Hawkins is such a long body, has long arms and long legs," Miles said. "He will give that left side an opportunity to protect, and I think that is something the NFL is looking to."
Alexander made the decision to return to LSU for his senior season, finishing his career as a Tiger by starting 46-of-50 games during his four years in Baton Rouge. And because of his four-year starter status, Miles said the versatile lineman has caught the attention of NFL teams.
"Vadal Alexander has played both right and left side for us, both tackle and guard, and anytime you have that flexibility where you can move from side to side, that is going to be a real positive for their draft prospects," Miles said.
Beyond scouts and coaches, multiple former Tigers were in attendance to help support this year's crop of draft prospects, including NFL veterans Ryan Clark, Kevin Mawae and Donnie Jones, as well as current pros Kwon Alexander and Ron Brooks.
"It's always fun to see old Tigers come back into the building and watch the guys," Miles said. "I think it is a compliment to them, too. They have set the bar and set the standard and now they want to see if the young Tigers can hold their own."
March 10, 2016
Spring Ball entry #3
The rain continued in Baton Rouge on Wednesday, but the Tigers put on the shoulder pads and hit the indoor practice facility for the team's third spring practice.
With a week of practices in the books, it looks like LSU's three newest coaches are settling in just fine. LSU's first hire of the offseason came in January with the addition of defensive coordinator Dave Aranda, who replaced Kevin Steele in one of the biggest offseason splashes in the SEC. And he's already gaining praise from both Les Miles and the players.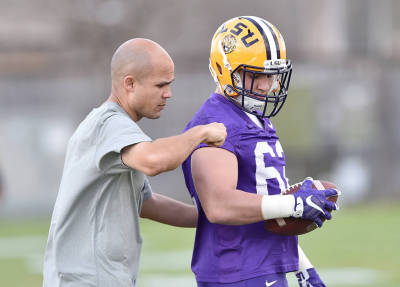 Kendell Beckwith told me earlier this year that Aranda played a huge role in the junior linebacker's decision to return to LSU for his senior year. After going through spring ball with his new defensive coordinator, Beckwith continues to look forward to what Aranda will bring to the table.
"I'm excited about his defense," Beckwith said. "I think he is going to bring some new things to the team and the game plan. It's something everyone is really excited about right now."
Aranda spent the previous three seasons at Wisconsin, and now he brings his knowledge to Baton Rouge and a defense that enters the 2016 season with high expectations.
Another junior who decided to return for his senior year is defensive lineman Christian LaCouture, and he talked this week about the transition to a 3-4 defense that Aranda brings – and how we shouldn't expect to see the same look each time the Tigers take the field.
"I feel like you're not going to run a 3-4 the whole game," LaCouture said. "You might run a 4-3. We haven't done it yet, but he might run two-man fronts. I've seen him run that at Wisconsin, when you watch film.
"You never know what's going to happen, so I feel like as we get more into spring ball, going into fall camp, you'll be able to see different packages. We have a general base of it so far, but when we get towards the end of spring ball, I think we'll know. I think it'll change on a week-to-week bases."
The next hire Miles made this offseason was Jabbar Juluke as running backs coach. The New Orleans native comes to LSU after three seasons at Louisiana Tech (and one month at Texas Tech), and he not only has ties to New Orleans because it's his hometown, but he also served as the head coach at Edna Karr High School for nine years, where he led his team to one state title and three consecutive appearances in the state championship game.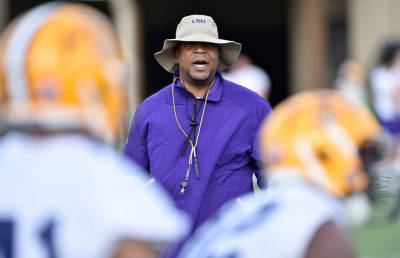 "He has a proven track record of success at both the college and high school level and he's going to do a great job of continuing to develop our players both on and off the field," Miles said.
"Jabbar is a great fit for us and we are excited to have him join our program."
To round out this staff, Miles looked across the SEC West and picked up wide receivers coach Dameyune Craig, who was an assistant coach at Auburn – his alma mater. This is Craig's second stint in purple-and-gold after he was a graduate assistant under former LSU offensive coordinator Jimbo Fisher.
"Dameyune is a quarterback by nature, so he's going to be a tremendous asset to us in all phases of the passing game," Miles said. "He coached a Heisman Trophy winning quarterback at Florida State and developed some outstanding receivers at Auburn."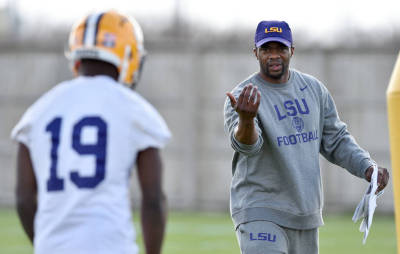 Miles has been adamant that Craig is going to help with ideas in the passing game. As a former SEC quarterback who now has plenty of coaching credentials, it will be exciting to see how Craig puts his fingerprints on this offense.
"He comes to us with great coaching credentials as well as being a proven recruiter," Miles said. "We look forward to the contributions that he's going to bring to our football program."
After a day off on Friday, the team will be back at it again for Saturday's final practice of the week. Also, don't forget that LSU's annual Pro Timing Day is set for March 14, and we will have constant updates right here on LSUsports.net
March 9, 2016
Spring Ball Entry #2
With rain in Baton Rouge, the Tigers were forced indoors for the team's second spring practice on Tuesday afternoon, but the work continued like normal. Even though they are still practicing sans pads, offensive lineman William Clapp told me they haven't missed a beat.
"It's looked pretty sharp," Clapp said. "Normally the first couple of days are rough and there might be some missed assignments, but we've been able to eliminate that and the older guys have really stepped up to help push us through and have a great day."
Clapp started 11 games in his redshirt season last fall, and he currently ranks third on the team in total snaps played (725) and knockdown blocks (81.5). Those are pretty impressive stats for the New Orleans native, and pair that with the talent returning for the 2016 season, and not only are fans excited to see what this team can accomplish, but so are the players.
"Definitely having a lot of leaders come back helping us out and a lot of experience this year; something we haven't had in a while," Clapp said. "This year we feel like we can put it all together."
Clapp has had the opportunity to be with the same offensive line coach since he became a Tiger, and the coaching and teaching from Jeff Grimes has proven beneficial for the big guys up front.
"The first day he went over with us just being all-in and put everything in for this team," Clapp said. "If the o-line steps up, everyone else will follow."
Using those words from his position coach, Clapp has defined specific goals for himself this spring.
"I definitely want to step up and become a leader and become a more consistent overall player," Clapp said.
Watch my full interview with Clapp to hear more about how spring practice is progressing as we look towards the 2016 season.
March 8, 2016
Spring Ball Entry #1
Football is back in Baton Rouge, and I know my office could not be happier! It was a busy offseason for the Tigers (if you want to call it an offseason), and on Monday afternoon spring ball got underway.
After a win over Texas Tech in the Texas Bowl, finishing with a top three recruiting class and multiple staff changes, it was exciting for the coaches and players to put all of those pieces onto the practice field.
Following the end of practice on Monday night, I caught up with head coach Les Miles to see how some new faces are fitting in, what his goals are for these 15 spring practices and what he thought about the appointment of Ed Orgeron as the team's new recruiting coordinator.
The Tigers welcomed five early enrollees in January – linebacker Michael Divinity, athlete Devin White, wide receivers Dee Anderson and Stephen Sullivan and cornerback Saivion Smith. I had the opportunity to catch up with this group on Signing Day to see how they are transitioning to college, and on Monday Miles had nothing but praise after seeing them on the field for the first time as Tigers.
"The guys who are new enrollees really showed out today," Miles said.
Other new additions to the team include defensive coordinator Dave Aranda, wide receivers coach Dameyune Craig and running backs coach Jabbar Juluke. There's a lot of excitement surrounding this trio, so it was nice to finally see them out there coaching their players.
"I think they are a very quality staff," Miles said. "I think they fit in with our players. I think our players enjoy being coached by them, and that's a key piece."
And while he isn't a new addition, defensive line coach Ed Orgeron has added another responsibility after being tabbed the team's new recruiting coordinator. Orgeron has a storied history as a recruiter in the SEC and other major conferences, and Miles told me that his experience paired with the goal of recruiting the state of Louisiana was exactly what the Tigers needed.
"I felt like it was a natural spot for him, and he is a tireless worker so he will take it and run," Miles said.
With one spring practice down and 14 to go, Miles says he has "tactical goals" for this team, which includes the "the want to be where we need to be at the backend of the season".
"It's an attitude," he said. "It's a worth ethic. It's not being satisfied. It's wanting to be great."
Watch my full interview with Coach Miles above to hear more about freshman Devin White working with the linebackers, Orgeron's new role and more.
As always, we have all of your spring practice info on LSUsports.net. Get caught up with all of the info from Monday's practice – including a photo gallery – to Miles' full press conference and video from the opening day of spring ball.
The next big event is Pro Timing Day, set for March 13, so be sure to check out LSUsports.net for coverage of that.
The LSU Spring Game is set for April 16, so until then, keep checking back here for player interviews, exclusive interviews with Les Miles, feature stories, practice recaps and much more. If there is anything you want to see or hear, drop me a line and I will see what I can do.
Until then, Geaux Tigers!