Football Spring Game Set for Saturday, 3 p.m. CT
BATON ROUGE – LSU wraps up spring practice on Saturday at 3 p.m. when the National L Club Spring Game presented by Tony Chachere's takes place in Tiger Stadium.
It's Free!
Admission to the spring game is free of charge.
Block Party at 1 p.m.
Fans coming to campus for the game are reminded that LSU will host a block party on North Stadium Road between Tiger Stadium and the Maravich Center beginning at 1 p.m. The block party is free and will feature a live band – Rockin' Dopsie Jr. and the Zydeco Twisters – who will play from 1:15 to 2:45 p.m. as well as carnival activities for the kids, a dunking booth, inflatables and all types of food.
How to Enter Tiger Stadium
Gates to Tiger Stadium open at 1:30 p.m. and fans are asked to enter the stadium on the west side thru gates 1-6. General admission seating will be in the west lower, south lower, and south middle (if necessary). 
Those fans seated in the East Side Suites will enter thru gate 14 and those sitting in the South Suites will enter thru gate 21. Gate 10 on the east side of Tiger Stadium will serve as the handicap entrance.
Spring Game Fan Timeline
Saturday, April 16
8 a.m. – LSU SportShop opens
11:30 a.m. – Mike's Kids Club Tiger Stadium Tour
1 p.m. – FREE Spring Game Block Party (North Stadium Drive) – Details
1:15 p.m. – Rockin' Dopsie Jr. and the Zydeco Twisters perform (North Stadium Drive)
1:30 p.m. – Gates open to Tiger Stadium – Admission FREE
1:30 p.m. – LSU SportShop Spring Sale (West Side Plaza location inside Tiger Stadium)  | Details on Game-Used Items Sale
1:45 p.m. – Team begins arriving at Tiger Stadium | Roster
2:47 p.m. – Calling Baton Rouge video plays in Tiger Stadium
2:55 p.m. – Big Cat Drill
3 p.m. – LSU Sports Radio Network broadcast on the air | Listen online or on 104.5/104.9 FM in Baton Rouge
– SEC Network on air | Watch Online
3:02 p.m. – Kickoff: Purple vs. White on SEC Network | Live Stats
Halftime:
Tony Chachere's QB Competition
LSU Football – 2015 Seniors/Juniors Presentation
LSU Football – 2016 Signing Class Presented
Postgame:
LSU Spring Awards Ceremony – midfield
Prohibited Items in Tiger Stadium
Fans are also reminded that the Tiger Stadium bag policy will be in effect and that prohibits backpacks or any bag or purse larger than 8 ½ x 11" from being brought into the stadium. The following is a list of other items that are prohibited from Tiger Stadium:
Coolers, ice chests, bottles, cans, cups (or containers of any kind)
Outside food and drinks
Umbrellas
Any type of artificial noise makers
Pets of any variety (except for service animals)
Video Cameras
Weapons of any kind – including pocket knives, multi-function tools and any other items deemed inappropriate
Smoking (cigarettes, e-cigarettes, and cigars are not permitted)
Banners/Flags/Poles of any kind (or any obtrusive/obstructive signage)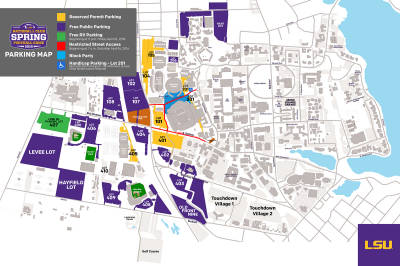 Free Parking
There will be ample free parking throughout campus on Saturday. Free parking lots being utilized for the spring game include most lots on the west and south side of Tiger Stadium. Free lots include: Lot Nos. 102, 107, 108, 206, 402, 403, 404, 404, 406, 408, 409, the Old Front Nine, the Hayfield and Levee Lots as well as the Hart Lot on the northeast side of campus.
Lot 407 across from the vet school will be a free RV lot.
Permit parking will be used for lots 101, 104, 105, 201, 301, 401, and 405.
Street access will be restricted on North Stadium Road and South Stadium Road (near Tiger Stadium) beginning at 7 a.m. on Saturday.
Game Format
Spring game to feature 1s vs. 1s & 2s vs. 2s (1st half); 1s vs. 2s (2nd half). Admission free. Kickoff at 3. pic.twitter.com/EVUj7K02uu

— LSU Football (@LSUfootball) April 15, 2016
Unique Sale at the LSU SportShop
The LSU SportShop will hold a super spring sale featuring numerous unique football and baseball items in conjunction with the National L Club Spring Game on Saturday, April 16.
The sale will take place at the LSU SportShop location inside the west plaza of Tiger Stadium and will run from 1:30 p.m. until approximately 30 minutes following the conclusion of the spring game.
Some of the items that will be on sale that day include:
Game-Used Football Helmets
Game-Used Football Jerseys (Purple and white)
Player-Worn Baseball Jerseys; both practice and game-used.
Cleats
Football Gloves
Plus many more items
The main LSU SportShop, located next to Mike the Tiger's Habitat, will be open on game day from 10 a.m. to 6:30 p.m. and will offer a variety of great Tiger merchandise, including the 2016 National L Club Spring Game "Game Day" t-shirt.
Watch Live on SEC Network/WatchESPN App
The SEC Network will televise LSU's National L Club Spring Game on both its over-the-air network along with the WatchESPN app on desktop and mobile devices. Former LSU great Marcus Spears will be on hand to call the action for the SEC Network along with Chris Cotter and Baton Rouge native Kaylee Hartung. Watch Live.
Listen Live in the Geaux Zone and on 104.5/104.9 FM in Baton Rouge
The LSU Sports Radio Network broadcast will air around the world in the Geaux Zone and over-the-air on ESPN 104.5/104.9 in the Baton Rouge area. Gordy Rush and Doug Moreau will call the action from the booth. Listen Live
Tuesday's Practice Highlights
Preparing for the Spring Game: Sat., 3 p.m. @LSUTigerStadium​@SECNetwork​@1045espn https://t.co/q5URunfeFk #FREEhttps://t.co/bf3hO3GgTv

— LSU Football (@LSUfootball) April 13, 2016
Spring Games Around the SEC
LSU is one of six SEC teams to have its spring game on April 16 as the Tigers join Kentucky, Mississippi State, Tennessee, Alabama, Georgia and Missouri as schools that close out spring practice that day.
SEC Spring Games on Television, Online
Date
Time (CT)
Team (WatchESPN link)/Commentators
Network
Fri, March 25
6 p.m.
Vanderbilt Spring Game:
Black & Gold Game
Mike Morgan, Cole Cubelic & Dawn Davenport
SEC Network
Fri, April 8
6 p.m.
Florida Spring Game:
Orange & Blue Debut
Joe Tessitore, Greg McElroy & Laura Rutledge
SEC Network
Sat, April 9
11 a.m.
South Carolina Spring Game:
Garnet & Black
Bob Wischusen, Mack Brown & Shannon Spake
SEC Network
 
3 p.m.
Auburn Spring Game: 
A-Day
Dave Neal, Matt Stinchcomb & Maria Taylor
SEC Network
 
5 p.m.
Texas A&M Spring Game:
Chris Cotter, Andre Ware & Kayce Smith
SEC Network
Sat, April 16
11 a.m.
Kentucky Spring Game:
Jay Benetti & Chris Spielman & Kevin Weidl
SEC Network
 
11 a.m.
Mississippi State Spring Game:
Maroon-White Game
Anish Shroff, Chris Stoerner & Coleg Cubelic
ESPNU
 
1 p.m.
Tennessee Spring Game:
Orange & White Game
TBD
SEC Network
 
2 p.m.
Alabama Spring Game:
A-Day
TBD
ESPN
 
3 p.m.
LSU Spring Game:
National L-Club Spring Game
Chris Cotter, Marcus Spears & Kaylee Hartung
SEC Network
 
3 p.m.
Georgia Spring Game:
G-Day
Dave Neal, Matt Stinchcomb & Shannon Spake
ESPNU
 
5 p.m.
Missouri Spring Game:
Black & Gold Game
Tom Hart, Chris Doering & Kayce Smith
SEC Network
Sat, April 23
12 p.m.
Arkansas Spring Game:
Red-White Spring Game
Mike Couzens, Chris Stoerner & Kayce Smith
SEC Network
* Ole Miss is not hosting a Spring Game, "Grove Bowl", this year
** Schedule & Commentators subject to change