New For 2014: Football GameDay Traffic, Parking
On Aug. 6, LSU announced Wednesday that the school will adjust post-game football traffic to include contraflow southbound on Nicholson Drive/Highway 30 in an effort to help relieve vehicle congestion following home games.
The new post-game traffic flow is part of LSU's on-going attempt to enhance the fan experience for football games in Tiger Stadium. LSU used the SP Plus Gameday consultant group to assist with new ways to ease both pre-game and post-game traffic congestion.
The SP Plus Gameday consultant group was on campus last year for three games – Auburn, Florida, and Texas A&M – to study and evaluate pre-game and post-game traffic, parking, and personnel performance in both areas.
In addition to the post-game contraflow on Nicholson Drive/Highway 30, LSU, in conjunction with local law enforcement and city and parish leaders, are implementing the following adjustments for the 2014 football season:
Pregame Traffic
LSU will increase pregame communication to fans with suggested incoming routes, current conditions, and any midseason adjustments made to our traffic plan. The current pregame traffic plan is considered appropriate by the consultant group, but various adjustments to personnel locations and procedures will be made. Fans will be notified by email, through social media, and on www.LSUsports.net/parking for these updates.
LSU Athletics and the Tiger Athletic Foundation have made significant investments in additional parking areas for the 2014 season, which includes the addition of 2,300 new parking spaces.
New Parking Lots for 2014
Nicholson Apts. Project (Reserved Permits) – 800 spaces
Golf Course Driving Range (Public) – 800 spaces
Gourrier at River Road – "Levee Lots South" (Public) – 700 spaces
LSU will maximize current on-campus parking space with additional personnel and painting of spaces in public parking lots.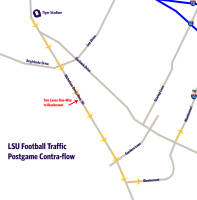 Postgame Traffic
LSU will enforce directional exiting from parking lots. Additional personnel have been hired to assist fans with exiting into the correct post-game direction at key locations.
 Southbound traffic on Nicholson Drive/Highway 30 will be contraflowed (all lanes in use) from south of Skip Bertman Drive to Bluebonnet Drive.
Check www.LSUsports.net/parking for updates.
Click here to view the contra-flow area. 
Street Parking Not Allowed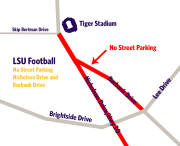 For safety concerns, street parking will not be allowed on Nicholson Drive/Highway 30 and Burbank Drive south of Skip Bertman Drive. Tailgating is still allowed in the grass areas adjacent to Nicholson Drive, however, vehicles will not be allowed to park in this area. Fans tailgating in these areas are encouraged to use the Old Front Nine free parking lot.
Click here to view the restricted area.
Postgame Pedestrian Buffer Zone on Nicholson Dr.
A postgame pedestrian buffer zone will be created on Nicholson Drive for fans exiting Tiger Stadium heading west. Nicholson Drive between North Stadium and South Stadium Drive will have no post-game vehicular traffic. Traffic will be forced north and south at these streets with no cross traffic allowed. This operation will allow fans to cross Nicholson Drive without competing vehicular traffic as well as assisting with the contraflow process and the forced directional exit in the parking lots around the stadium.
Click here to view the buffer zone and exit routes.
New Reserved (Season Permit) Lots
Various cash parking lots are now reserved season permit lots. These areas are listed below:
Coates Hall (Lot 205)
Pleasant Hall/Music Building Lot (Lot 207)
Geology Lot (Lot 306)
Nicholson Hall (Lot 307)
Union Lot (Lot 308)
Single-Game Parking Price Changes
Cash parking pricing now varies per game and the price to park in the Union Square Parking Garage has been lowered when purchased in advance on www.LSUtix.net.
Union Square Parking Garage Pricing
| | | | |
| --- | --- | --- | --- |
| Date | Opponent | GameDay Price | Advance Purchase Price |
| Sept. 6 | Sam Houston St. | $20 | $15 |
| Sept. 13 | UL-Monroe | $20 | $15 |
| Sept. 20 | Mississippi St. | $40 | $15 |
| Sept. 27 | New Mexico St. | $20 | $15 |
| Oct. 18 | Kentucky | $20 | $15 |
| Oct. 25 | Ole Miss | $40 | $30 |
| Nov. 8 | Alabama | $40 | $30 |