Emily's Spring Football Blog - It's A Wrap!
April 22, 2013
It's hard to believe spring football is already over, but with Saturday's annual LSU L-Club Spring Game in the books, we will have to wait until the fall to see the Tigers back in Death Valley.
After the White team defeated the Purple team 37-0, I caught up with Les Miles to get his thoughts on how his team shaped up. 
In the video below, Miles talks to me about the impact from the freshmen, how his quarterbacks have progressed and what he expects for this team during the 2013 season.
Thanks to everyone who followed this year's spring football blog. I will continue to keep you all up to date when fall ball rolls around, and then, of course, through the entirety of the upcoming 2013 season.
Geaux Tigers!
April 19, 2013
When LSU fans think of rising junior receiver Jarvis Landry, there are likely a handful of memorable moments that leap out from their memories. Tiger fans can recall big hits on special teams (vs Auburn in 2011, anyone?), a beautiful catch (at Arkansas last November) and countless other clutch grabs or big blocks. Though only two years into his college playing days, Landry has quickly become a household name.
Here's a closer look at the former Lutcher High star turned LSU playmaker.
NAME: Jarvis Landry
POSITION: Wide Receiver
CLASS: Junior
HOMETOWN: Convent, LA (Lutcher High School)
When I recently caught up with Landry, the excitement in his tone was evident.
With first-year offensive coordinator Cam Cameron now in the mix, Landry said the Tigers are embracing the learning curve and practicing as hard as ever. Landry said he is enjoying the uptempo offense, and thinks the Tigers are on the path to offensive success for the upcoming season.
LSU wide receivers coach Adam Henry senses not just progress in the offense, but progress in Landry, who has taken on a leadership role with his teammates this offseason.
"I've seen the maturity level come up on Jarvis," Henry said. "He's approaching each and every day hard. He is going out there and working. He's more disciplined in his routes, and, now, the next phase is just to continue to be a leader on offense and get the guys going."
From what I've seen in practice, expect to see a lot of the same Landry you saw last year. He continues to make the turning, one-handed grabs that are rare for any athlete, and he's as consistent as it comes with his hands and route running abilities.
With a new coordinator, an experienced quarterback and talented offensive line, I would imagine this year will be Landry's best yet.
As is the case with the depth chart each spring, Landry mentioned the competition at the wide receiver spot is always there, and Henry shared the same sentiment.
"Most definitely," Henry said. "It's all competition when you go to LSU."
Landry said he can remember coming in as a freshman, and teammates and fellow receivers like Rueben Randle were there to mentor him.
Now, the torch has been passed to the next generation.
"He's taking on in that [leadership role], especially in the receiver role," Henry said. "He and Odell [Beckham] are doing real good. They push each other, and so, he's pushing other guys to get better."
Henry also said that despite the competition, Landry is often the first LSU player to help a teammate fine tune his game.
"We've got some guys behind [Landry] that can play, but he's not selfish," Henry said. "He's helping those guys out. He's bringing everybody along, just making the room better."
April 16, 2013
With practice coming to a close, we have a few events on campus to round out the spring.  The Tigers will practice Tuesday and Thursday evening leading up to the big game on Saturday, which is open to the public.
And that's not the only time fans will get a behind the scenes look at LSU this offseason.
All LSU students are invited to an open practice on Thursday April 18 when the Tigers host "LSU Student Appreciation Day".  It will be at the Charles McClendon Practice facility and students can watch practice from 4 to 6 p.m.
After practice, there will be a meet and greet with coaches and players in the indoor practice facility.
This is the second year Les Miles and the Tigers have done this event, and I would say last year was a success.  The turnout was great and it seemed like everyone enjoyed meeting the team afterwards.
This only happens once a year, so I strongly encourage any fans to come out and watch.  It's a neat experience to see how the Tigers are worked during practice.
An LSU ID is required for admission, so do not forget to bring yours!
You can find more info on where to park and other information here.
Thursday's practice is the last before the annual Spring Game.  The game starts at 2 p.m. and admission is free to everyone.
Before the game there will be a free concert by  New Orleans native Mark Adam Miller in Lot A at Tiger Stadium.  This performance is part of the pre-game Fan Fest which starts at 11 a.m.  More information can be found here.
We will also have more player interviews on the blog this week before the game, so don't forget to check it out.
Be sure to come and get your football fix this week before it is gone until August!
April 12, 2013
We had some visitors at LSU on Thursday for spring practice. ESPN made a stop on its' spring football tour in Baton Rouge, bringing along College Game Day broadcasters Kirk Herbstreit and Chris Fowler.
During the afternoon, LSU head coach Les Miles joined Fowler and Herbstreit on set for a live interview to talk about how spring ball is shaping up, the holes in the lineup that need to be filled and the team's tough schedule in 2013 – highlighted by the normal SEC West stretch coupled with SEC East games against both Florida and Georgia.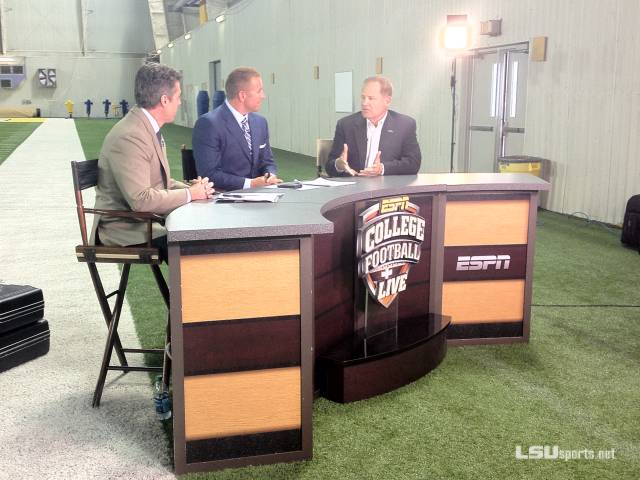 When Miles and the pair dove into talk about the Tigers' schedule, Fowler held back no punches, calling LSU's path in 2013, when compared to other SEC foes like Alabama, "unfair."
After Miles made his appearance, I was able to catch up with both ESPN anchors, where we talked about their favorite moments in Tiger Stadium and what they enjoy most about covering college football each year in Baton Rouge.
It's always a good time when the big four letters come to the football operations building, and we look forward to seeing them again in the fall!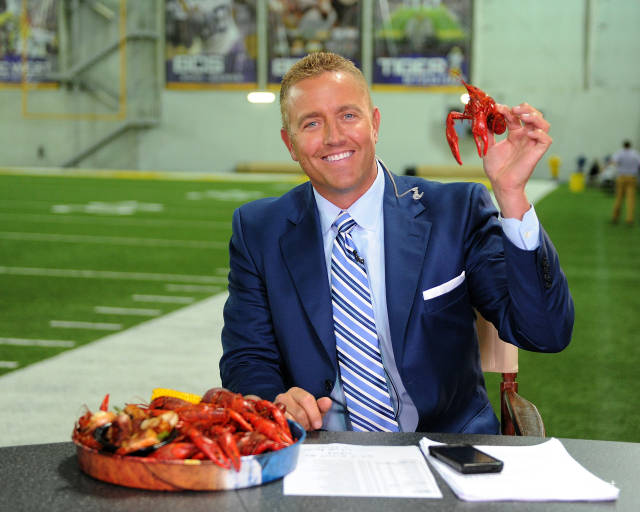 "CATCHING UP WITH COACH"
With the scrimmage set for Saturday, the LSU football team took to the practice fields on Thursday with a definite raised intensity following Tuesday's slower-paced practice.
With more than 300 high school coaches in attendance for the annual LSU Coaches Clinic, the LSU staff was able to show off their team and program in front of many of Louisiana's top coaches – and more eyes created an obvious higher level of competition.
Following Thursday's practice, Miles told me he really likes where the team is at for Saturday's scrimmage, and he has seen a number of players move into a leadership role this offseason that should prove beneficial in the fall.
April 10, 2013
After talking to all of these players, it seems one of the main themes of this spring is leadership.
Returning starting quarterback Zach Mettenberger falls right in line with that.
Going into his second season as the chief signal caller in Baton Rouge, Mettenberger is focused on leaving it all on the field for his senior season. 
Mettenberger told me he is not only working on being a leader on the offense, but wants to be seen in that same role throughout the whole team.  New offensive coordinator Cam Cameron says Mettenberger is not only still progressing, but has reached that leadership goal.
"Number one, he is a leader and we are going to rely heavily on him this year," Cameron said.  "I think our players respect him.  I know we as a coaching staff respect the way he works.  We respect his toughness, and he has really earned my respect in just his willingness to absorb and be a sponge.  He comes into meetings every day and wants to learn." 
"I think a lot of great things will happen with Zach this year, and one more thing that I think we'll see is a great leader."
After starting all 13 games last season, Mettenberger said he can see how much he has grown while at LSU, but is continuing to push himself.  His work ethic this spring has become noticeable to Cameron. 
"He's gotten better every day," Cameron said.  "That's what we ask of these guys.  I think when you talk from a leadership perspective, guys see him improving, then they feel obligated to improve as well.  He comes with great intensity at practice.  Football is important to him."
When it comes to competition amongst the quarterbacks, there is a "love-hate" type of relationship that Mettenberger explained to me. Each quarterback likes to see the other improve, but instinctively, their competitive nature takes over.
"I think all of our quarterbacks are pushing each other [to be better]," Cameron said.  "I think that Stephen [Rivers] is obviously a great competitor and is doing some nice things.  I think the rest of the guys, Anthony [Jennings], Hayden [Rettig] and Brad [Kragthorpe] have really had a nice spring as well."
There is no doubt that Mettenberger is the Tigers' go-to guy for 2013.  After talking with Cameron and other Tigers, the quarterback also has the confidence and backing from his team. 
"Zach is our quarterback," Cameron said.  "He knows that.  I am excited about what he's doing, and I am excited about the kind of year is going to have."
April 9, 2013
In today's conversation with an LSU standout, I caught up with last year's leader in receiving yards: Odell Beckham, Jr.
NAME: Odell Beckham, Jr.
POSITION: Wide Receiver
CLASS: Junior
HOMETOWN: New Orleans, LA (Isidore Newman High School)
After two seasons in Baton Rouge, Beckham is a proven asset to the Tigers after emerging as a threat in his freshman year. He earned freshman All-SEC honors, and that success continued into his sophomore season. Throughout this spring, Beckham told me he is working on the little things – with a focus on the details – so he can make his junior campaign truly stand out.
Wide receivers coach Adam Henry, who has coached both college and NFL wide receivers for more than a decade, is already seeing the work Beckham is putting in on the practice field this spring.
"I think he's taking more ownership of doing the little things right and preparing himself each and every day," Henry said. "He has a large upside. He has a lot of talent."
Beckham expressed the high level of competition at the wide receiver spot following a recent practice, telling me that everybody is trying to gain a leg up and the rights to play.
"I believe that Odell is progressing steadily," Henry said. "Each and every day he is coming out and getting better. We are doing a lot of things with him and he is grasping the offense, so I am very pleased with where he is at right now."
With a player as versatile as Beckham, who plays not only wide receiver but is also a big presence on special teams, Henry knows he can use the talented junior in a variety of ways.
"He can stretch the field vertically," Henry said. "He can do a lot of things, and also, he's a great route runner. But being detail oriented and paying attention to the little things is what he's getting better at."
And it's worth noting, Beckham also has some impressive dance moves under his belt. Remember the Harlem Shake video the team did earlier this spring? Look closely at Bert…
April 8, 2013
The Tigers are well-rested after a week of spring break, and the team will be back on the field Tuesday for the 10th practice of the spring. They will practice again on Thursday, which will set up the scrimmage set for Saturday.
Throughout spring ball, I've been able to talk to players and coaches about how things have shuffled out during the first half of spring, so moving forward you will get to see interviews with players as well as some evaluations from the staff.
First up is defensive lineman Anthony Johnson.
NAME: Anthony Johnson
POSITION: Defensive tackle
CLASS: Junior
HOMETOWN: New Orleans, LA (O.P. Walker High School)
NICKNAME: "Freak"
After two seasons at LSU, Johnson is ready to move into a leadership role on the defensive line, which makes spring practice big in terms of making a lasting impression on the staff. I asked defensive line coach Brick Haley how Johnson is progressing through camp thus far, and Haley seemed very pleased with the direction one of his most talented tackles is headed.
"I think he has made steady progress and he's done the things we've asked him to do," Haley said. "I see him on a daily basis getting better and better. I am expecting big things from him, and right now, there has not been any disappointment."
Johnson told me he is helping the younger guys learn the ropes, especially since he was in the same position as the eight early enrollees. And to the junior's credit, Haley said Johnson has the ability to be a leader for the Tigers on the field as well as in other aspects of the game.
"We would like for that to happen," Haley said. "Those things happen over time. I think that is something that will evolve if he continues on the path that he is on right now. I feel like he will be a leader in that room and be a leader for us up front."
With Bennie Logan and Josh Downs gone from the defensive tackle spot, all eyes are on Johnson to emerge as one of the premier interior linemen not just for the Tigers, but in the SEC.
Be sure to check back for more player interviews and coach updates throughout the week!
March 28, 2013
It's been a busy week around the LSU football operations building, with a pair of practices on Monday and Tuesday followed up by Pro Day on Wednesday. 
Here is a link to our "Pro Day Live" show that Gordy Rush and I hosted. We had some great guests on and Gordy helped iron out some questions us non-football players might have about what goes on at Pro Day.  I thoroughly enjoy Pro Day. It is so great to see the support for our guys with the former players coming back to watch as well as so many NFL representatives.  You can really see how far the LSU name goes on a day like this.
Also, here is a link to all of the final stats for the Tigers who participated.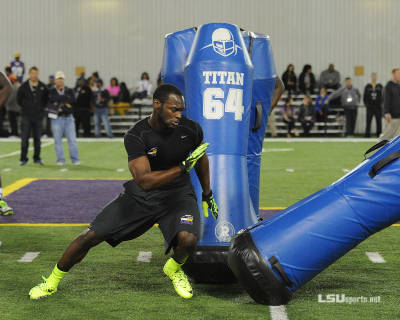 More than 20 former players worked out for scouts and coaches.  It was no surprise to see representation from all 32 NFL teams in the building, including head coaches Sean Payton, Mike Tomlin and Chip Kelly, who was most recently coaching up the Oregon Ducks before accepting a job as the head man for the Philadelphia Eagles.  Of course I knew about Kelly's change in employment, but it did kind of take me off guard seeing him there.  He should know enough about these Tigers after facing them in Dallas in 2011.  Lots of people (and Tigers) were excited to see the hometown team, the Saints, well represented throughout the day.
For Payton and the Saints, all eyes were on the defensive stars, with a focus on cornerback Tharold Simon and defensive end Barkevious Mingo. Keke is being eyed as a possible first-round selection for the Saints. Some New Orleans fans would probably like to know how Mingo would fit in as an outside linebacker in the team's new 3-4 look.  Well, first-year Saints defensive coordinator Rob Ryan wanted those questions answered, and he was the main coach working out the defensive linemen during drills. Following his workouts, Mingo said the Saints have had plenty of contact this offseason, but he's not certain where the dominos will fall come draft day.
Lavar Edwards, who played in the shadows of Mingo and Sam Montgomery the past two seasons, also had a strong day, and plenty of scouts had a close eye on the 6-foot-4, 270-pound defensive end, who could well surprise some people with how high he is selected on draft day. After testing at the NFL Combine and Pro Day, his top numbers are a 4.78 40 time, 21 reps at 225 pounds, 119-inch broad jump and a 33-inch vertical jump.  We were able to catch up with players once they were done with individual drills, and it was neat to get their perspective on the day.
"I hear that I'll get picked in the third or fourth round," Edwards said. "But I don't listen to that stuff. I don't want to go in thinking one thing and then something else happens."
One new name on the defensive side of the ball was Russell Shepard, who worked out at wide receiver before scouts asked to see his talents at defensive back, where he joined up with Simon, Eric Reid and Tyrann Mathieu.
"About six teams wanted me to do defensive back work," Shepard said. "I think I looked pretty decent. I had done no defensive backs drills before today. The coaches here never asked me to play defense. It came up a couple of times, but it was nothing serious. Being able to play defensive back adds value to me. The scouts told me the more value you've got, the longer you get to play in the NFL."
While Simon impressed with an official 4.50 40 time, it was Mathieu who stole the day at defensive back.
Back working out at LSU for the first time since his dismissal this past year, Mathieu elected not to do any testing, instead confident that his times from the NFL Combine were all he needed.
Instead, Mathieu wowed onlookers with his speed at cornerback, and he was one of the most fluid prospects throughout the day, showing the ability to turn and run better than anyone else in attendance.
"I had a pretty good time at the combine, so I didn't run today," Mathieu said. "I just wanted to be fluid in my movements in the drills and catch the ball. I think I dropped one."
As for his life away from football, Mathieu appears to be headed in the right direction.
"The NFL people are telling me I'm doing a pretty good job with the way I'm carrying myself," he said. "The scouts know everything. I was told to be honest and open with those guys. I just try to answer every question honestly. I know I made some mistakes. I have to put all that behind. I am still working at it. Every day is a process."
The process continues for the group as they take off for individual workouts with NFL teams across the board, a final stretch audition before the NFL Draft arrives.
Back in Baton Rouge, the Tigers are setting up for their second scrimmage of the spring, which will take place in Tiger Stadium on Thursday afternoon. I will catch up with Les Miles afterwards to get his take on the team's progress through the first half of spring practice. Beginning Friday, the team will take a week-plus hiatus for spring break, then return for six more practices and the spring game.
I also want to say congrats to the Lady Tigers for beating Penn State and making it to the Sweet Sixteen!  Good luck against Cal on Saturday!
Be sure to check back for all the latest!