2021 LSU Football Ticket Information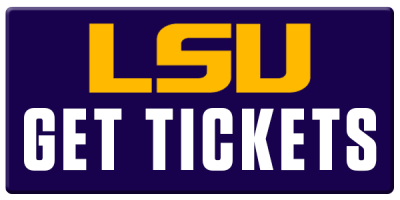 LSU Ticket Office
The LSU Athletics Ticket Office is located on the first floor of the LSU Athletic Administration Building. The Athletic Administration Building is on the corner of Nicholson Drive and North Stadium Drive, in the west parking lot of Tiger Stadium (Lot 101).
All gates to Tiger Stadium open 2½ hours prior to scheduled kickoff. View the latest gameday timeline (.pdf) for details on opening times for suites, club, and student seating.
The LSU Athletic Ticket Office is open from 8 a.m. – 5 p.m. CT, Monday-Friday, except on University-observed holidays.
The Ticket Office is open on football game days beginning at 8 a.m. for games that kickoff at 2:30 p.m. or earlier, and 6 hours prior to kickoff for games that kickoff after 2:30 p.m, and closing at halftime.
STARTING IN 2020 – Mobile Tickets
On July 29, 2020, LSU Athletics announced LSU Football tickets will be distributed through mobile delivery and accessed by ticket holders through digital wallets on smartphones. The move to mobile ticketing allows for faster delivery of tickets to fans, contactless transactions at gates and more flexibility for ticket holders.
Mobile tickets will be delivered to fans via email. With mobile tickets, fans will have new convenient options for accessing, transferring and reselling tickets from their smartphones through My Account 2.0, an enhanced online ticket account manager on LSUtix.net. My Account 2.0 will enhance the user experience for LSU football fans and provide a more intuitive self-service feature. Season ticket holders will be able to use their smartphone to view upcoming events, download tickets to their digital wallet, transfer tickets to multiple recipients via text message, and post tickets for resale on LSU Athletics' Official Ticket Marketplace, StubHub.
There will be no physical season ticket books or paper tickets. Print-at-home tickets were discontinued prior to the 2020 season.
Ticket holders who do not have a smartphone will be able to request alternative options through an online assistance form. For those fans with additional questions or looking for more information on the digital tickets, the LSU Ticket office has also developed a detailed FAQ that can be found at LSUsports.net/mobiletickets.
Season Tickets
Tradition Fund Tickets | View Donation Levels for Tickets and Parking
Approximately 45,000 football season tickets require a contribution to LSU's Tradition Fund for the right to purchase those tickets. Invoices for the Tradition Fund Contribution are mailed in January of each year. Tradition Fund Contributions are billed with season ticket renewal invoices in January each year and are usually due by March 1.
Tiger Athletic Foundation Tickets
A limited amount of season tickets require Tiger Athletic Foundation contributions. TAF ticket contributions are also usually due by March 31 and share the same deadlines and application procedures as Tradition Fund tickets. TAF also offers premium seating in the Stadium Club and the Tiger Den Suites. For information on TAF premium seating, please contact the TAF offices at (225) 578-4823 or www.lsutaf.org.
Season Ticket Renewals
Season ticket renewals for football are available in January each year and are usually due by March 1. If you have not received a renewal form by mid-February, please call the ticket office. Full payment is due to the ticket office by the deadline date on the renewal form.
Payment Plans
In order to help spread out renewal payments, the LSU Athletic Ticket Office has created four separate payment plans to automatically charge credit/debit cards equal payments on the first of each month as follows:
2-Month Payment Plan: April & June
4-Month Payment Plan: March – June
6-Month Payment Plan: March – August
8-Month Payment Plan: February – September
New Season Tickets
A limited number of season tickets are currently available for purchase by calling (225) 578-0100 or click here to have a sales representative contact you directly.
Any unsold season tickets from the 2021 season will go on sale to the public for the 2022 season at the end of the 2021 season. A season ticket request list will also be available in the fall and usually closing on March 1. Any season tickets that are not renewed for 2021 will be reassigned to fans who register for the season ticket request list by March 1.
To register for the request list, log on to www.LSUtix.net. Ticket requests are only valid for the upcoming season (requests do not roll over from year to year) and all tickets are issued based on LSU Philanthropic Priority Point order as of March 31.
Resale of Tickets
Ticket Resale Policy
LSU Athletics tickets are revocable licenses and LSU may revoke tickets for any reason, at the University's discretion. These ticket licenses do not confer any property right to the ticket holder. Ticket holders are advised that LSU may cancel or revoke tickets for certain conduct including, but not limited to, the following:
The resale of, or attempted resale of, tickets above the price printed on the ticket in violation of Louisiana law;
Any form of fraudulent activity;
The purchase of tickets for the purpose and intent of reselling the tickets on the secondary market;
Use of tickets for sweepstakes, contests, and/or promotions without the prior written consent from LSU.
Ticket Resale On-Site
Tickets may not be resold in the immediate vicinity of Tiger Stadium. The immediate vicinity of the stadium is defined as the area bordered by Nicholson Drive on the west, North Stadium Drive on the north, South Stadium Drive on the south and Field House Drive on the east.
StubHub Ticket Marketplace
The StubHub LSU Ticket Marketplace is the official venue for our valued LSU fans to buy and sell their tickets for upcoming games. If you have tickets to an LSU game, you can sell your tickets on the StubHub LSU Ticket Marketplace on an event-by-event basis. Our Marketplace makes purchasing the best available seats both simple and safe, and is the only secondary ticket market where you are ensured of buying valid tickets in a transaction fully supported by LSU Athletics. Visit www.LSUsports.net/marketplace.
Season Ticket and Parking Limitations
Season ticket and parking holders are limited in the number of tickets they can acquire in given areas of Tiger Stadium. Please click here for the Football Season Ticket/Parking Limitation Guidelines.
Transfer of Season Tickets
Please click here for the LSU Season Ticket Transfer policy.
Season Ticket Prices
Season ticket prices including Tradition Fund donations for the 2020 season can be found here.
Individual Game Tickets
Home Game Tickets
Individual game football tickets for select games typically go on sale each summer. Fans interested in purchasing individual game tickets can sign up for Geaux-Mail, the LSU Ticket Office's free broadcast email system, and indicate that they want to receive football ticket information. All phone and internet orders are subject to applicable service fees. Individual game ticket prices can be found on this page.
Louisiana Fish Fry Products Skyline Club
The Louisiana Fish Fry Products Skyline Club is an open-air seating premium club area able to accommodate up to 1,500 fans in sections 650-658 of the south endzone of Tiger Stadium. Included in the ticket cost is a rotating all-you-can-eat buffet of Louisiana Fish Fry menu items and one free beverage. Beer and wine are also available for purchase at an additional cost. Tickets can be purchased online at www.LSUtix.net. 
Away Game Tickets
Season ticket holders may apply for away game tickets in the spring of each year. Season ticket holder deadline to request away game tickets is May 31. Remaining away game tickets go on sale to the general public in June if available.
Fans interested in purchasing individual game tickets can sign up for Geaux-Mail, the LSU Ticket Office's free broadcast email system, and indicate that they want to receive football ticket information. All phone and internet orders are subject to applicable service fees.
The host school sets the price of away game tickets.
2021 Away/Neutral-Site Game Prices
| | | | |
| --- | --- | --- | --- |
| Date | Opponent | Price | Seating |
| Sept. 4 | UCLA | TBA | Chart |
| Sept. 25 | Mississippi State | $75 | Chart |
| Oct. 9 | Kentucky | $90 | Chart |
| Oct. 23 | Ole Miss | $95 | Chart |
| Nov. 6 | Alabama | $160 | Chart |
Student Season Tickets
Only full-time LSU Students enrolled at the Baton Rouge campus are eligible to purchase student season tickets. Enrolled students receive an e-mail to their PAWS account in the spring that includes price, sale dates, and pick-up information. Incoming freshmen will receive a similar e-mail in their PAWS account during the late summer prior to the football season.
More Student-Ticket Information is available at www.lsusports.net/studenttickets.
Please Note: LSU Law School, LSU Medical School and LSU Veterinarian School students are not eligible to purchase student tickets through the LSU Athletics Ticket Office. Please contact your designated school representative for information about student tickets.
Postseason Tickets
During the course of the 2021 football season, LSU football season ticket holders will receive information by e-mail regarding the opportunity to apply for tickets to any postseason games in which the Tigers may participate. At that time, a deadline will be established for applying for tickets. Possible postseason games include the SEC Football Championship Game, the College Football Playoffs, and/or a holiday bowl game.
If the demand for tickets exceeds the supply available to LSU for any particular game, a distribution system utilizing the LSU Philanthropic Priority Point System will be used to determine ticket distribution. Tickets for any postseason games involving LSU will be allocated first to players, coaches, LSU students and athletic department staff. Next, an allotment of tickets will be distributed through the LSU Philanthropic Priority Point System, based on points accumulated for contributions to LSU Athletics, the Tiger Athletic Foundation, LSU Foundation and LSU Alumni Association. To be eligible to purchase tickets based on the LSU Priority Point System, the applicant must be a football season ticket holder.
The number of ticket requests from football season ticket holders will be measured against the number of available tickets to determine if any limits must be imposed. LSU will make every effort to accommodate as many of its fans as possible. Ticket orders and seat locations are not accepted nor assigned on a first-come, first-served basis.
Methods of Ordering
1. Come in person to the LSU Athletics Ticket Office
2. Order by mail with order form (to be e-mailed during the season)
3. Use the official web site of the LSU Athletics Ticket Office, www.LSUtix.net.
No fax, phone orders or checks will be accepted.
Availability/Limitations/Point System
There is no limit on the number of tickets that may be ordered for the SEC Championship Game and each postseason bowl game, however, LSU is limited in the number of tickets received for those games. Consequently, the requests for postseason game tickets are sometimes much greater than the number of tickets available.
Should the demand for tickets exceed the supply available to LSU, limits will be imposed based on the chart below in order to accommodate requests from as many football season ticket holders as possible.
Should the number of tickets you request be reduced, you will be notified by e-mail.
Tiger Stadium Seating Sections & Gate Access
Tiger Stadium has evolved over the years with changing sections and gate numbers. Please be sure to check your ticket prior to arrival for proper gate entrances. The following is a list of stadium sections with the recommended gates for stadium entry:
North Endzone Student Seating
Enter Gate 7 (only LSU students allowed)
Sections: 201-205
Sections: 217-221 (LSU Band-217)
Sections: 222-236
North Endzone
Enter Gate 8 or Gate 10
Sections: 206-210
Sections: 211-216
Sections: 237-244
West Upper Deck & Tiger Terrace
Enter Gates 1-3 or 4-6
Sections: 510-520
Sections: 610-619
West Stadium Club
Exclusive Entrance Located Between Games 3 and 4
Enter Gates 1-3 or Gates 4-6
Lower Level Stadium Club (101-111)
Upper Level Stadium Club (201-211)
Third Level Stadium Club (308-311)
West Lower
Enter Gates 1-3 or Gates 4-6
Sections: 100-106
South Tiger Den Suites
Enter Gate 14 or Gate 21
Tiger Den Suites (136-168)
Tiger Den Suites (236-268)
South Stadium Club
Enter Gate 20
Sections: 550-568
Louisiana Fish Fry Products Skyline Club
Enter Gates 22-28
Use Skyline Elevator
Sections: 650-658
South Lower
Enter Gates 22-28
Sections: 401-409
Sections: 410-424
EBL (east bleacher) and WBL (west bleacher)
Section: 41BX – 49BX (field box seats)
East Tiger Den Suites
Enter Gate 14 or Gate 21
Tiger Den Suites (101-135)
Tiger Den Suites (201-235)
East Lower
Enter Gate 10 or Gate 11
Sections: 300-306
East Upper Deck & Tiger Terrace
Enter Gate 9 or Gates 22-28
Sections: 530-543
Sections: 630-643
Gate 9-Escalator/Gates 22-28 *
* Ramp Access
Patrons sitting in the east upper deck may use Gate 9 (the escalator) or they may enter through the south end zone (gates 22-28) to access the ramp leading to the east upper deck. It is recommended to use the ramp for quicker entry process.